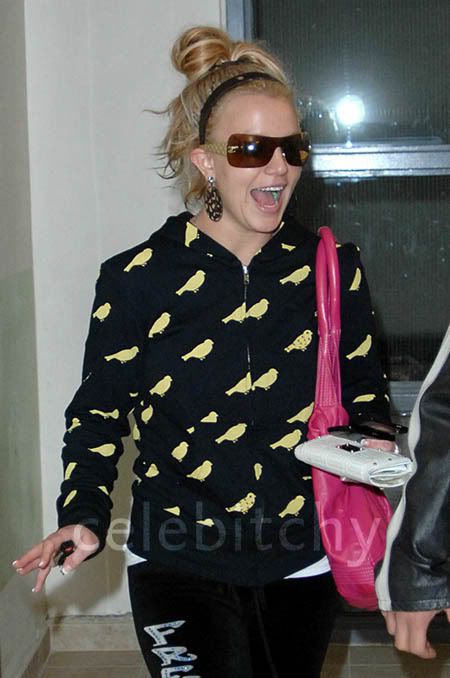 News of the World may not be known for their highly accurate, ethical reporting, but they sure are good for a laugh. The world's smuttiest tabloid is reporting that Britney Spears is in the "final stages" of adoption plans for Chinese twins. Because I'm sure any adoption agency would be glad to have her on their roster. Apparently Britney must fill the massive void in her heart left by sons Jayden James and Sean Preston, who are spending most of their time with father Kevin Federline – on court order. Instead of trying to clean up her act, News of the World wants us to believe that Brit's just decided to start fresh with a new set of kids. I will give them a little credit, in that if anyone would think that the most sensible way to improve her situation would be to get some new kids, it'd be Britney Spears.
Troubled pop singer Britney Spears, who recently lost permanent custody of her two sons, Jayden James & Sean Preston to ex-husband Kevin Federline, is planning to adopt Chinese twins.

According to reports from Britain's News Of The World newspaper, Britney, 25, has confided to pals that she's in the final stages of talks with an adoption agency and plans to go ahead with the adoption very soon.

Friends of the singer reckon that Britney has elected to adopt the two six-year-old children from China in a frantic bid to fill the void left by losing her sons to K-Fed.
[From Showbiz Spy]
Apparently whoever works in the research department at News of the World (I have a theory that it's actually a penguin with a red pen) didn't bother to look into China's super-stringent requirements for foreign adoptions. They might have made their story a tad more believable if they'd picked pretty much any other country to lie about. Last year, the China Center for Adoption Affairs changed the qualifications for foreigners to adopt and made them super-rigid (and slightly offensive to some – you now can't adopt if you're fat). Britney wouldn't be allowed to adopt a child from China for about 82 reasons. First off, no singles. Before, about 8% of the children were adopted to single moms. You also have to be at least thirty years old (Brit is 26 in a few days). If you have ever been investigated by Child Welfare Services, you're pretty much out of luck. If you've been diagnosed with major depression or any other mental illness or are on medication for them, you're out. And if you've been diagnosed with alcoholism in the last ten years, you can't adopt a Chinese child. They also mention that you can't adopt if you've had any surgeries in the last year then you're excluded – no word on if Brit's Lipo-Dissolve treatments count as surgery. Something tells me Britney Spears isn't willing to jump through all those hurdles, considering she won't put any effort into the children she already has.
Picture note by Celebitchy: Britney is shown out on Thanksgiving, where she went shopping at Virgin Records and then spent the night at the Four Seasons. Thanks to Splash News.