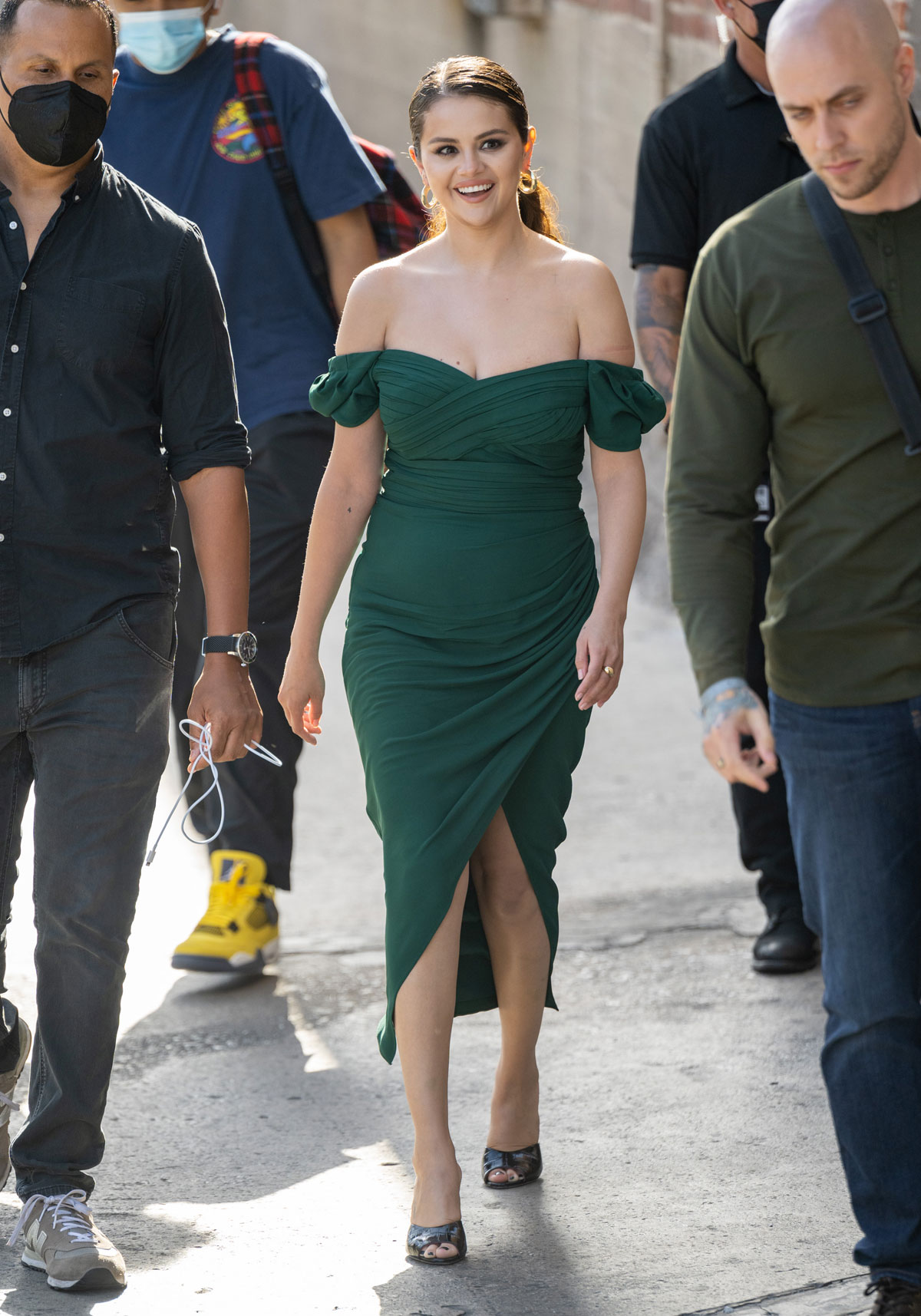 The Hollywood Reporter has been hosting its roundtables, which always get interesting groups together to chat. The comedy actress group included Amy Schumer, Bridget Everett, Molly Shannon, Quinta Brunson, Tracee Ellis Ross, and Selena Gomez, and touched upon a range of topics in relation to their careers and womanhood, including appearance, expectations, and sexualization. When Amy brought up Selena's "over-sexualization at a young age," Selena talked about appearing nude for an album cover and feeling ashamed of it after.
Selena Gomez is opening up the choices she's proud of making in her career — and one she regrets.

The Only Murders in the Building star, 29, sat down with Amy Schumer, Bridget Everett, Molly Shannon, Quinta Brunson and Tracee Ellis Ross for The Hollywood Reporter's comedy actress roundtable, where they chatted about the unique challenges of being a woman in the industry. Schumer pointed out that Gomez, who first appeared on Barney & Friends and later starred on the Disney Channel as a tween, was sexualized at a young age. Calling the situation "unfair," Gomez spoke about feeling insecure about the creative decisions she made during a photo shoot that ultimately left her feeling oversexualized.

"I actually did an album cover and I was really ashamed after I did it," the "Hands to Myself" singer explained. "I had to work through those feelings because I realized it was attached to something deeper that was going on. And it was a choice that I wasn't necessarily happy that I made."

Gomez — who appeared nude but covered up on the cover of her second studio album, Revival — added that she is "not an overly sexual person."

"Sometimes I like to feel sexy," she noted, "but [that] doesn't mean it's for somebody else. It could be for me."
The album cover Selena's talking about is Revival, which came out in 2015 when she was around 22-23. It's definitely not graphic as far as nude album covers go, but I do remember raising an eyebrow because the leg placement looked pretty risky for a potential slip. But the album cover didn't seem unusual then and wouldn't now if she hadn't said something. We've seen far more risqué and it seemed straight out of the early 20s post-Disney playbook for Selena to be "sexing up" her image. Like, this was after Miley did her whole thing so this cover seemed pretty tame in comparison. It sucks that Selena felt, for whatever reason, that she had to do a cover she wasn't comfortable with. And it sucks that she felt ashamed after, for doing it and for not holding her boundary. She alludes to those feelings of shame being connected to something else, so it must be more than just the fact of the nudity that she feels regretful about. It's good that she talked about it and it does seem like she has her image/styling where she wants it these days. And she always looks great. When I saw the headlines about Selena feeling ashamed, I thought she regretted wearing a bindi, but I guess not.
Photos credit: Instar, Getty and via Instagram