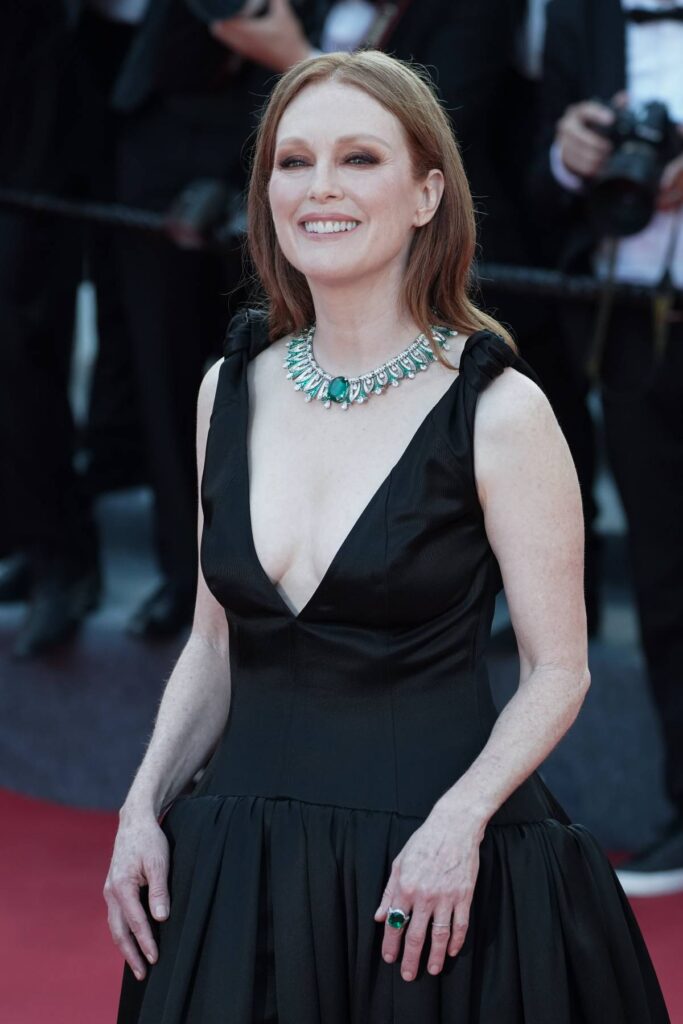 Julianne Moore was just named president of the 79th Venice Film Festival jury. I don't know a lot about the industry but prestigious positions at these film festivals seem to carry a lot of weight. They're both a bragging point and probably a great way to spend the festival. And Julianne has certainly earned her due in Hollywood so congrats to her! She gave an interview to the Sunday Times, which is behind a paywall so I didn't read the whole thing. But it sounded like a catch up with Julianne about her career and moving forward. Julianne also spoke about beauty, because she's promoting a new partnership and women in Hollywood are always asked about their beauty. Julianne, 61, talked about how she views her looks now that she's older. Julianne said she spends less time thinking about such things. Not that she doesn't care, but she's learned to accept that there's only so much she can do about it.
Julianne Moore has found that the older she gets, the less consumed she is with her looks.

The Oscar-winning actress, 61, says that the movement away from focusing on her appearance came when she truly became engrossed in the people and the world around her.

"I think it's because you have other things that you are interested in, such as family, relationships, work or your community. Being myopic about the way you look recedes," Moore told the Sunday Times. "I don't think it goes away entirely, I don't think there is a person in the world who couldn't care less; everybody cares somewhat. But the degree to which you are interested in that, and the fruitlessness of that, becomes apparent as you get older."

In the past, Moore has called it "a privilege to continue to age." She also discussed her feelings about maturing, and her distaste for the phrase "aging gracefully."

"There's so much judgement inherent in the term 'aging gracefully'," she told As If magazine last year, Yahoo Entertainment previously reported. "Is there an ungraceful way to age? We don't have an option of course. No one has an option about aging, so it's not a positive or a negative thing, it just is."
I understand what Julianne is getting at. Like she said, it's not that people stop caring about their appearance, but I, for one, have become much more accepting of what's looking back at me in the mirror. Currently I'm trying to shed menopause/pandemic weight and it's slow going. In the past I would flip out. But now I accept it's going to take me longer and I focus more on getting stronger and cleaning up my diet. Unfortunately, Julianne's comment about "fruitlessness" is true, there are limits to how far back someone can turn the clock and still look like themselves.
Julianne also discussed wanting to get rid of her freckles as a kid. She said she felt like the only one who had them. I just had a smattering across my nose and cheeks, but it seemed like none of the other kids did. My freckles bugged me until my mom told me they were "Irish kisses." We're American but but both my parents lineage is Scots-Irish and my mom was always reaching back to the Celts to explain stuff. She claimed that angels kissed Irish faces because they found them so beautiful, and every kiss left a freckle. It might sound cheesy, but it worked when I was in grade school. And clearly those angels adored Julianne. Luckily, she does too, now. That's another beautiful part of aging, rediscovering what makes you unique.
Photo credit: Avalon Red and Instagram