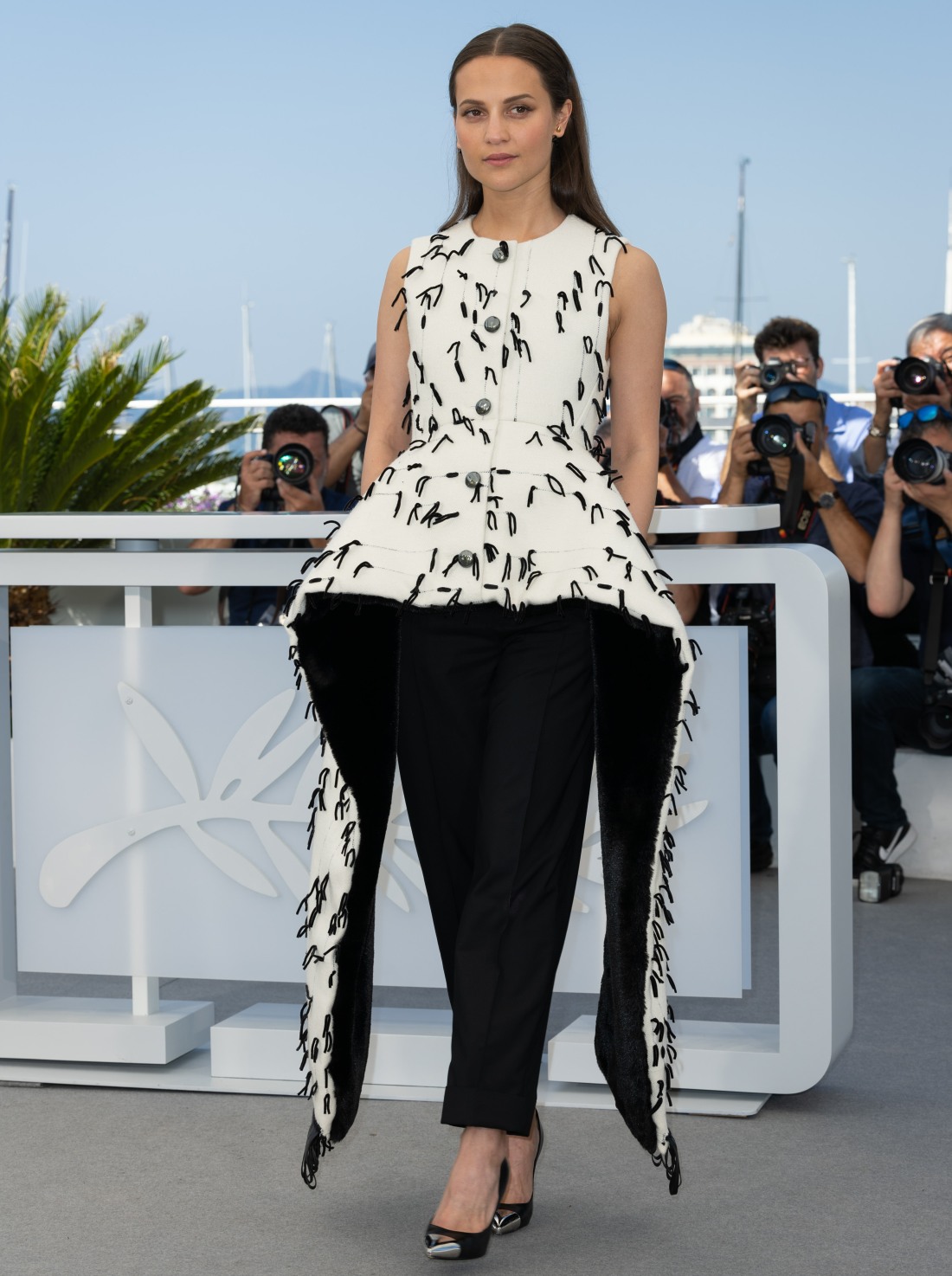 Irma Vep began airing on HBO in May, but the series only starts to air in the UK next month. Which is why Alicia Vikander is doing some promotion in British outlets. I suspect that some people actually think she's British, because she speaks English with a somewhat clipped British accent. She's not British, she's Swedish. She just lived in London for several years although for the past four years or so, Alicia and Michael Fassbender have lived in Portugal. Their son is 17 months old and possibly named Mark (I don't think she's ever confirmed that). In recent years, both Fassbender and Vikander have taken big steps back from their careers to get out of the Hollywood rat race. As I read through Alicia's Times interview, I kind of wondered if she was really out of practice with the whole celebrity-interview thing. She seems nervous when talking about personal stuff, and wonder if she meant to talk about some of these subjects. Some highlights:
Working on Irma Vep right after she had a baby: "I have my tiny family with me and that becomes home wherever you are." She started filming Irma Vep in Paris when their baby was three months old. Like most of us, she's trying to find a work/life balance. "We do every second job," she says of how she and Fassbender ensure that there is always one parent around. "One stays at home while the other works." How did she feel about going back to work so soon? "Excited, but it was intense. Sometimes they came to the set just so he could see my face."

On miscarriages: "We have a child now, but it took us time," she confides. Vikander met her husband seven years ago while filming The Light Between Oceans, a sweeping melodrama in which her character suffers two miscarriages. "Talk about meta," she says with a nervous laugh. Yet can films on tough topics help viewer and performer to deal with their trauma? "Totally. [The miscarriage] was so extreme, painful to go through and, of course, it made me recall making that film." She stops. "That film has another meaning now."

The private problems of public stars: "Sometimes you go through things that are tough in life and if you have an office job you can step away for a bit. But there are times that myself or colleagues have been through something and, well, I can't understand how they went on to the red carpet afterwards. To be met by people asking, 'How are you doing?' Given what they had just been through? Most people would not be able to step out of their house."

The sadness at the height of her fame: "There was juxtaposition. When, in other people's eyes, I was at my height of fame, I was the most sad. I kept telling myself, 'Take it in. It is incredible.' But I didn't know what to do. There were all these first-class flights, five-star rooms. But I was always by myself. I was by myself."
I never watched The Light Between Oceans because I read the book and hated it. In the book, the lead character's miscarriages are used as a jusitification for her to steal a baby and pass the baby off as her own. It was so awful. Anyway, I feel for Alicia and every person who deals with fertility issues and miscarriages. She must love her little family unit so much and be so protective of Michael and the baby. It also sounds like Alicia was profoundly lonely at the start of her career.
Photos courtesy of Avalon Red, Backgrid.