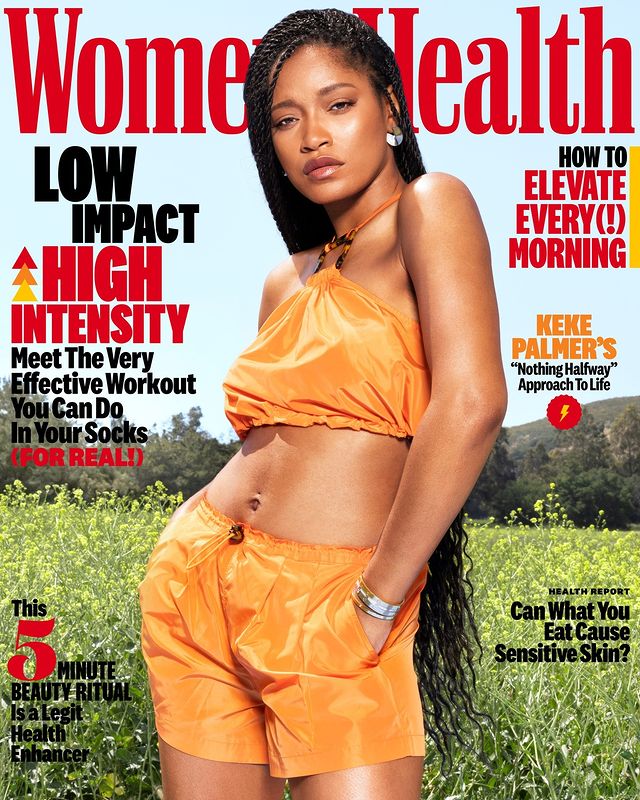 Keke Palmer covers the September issue of Women's Health. Finally, a great editorial! I love Keke and I think she's so dynamic and pretty, but a lot of magazines don't know what to do with her or how to style her. Women's Health understood the assignment. Keke did this interview just before she began the promotional tour for Nope. She prepared for the tour like a total pro – she went to a resort to get her mind and body right because she knew she was going to be "on" for weeks in a row. Keke spends a lot of the interview talking about mental health and the mind-body connection. Some highlights:
Nope promotion: "We're doing a lot of traveling for Nope. Korea, Germany, London, Paris, so many different places, which I'm excited about. But I also know it's going to be extremely physically taxing. I'm going to be expending so much energy, talking, laughing, and engaging. And I don't do anything half-assed. So if I'm talking, I'm talking; if I'm laughing, I'm laughing; if I'm engaging, I'm engaging." On top of that, she says, is the challenge of eating well on the road. "It's trying to find the right things—to make sure I'm not always eating garbage because I'm getting too tired, or I forgot. I want to make sure my body is at its best."

She builds precharge/recharges into her schedule: "I've learned over the years that to keep my sanity, and to physically keep this machine running, I have to pour into myself as often as I can."

She was hustling from a very young age: "It became a habit to hustle hard, which is essentially how our country exists anyway, so I'm not original in that." But the hard work took a toll. Over the years, Keke experienced exhaustion; she fainted; she lost her voice. But, she says, sometimes you figure out what you need to do to take care of yourself only after "you've hit the wall."

She started doing yoga at 18: "It was like, 'I want my body to look good because one day I want to do action movies.' It was a superficial start, which I think is fine. The entry point doesn't always have to be so serious. [Then] I realized I'm not supposed to be competing with my classmates. I'm supposed to be getting into my own zone. I discovered that mind, body, and soul appreciation don't have to result in a six-pack. It hit me that I have to practice loving myself the same way I practice acting."

Learning how to say no: "I realized it's hard to say no because we don't trust. We don't trust that if we say no the opportunity will come again. Or we don't trust that if we say no we've made the right choice. Or we're scared that if we say no we're going to offend somebody. But I realized that saying yes to too many things was stressing me out the most. I've learned not to be afraid to re​arrange things and to accept that I'm not going to be able to do it all without hurting myself." "
For actors and people in the entertainment industry, it is difficult to learn how to turn down stuff. So many actors had lean years, years where they were auditioning like crazy and never getting roles. And then when they are in a position of being offered multiple jobs, how do you unlearn that voice in your head saying "this chance won't come around again"? Anyway, as I've been reading Keke's interviews this year, she strikes me as someone exceptionally grounded, self-aware and fearless about standing up for herself professionally and personally. What an amazing role model for young women, honestly.
Cover & IG courtesy of Women's Health.