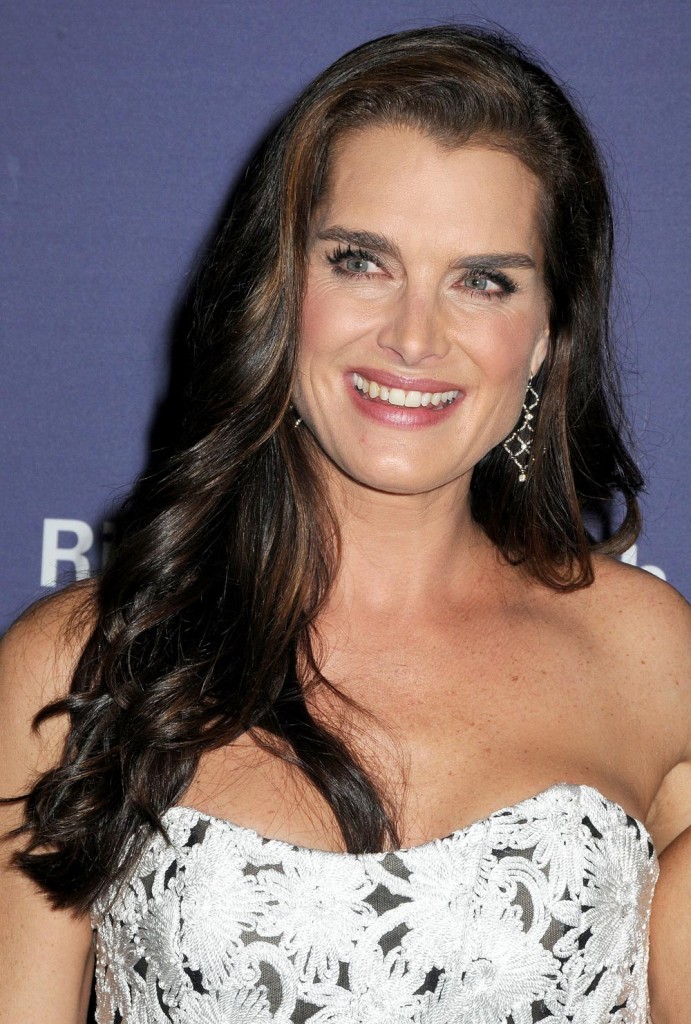 Does Brooke Shields have a reputation as a bitch? I posed that question to Google, and I came up empty. So if Google's got nothing, I guess Brooke might actually be one of the nicer celebrities. But this report from Fox News 411 makes it sound like Brooke was having one of those "I'll cut the next bitch who gives me dares to speak to me" days. Fox claims that Brooke was shopping with "two guy friends" at an Hermes sample sale (I wish I was there). Brooke and her friends were basically being big bitches to everyone in the store, mocking customers and being nasty to the staff, if this report is to be believed.
Sometimes Brooke Shields isn't so nice to retail staff.

The one-time wife to admitted crystal meth-taker Andre Agassi was shopping in New York City with two male companions when sources say she exhibitied a surprisingly rude attitude and major diva behavior, given her sweet-as-pie reputation.

Shields, 44, was apparently getting some time off from her two little girls, Grier, 3, and Rowan, 6, when shoppers spotted her at an Hermes sample sale.

"Brooke was in a snit when she walked in the store. She had two guy friends with her and they were joking around and mocking people," an eyewitness tells Fox411.

Then the model/TV star started getting snippy with a sales associate while searching for a bargain on Birkin bags and glassware, says the source. "A sales associate offered to show her some watches she was looking at when she bit his head off!"

Apparently, Shields took the offer of aid as an affront of sorts.

"When she was asked, like every other customer, if she needed any help, Brooke was truly rude. She could have said 'no thanks,' but instead said, 'If I needed any help, I would ask for it!'" says the source. "People were definitely staring at her by that point!"

The former supermodel then sashayed down the aisles making jokes, says the onlooker. As Brooke continued to shop, she turned to her friends, holding up a champagne flute, and said, "If we bought these, we would have to have a gorgeous man serve us champagne as we sat around drinking all day."

Um, what?

"Brooke could have used a glass of champagne to loosen her up," joked the fellow bargain shopper. "She was tense and quite rude. She seemed to be there to make fun with her friends more than she was actually shopping. The second she walked out of the store, all the women turned to ask if that really was Brooke Shields acting obnoxious in public."

That seems to be the case.
[From Fox News 411]
I have a feeling this is going to be one of those Salma-Hayek-throwing-a-hissy-fit situations where I side with a celebrity because I'm just as guilty of being as big a bitch as some of these stars. While I've never "pulled a Salma" and cussed out a hostess, I have been rude to wait staff a couple of times when I thought their service was extremely sub-par. As for the Brooke situation, that's more my deal, although to me it just sounds like Brooke was hanging out with some of her best gay friends (clue: Hermes) and they were maybe a bit drunk and they didn't want to be bothered. Just my take.
Brooke Shields is shown on 10/27/09 at an Alzheimer's Association benefit. Credit: WENN.com