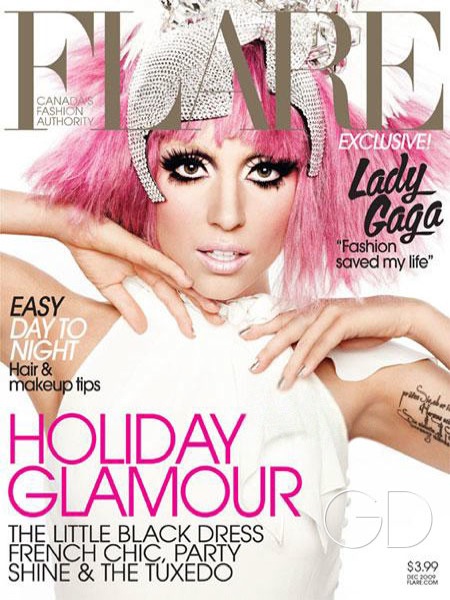 Oh, Gaga. What are we going to do with her? This Lady Gaga on the cover of December's Flare Magazine. The cover shot was taken by Max Abadian. Well… it's not as bad as many of Lady Gaga's previous magazine covers – like that bubbly Rolling Stone cover or that simply gross, what's-that-on-her-face Out cover. Considering those, Strawberry Shortcake is definitely a step up. But that iconic pink-haired doll was my first reference point. My second reference point? Britney Spears' pink wig of doom. In any case, Flare hasn't released the full interview, but here are a few excerpts:
Training for the Monster Ball, her tour:
"I've been training for two hours a day to get ready for this. I sing on the treadmill! I do cardio and weights on top of my rehearsals. I want to get my whole body in prime condition so I can carry the show."

On what the world of la mode did for her:
"Fashion saved my life. It was complete liberation… it made me feel powerful, ambitious and much more resilient."

On her version of beauty:
"We all need an image that screams, 'I'm an individual!' I think Jennifer Aniston is beautiful — she's gorgeous — but I prefer to look interesting rather than pretty."
[From Flare Magazine via Oh No They Didn't]
I actually have to give Gaga some begrudging credit. I was getting tired of all of the pop star ladies being so f-cking safe with their fashion/styling choices. It's nice to see some diversity, at least as far as what is considered "interesting" to look at. While I don't consider Gaga to be a beauty, I respect that she's not really trying to be "beautiful". She's not a cookie-cutter, trying-to-be-sexy pop star. She's trying to be fabulous. And she succeeds most of the time.
Images via CoverAwards