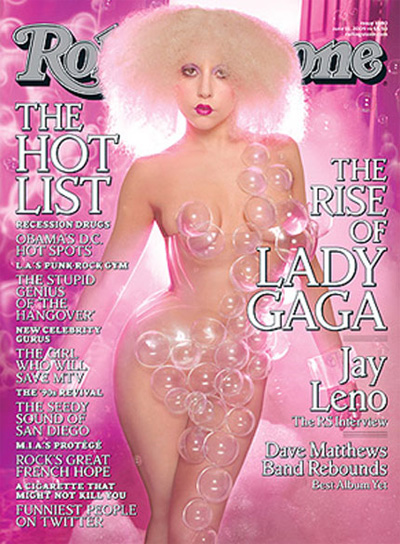 Whether you love or hate Lady Gaga – and people seem to fall into one camp or the other, without any in between – you've got to admit she doesn't blend in with most of the other current female pop stars. There have been a lot of arguments over whether or not she's just copying Christina Aguilera, and many people criticize her for behaving eccentrically just to get attention –not because she's actually eccentric. Whatever you think about her, she's undeniably going places – her music has been all over the airwaves this past year.
Lady Gaga is on the cover of this month's "Rolling Stone," and says she thinks she's redefining sexy. She also says she's bisexual, but is only attracted to women sexually (presumably meaning she's not attracted to them emotionally). Gaga also admits that she's had an intense lust for fame and has done some crazy things to get it.
"I don't feel like I look like the other perfect little pop singers," she tells RS' Brian Hiatt in our new feature, on newsstands today. "I think I'm changing what people think is sexy." Gaga is also changing what it means to be a 21st century pop star, and she's doing it through 24 hours a day of fierce work — she's a walking Gaga art project known as much for her outrageous fashion sense as her Eighties-flavored dance hits. "The truth is, the psychotic woman that I truly am comes out when I'm not working," she says (during Hiatt's time with the star, she rocks a massive radio concert, takes advice from Cyndi Lauper at a photo shoot and suffers a brief breakdown at a Walmart.com taping). "When I'm not working, I go crazy."

"When they called and told me about [my cover], I nearly cried," she tells us on the set.

Lady Gaga's devotion to being a star drove her to order bags of cocaine and spend hours perfecting her hair and makeup in a tiny Lower East Side apartment after she dropped out of NYU several years ago — well before she was actually famous. "It was quite sick," she admits. "I suppose that's where the vanity of the album came from." Her debut, The Fame, was almost entirely inspired by her relationship with a heavy-metal drummer named Luke, and their breakup profoundly changed Gaga. She tells Hiatt she's bisexual, but her attraction to women is purely physical. It's an aspect of her sexuality that makes boyfriends "uncomfortable," she says.

The savvy Gaga reveals her real musical goals are serious, though: "My true legacy will be the test of time, and whether I can sustain a space in pop culture and really make stuff that will have a genuine impact."
[From Rolling Stone]
The thing is, while she talks a lot about fame, pop culture, and her legacy, it doesn't seem like Lady Gaga talks a lot about music – at least in the part of the article on Rolling Stone's website. She seems nice enough, but I don't necessarily get the feeling that music is her passion so much as her Lady Gaga persona is. She really works on dressing eccentrically – remember her carrying around a teacup for a few weeks? A female teacup? – and to be fair, it works for her.
Her music is okay if you like that sort of pop, but I don't think it would have set her apart if it weren't or the character she plays. I find it interesting – and she's definitely got a commendable drive for success – but it'll be interesting to see how long she lasts. Eccentricity will get you far in show business, as long as you know how to work it right. Otherwise people just get tired and move on. And smash your teacup in the process.
Here are a few of Lady Gaga's colorful ensembles over the last two months. Images thanks to WENN.com and Pacific Coast News.