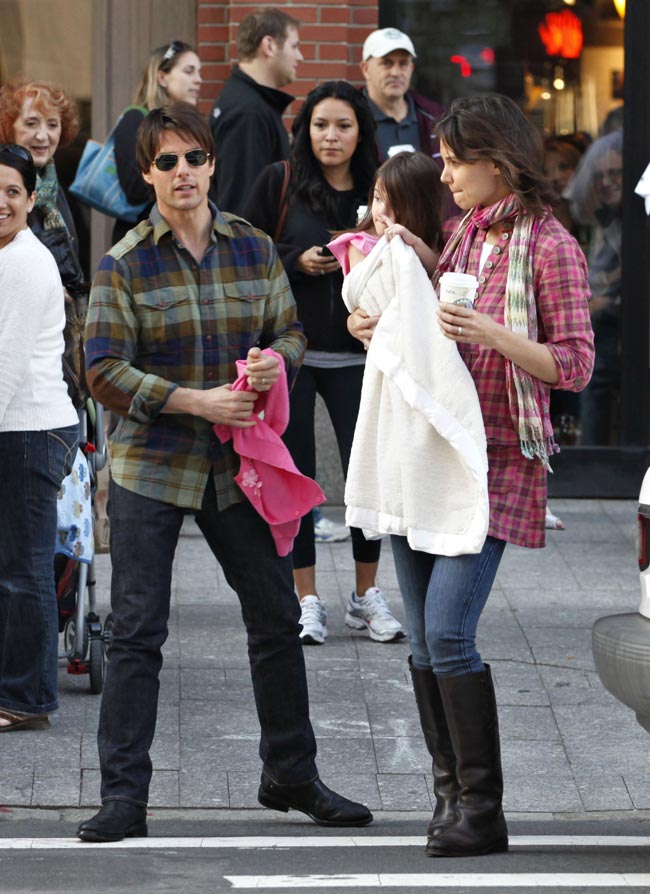 Another week, another In Touch Weekly story about Tom Cruise and Katie Holmes' relationship troubles. IT has started reporting on them with the same kind of nasty enthusiasm usually reserved for Brangelina. This week's story has some elements of previous stories – Tom is controlling, Katie is a robot, she misses her friends, Tom likes to audit people with tin cans, et cetera. I might have made one of those up. Guess which one?
The brunt of the story is that Katie spent time in LA, going to parties with her family and without Tom, and she had an amazing time without the Xenu on her back. There is no mention in this story about their alleged fights over having another baby – a story I found interesting, and more convincing than this crap, honestly:
Back in Boston, Katie worried onlookers with her downtrodden appearance. "She looked sad and uncomfortable," says one witness, who saw Katie with Tom's sister Lee Anne – another way for Tom to keep an eye on Katie. "Lee Anne was overheard talking to Katie like she was a child."

A totally different Katie was in Los Angeles a week earlier, in Los Angeles. At the Elle event on October 19, "Katie was having a great time, just laughing with the girls and being silly," recalls one eyewitness.

Katie wore an Alaia gown picked out just for her – but it wasn't picked out by Tom, but rather her visiting mom, Kathleen, and her daughter Suri. The event was part of a week that Katie spent with her mother and daughter in LA – during which Katie seemed happier than she's been in a long time.

"It was Katie's time to do what she wanted, eat what she wanted and see who she wanted," explains a longtime family friend of the actress. "When Tom is around, it's all his plans – but while in Los Angeles without him, she was calling the shots."

But she wasn't calling the shot for long. Tom was upset when he saw pictures of Katie's see-through top. "He thought it was too revealing. He asked her what she was thinking and added that he's worried about her… he told her to come back to Boston."

A friend says Katie's been down in dumps since returning to Boston – and that Katie resents Tom's controlling attitude.
[From In Touch Weekly, print edition, November 9 2009]
One of the most interesting part of the story came from the photo pullouts. One claimed that Katie is getting angry – "in the past, a friend says Katie has 'gone along with Tom's demands' for the sake of her marriage, but she's no longer sure how much more she can take. Meanwhile, Tom is worried Katie will leave. A friend says Katie has been acting the way Nicole did toward the end of their marriage – and Tom wants to keep her from leaving." Whoa, there. Katie is acting like Nicole did circa 2000? On her worst day, Nicole was never as robotic and zombie-esque as Katie is on Katie's best day. But I think the point of that little IT jab was that Katie is trying to find her spine, just like Nicole. Maybe?
Tom, Katie and Suri are shown out in Boston on 10/11/09. Credit: Fame Pictures