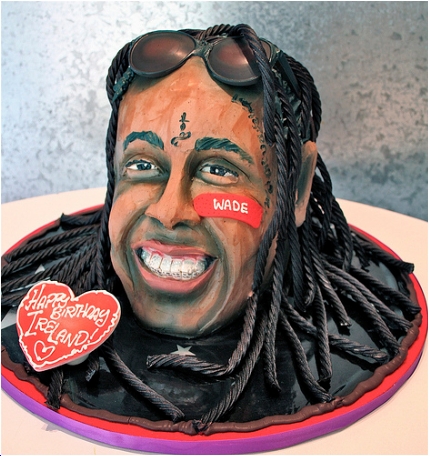 Gawker has this awesome picture of Ireland Baldwin's birthday cake, made to look like Lil Wayne's head complete with licorice dreads. Ireland's birthday was October 23, so this is recent and just in time for Halloween. Doesn't Lil Wayne look kind of ominous? Someone screwed up and put "Wade" instead of "Wayne" on the red bandaid on his cheek, but otherwise the artistry is flawless – and creepy. This cake just reminds us Poor Lil Wayne the artist will soon be sidelined by a one year jail sentence for possessing a loaded weapon.
The Beverly Hills cake shop that made this masterpiece, Rosebud Cakes, has plenty of other amazing cakes in their gallery on Flickr, including a zombie Hello Kitty, a skull with a snake coming out of its head, and an elaborate haunted house that would be impressive for a diorama and is just out of sight for a cake. These cakes don't come cheap, though. Rosebud Cakes only accepts minimum orders of $300.
If you'd like to pass some time checking out horribly awesome cakes, I love the site CakeWrecks, "A gallery of deformed, distasteful and bizarrely decorated wedding and birthday cakes." They're currently featuring some laughable Twilight cakes, and some amateur-looking Halloween monstrosities.
Thanks to Rosebud Cakes for these images.