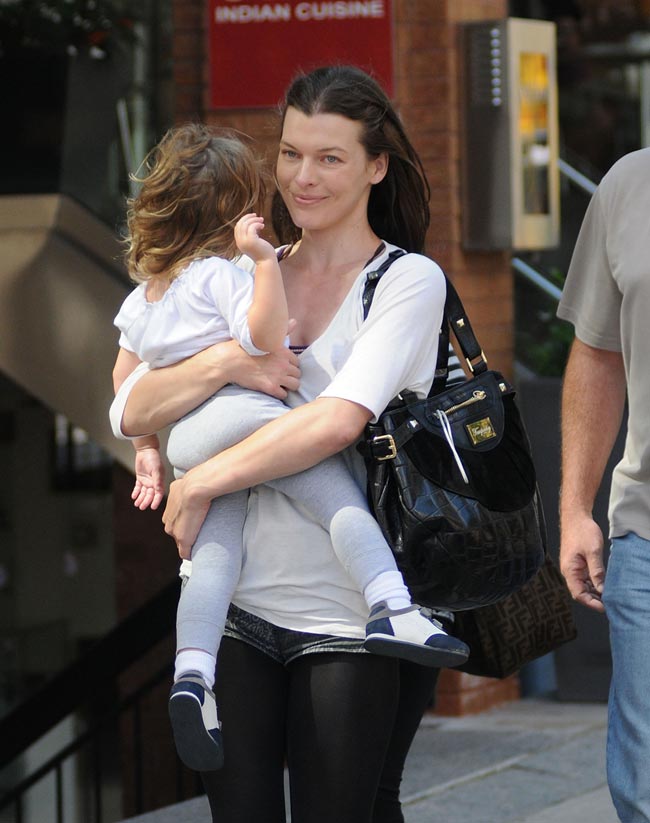 Ukranian model and actress Milla Jovovich, 33, plays the lead in the uber-violent Resident Evil films, based on the video game of the same name. She's currently promoting the alien abduction movie The Fourth Kind, out November 6. Jovovich spoke with Parade Magazine about being a mom to her daughter Ever, 2, with her husband, director Paul W. S. Anderson, and parental responsibility when it comes to violence in movies. I'm not that familiar with Milla, but ever since I read her funny explanation of how she gained a lot of weight during her pregnancy (which of course she lost pretty quickly), I've had a high opinion of her. She seems very funny and down to earth.
Now she's feeling good as a mom.
"Before you have kids, you create so many problems that are centered in yourself. You're thinking, Am I ready for this audition? Am I good enough? Now that I have a kid, it's not such a big deal. Even if I don't get the job, I know I'm going to be really busy at home. Being a mother to my daughter, Ever, is a full-time job. Now it's all about my baby, her growing up well and getting everything she needs. Everything else is just a plus."

Her message to parents.
"You've got to know your kids like the back of your hand and make sure they're honest with you and not scared to tell you things. I know when Ever goes to school I'll be letting my little bird go, but I just want to make sure she tells me everything that happened, good or bad."

Take charge of what your children watch.
"I think parents need to take a lot more responsibility than they do about whether it's OK for their children to go to Resident Evil or any other movie with violence or sex or whatever. It's really easy to blame Hollywood for violence having an effect on kids, but movies would have no power if parents would just set their own standards. And it's the same with video games."

The video game that jump-started her career.
"Me and my brother Marco would play Resident Evil together and I said to him, 'This is the perfect vehicle for me.' I mean, Alice wears a tube top and a mini-skirt and she's killing zombies. So when I first auditioned, I said to Paul [director Paul W. S. Anderson, her husband ] 'If I don't get this part my brother is going to kill me because he sees a huge boost in his popularity at school if I play her.'"
[From Parade]
That's cute that she calls her daughter her "little bird," and I agree that once you have kids you don't sweat the small stuff anymore. There's too much going on in your life. My son is five so I haven't really had to deal with extremely violent movies, but I have had to make sure that he's not playing video games on the computer that include shooting or violence. (It's not as bad as it sounds. Some older kids from his camp introduced him to miniclip.com and they have a ton of games, some of which are not appropriate for little kids, but he has his favorites and they're ok for kids. It's not like he's seen first person shoot 'em ups. He also loves nitrome.com) For those of you with tweens and teenagers – how do make sure they're not seeing violence on tv or film? How do you deal with limiting access to violent video games? Some of the stuff that's out there now is pretty horrifying.
Milla Jovovich is shown with her husband and daughter out in NY on 9/5/09 and 9/7/09. Credit: WENN.com. She's also shown playing with Ever at a park in Beverly Hills on 8/11/09. Credit: Fame
Pictures