Update by CB: There are photos from Sarah and Adams' wedding on US's website! There's also a new photo above.
---
Sarah Hyland and Wells Adams got married. Finally! The couple has been engaged since the summer of 2019. But – I don't know if any of you remember – the world shut down about six months after they got engaged due to a deadly virus. Sarah and Wells, although bummed, were pretty relaxed about it because they already lived together and had dogs together. So they'd gotten all the important stuff done already. Once we got the green light to start having gatherings and other such things, they went forward with their wedding planning. We guessed things were getting close when Sarah had her fun bridal shower last June. And this weekend, Sarah and Wells got married at Sunstone Winery in Santa Barbara. It looks like many, if not all, her Modern Family 'family' were there. We don't have a lot of details, but thanks to Sofia Vergara, we do have a few photos.
Three years after getting engaged, Sarah Hyland and Wells Adams are officially newlyweds!

The Modern Family alum, 31, and Bachelor in Paradisebartender, 38, were married in an outdoor ceremony on Saturday, Aug. 20, at Sunstone Winery near Santa Barbara, Calif., a source confirms to PEOPLE.

The pair were surrounded by family and friends, including Hyland's Modern Family costars Nolan Gould, Sofia Vergara (who brought her son, Manolo Vergara), Julie Bowen and Jesse Tyler Ferguson (who was joined by his husband, Justin Mikita).
No outlet is carrying any details beyond what Sofia and Jesse Tyler Ferguson were wearing and that's just going off photo assumption. Sarah and Wells haven't posted any photos so either they will curate their own IG spread later or they've sold them to someone. Jesse's husband Justin posted a pic of Ariel Winter, so she was there as well. The people from the show I don't see are Eric Stonestreet, Ed O'Neill, Ty Burrell, Rico Rodriquez and Aubrey Anderson-Emmons. Rico (Manny) and Aubrey (Lily) haven't done any film work since Modern Family. I think they kind of went back to being kids/young adults. I just saw a pic of Audrey and Jesse together, though. She's so grown up! I was worried about Ed not being there because I haven't seen him anywhere and I was worried he was ill. But he might have actually been working because IMDb says he's starting a new series. Sarah's spoken very affectionately of him prior. I'm really surprised about Ty Burrell. It's possible we somehow just don't have a shot of him yet. I don't see that he's working. Sarah sees him so much of a father figure, Wells asked both he and Julie Bowen's blessing before proposing. No idea where Eric is. He's friendly with everyone in the cast so if he was there, there would have been pics. He was probably working.
As far as other details, I can only report on what is in the photos. There were baguettes and family style seating for dinner, I think. It was a winery, so I think we can assume wine was served. Sofia looked amazing in every way and her son Manolo only gets more handsome every year. Nolan Gould has stopped aging and based on the small pic from People, I think I love Julie's dress (and probably don't love Ariel's that much). Between Sarah's health's scares, having to survive a worldwide pandemic as an immunocompromised individual and having to postpone their wedding multiple times, Sarah and Wells deserve a beautiful and drama free wedding. I hope they decide to share it with us, but I understand if they don't. I think they might because a couple of weeks ago, they shared this cute photo shoot of them in wedding attire noting their prolonged engagement. Maybe those were the official portraits taken early or maybe just some cheeky shots. I hope the latter because I'm not wild about the dress Sarah is wearing in the first one below. Anyway, congratulations to the happy couple!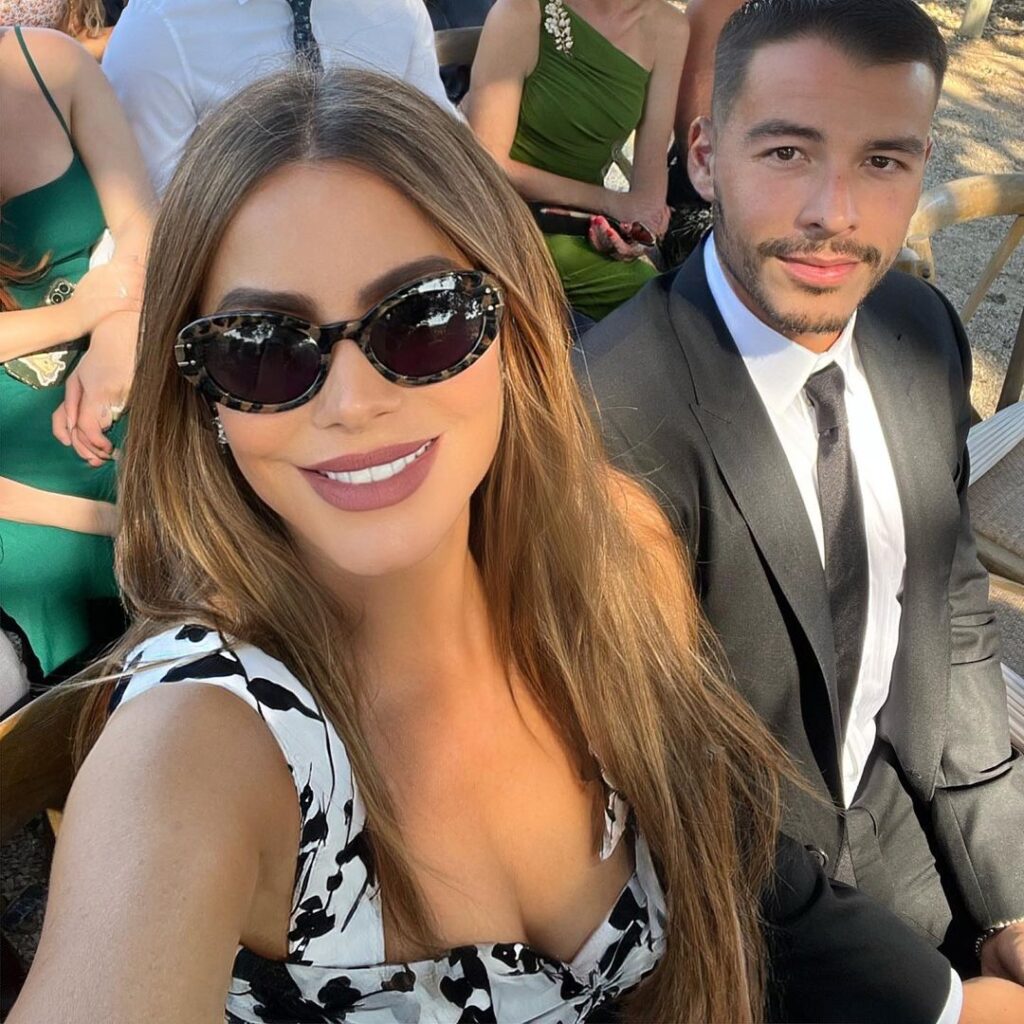 -New York, NY – 20220517-2022 Disney Upfront -PICTURED: Sarah Hyland and Wells Adams -PHOTO by: JOHN NACION/startraksphoto.com This is an editorial, rights-managed image. Please contact Startraks Photo for licensing fee and rights information at sales@startraksphoto.com or call +1 212 414 9464 This image may not be published in any way that is, or might be deemed to be, defamatory, libelous, pornographic, or obscene. Please consult our sales department for any clarification needed prior to publication and use. Startraks Photo reserves the right to pursue unauthorized users of this material. If you are in violation of our intellectual property rights or copyright you may be liable for damages, loss of income, any profits you derive from the unauthorized use of this material and, where appropriate, the cost of collection and/or any statutory damages awarded Featuring: Sarah Hyland and Wells Adams Where: New York, New York, United States When: 17 May 2022 Credit: JOHN NACION/startraksphoto.com
, Los Angeles, CA -20200105-21st Annual Warner Bros. And InStyle Golden Globe After Party -PICTURED: Wells Adams, Sarah Hyland -PHOTO by: Sara De Boer/startraksphoto.com This is an editorial, rights-managed image. Please contact Startraks Photo for licensing fee and rights information at sales@startraksphoto.com or call +1 212 414 9464 This image may not be published in any way that is, or might be deemed to be, defamatory, libelous, pornographic, or obscene. Please consult our sales department for any clarification needed prior to publication and use. Startraks Photo reserves the right to pursue unauthorized users of this material. If you are in violation of our intellectual property rights or copyright you may be liable for damages, loss of income, any profits you derive from the unauthorized use of this material and, where appropriate, the cost of collection and/or any statutory damages awarded Featuring: Wells Adams, Sarah Hyland Where: Los Angeles, California, United States When: 05 Jan 2020 Credit: Sara De Boer/startraksphoto.com

Photo credit: Cover Images and Instagram