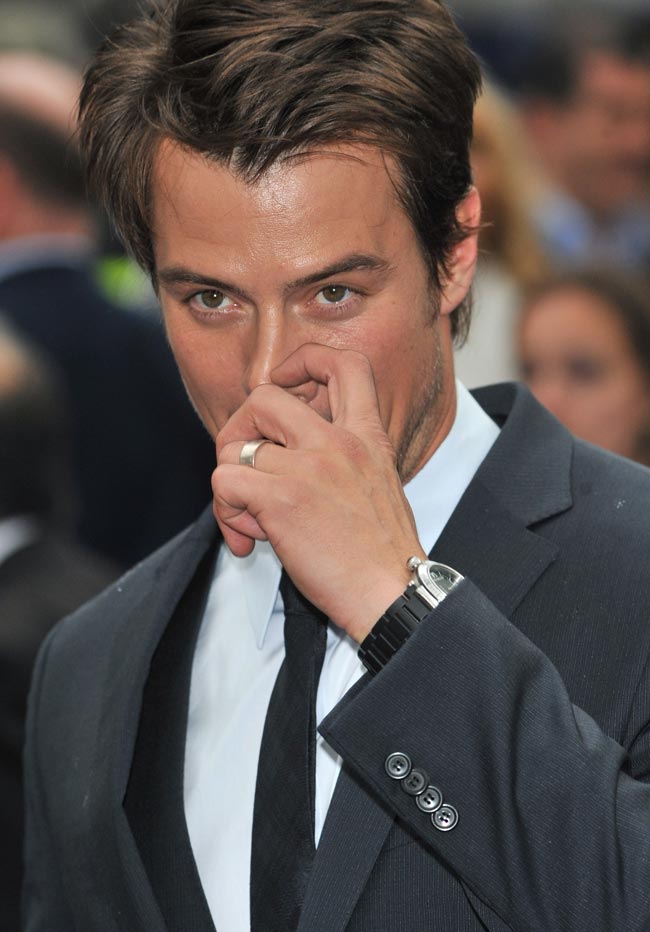 Yesterday, we talked about the National Enquirer's story about Josh Duhamel maybe having an affair with a stripper named Nicole Forrester ("Delilah") while he was filming a movie in Georgia. From the moment the rumor of this story first hit the intertubes, Josh's people have been denying it. Yesterday evening, Josh's rep even went to Us Weekly with an even more hardcore denial: "This is not the first nor will it be the last time that a stripper was paid a large amount of money to sell a false story about a celebrity. This story is absolutely ridiculous."
It could absolutely be the case that the stripper is making the whole thing up – and paying for her story does not add to any credibility she might have had. I want to make that clear: this could be (and probably is) total bullsh-t. CB said I was too mean to Josh and Fergie yesterday, so let me correct myself – I don't hate either of them, I just think they're a really strange couple, and I, personally, could see how Josh might be the kind of guy who would cheat on his wife with a stripper. I guess I'm saying that I didn't find the story shocking, but I can totally see how Josh and Fergie could be (and probably are) victims of some nasty tabloid reporting.
That being said, I enjoy some nasty tabloid reporting every now and then, and I enjoyed reading the stripper's (paid) account of what went down between her and Josh in this week's Enquirer. Here are some of the highlights:
Nicole tells the Enquirer that Josh initially identified himself as "JD" at the club, and said he was in town making a pr0n movie. After drinking Grey Goose vodka together, Josh Duhamel had Nicole perform a nude dance for him and a male friend.

"The dance was $10, and he gave me a $10 tip on top of that," Nicole said. Before Josh left, they exchanged phone numbers. The next day, Josh contacted her and asked her to visit him at his hotel.

"I got there at 1 a.m.," she says. They began chatting, but Nicole said Josh was reluctant to talk about himself – or his wife Fergie. "I kept asking about Fergie. He said, 'You know what you know.'"

After drinking a Bud, Josh told Nicole he wanted to go for a drive and had a valet bring his car. He seemed drunk "and he wanted to party," Nicole said. "He wasn't using his turn signals, abiding by speed limits or stop signs. He said, 'This is an adventure.' He's gorgeous – but crazy."
[From The National Enquirer, print edition, November 9 2009]
I just wanted to stop right there with this question – why am I so much more offended that Josh was driving drunk (with the stripper's enabling) than his alleged affair? Is there something wrong with me that I think drunk driving is way worse than cheating on your wife with a skeezy stripper? In my defense, he could have killed someone while driving drunk. Anyhoodle, here's more… now, for Josh's epic seduction:
The party turned passionate when they returned to the hotel at 4 a.m. Nicole says Josh played a sex movie on his T.V. "It was hardcore pr0n," says Nicole. "I was sitting on the couch and then he made his move, and we started kissing and making out. He took off all my clothes and liked my tattoo. We made love for a long time."

"He wanted me to get in the shower with him but I didn't. He wanted sex and more sex for four or five hours. He was using protection. I told him I was tired. He said, 'You don't like me. You act like you don't want to be here.' I told him I did. I got into bed and he went back into the other room naked and continued to watch pr0n. He was still watching pr0n when I woke up!"

By the next morning, Josh was ready to give Nicole the boot. "He said, 'I can't sleep with you here.' He sounded worried that somebody was going to come up. He was getting paranoid. When I walked out the door, he kissed me on the cheek. He said, 'I'll call you. I'm in town for another month.'"

"He went away for a week," said Nicole, "and didn't answer my calls." When they finally spoke again, she asked where he'd been. She says Josh snapped back: "Don't ask questions about my personal life!"
[From The National Enquirer, print edition, November 9 2009]
The story goes on – Nicole claims Josh tried to "cover up" their one night of passion. By the way, I love the part of the story where the stripper is calling him again and again after their one night stand. That cracked me up. Anyway, the "cover up" was Josh telling Nicole "Honey, you have to deny that you ever knew me." He told her that he loved his wife, and then they got into an argument. Honestly, both Nicole and Josh sound like total tools. The Enquirer goes on to state that Josh denies the sex, but not the being in the strip club, and the strip club people confirmed that he was there. Eh. Now that I've read the whole thing, I kind of believe it. So sue me.
Josh Duhamel is shown at the Transformers premiere and photo call on 6/15/09. Credit: WENN.com