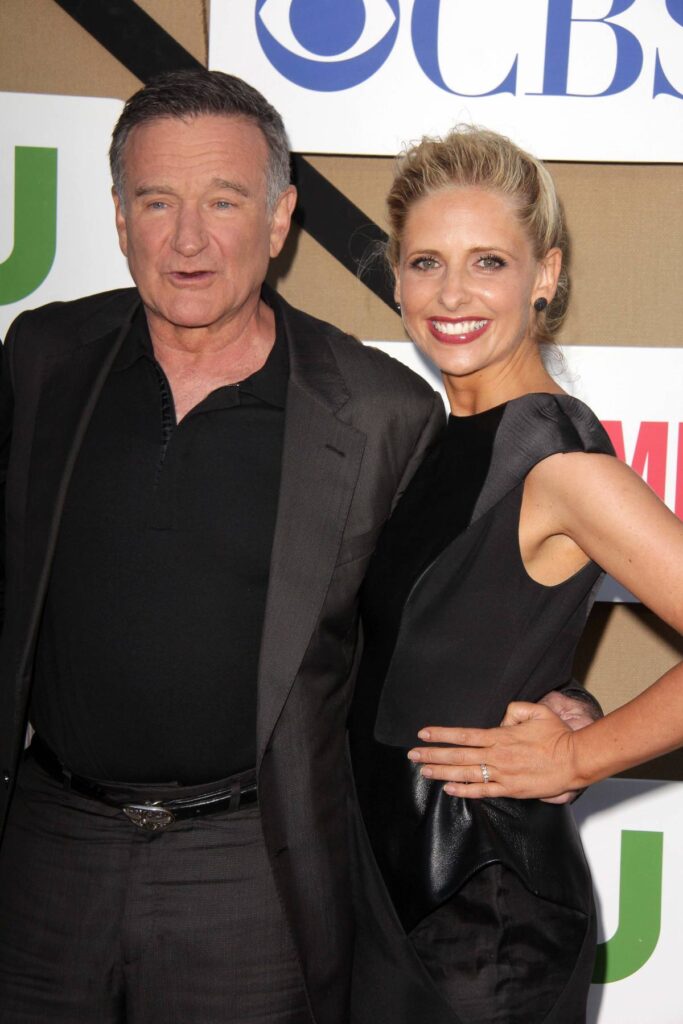 August 11th was the eighth anniversary of the passing of Robin Williams. There's always someone's death that hits you differently than most. I can remember where I was standing when I heard Robin died. So when Twitter or some headline reminds me of this anniversary, my mind puts me in that exact spot and it feels a little like I'm hearing the news all over again. Sarah Michelle Gellar was working with Robin shortly before his death. They were playing father-daughter in a sitcom called The Crazy Ones. After the show ended following his death in 2014, Sarah took a break from on-camera work. She mostly did voice work until her role in 2016's Cruel Intentions. Even after Intentions, Sarah stuck mostly to voice acting until her currently role in Wolf Pack. In an interview with People, she said the break was intentional for her mental health and for the health of her kids after being profoundly impacted by losing Robin.
Sarah Michelle Gellar is opening up about her much-needed career hiatus following the death of her friend and former co-star, Robin Williams.

While discussing her work with one of her favorite charities, This Is About Humanity, ahead of their big Aug. 27 gala in Los Angeles, Gellar reflected on the time she took a step back from her career to process the death of Williams.

"I've been working my entire life," she told PEOPLE exclusively. "When I had kids — and it was right after Robin passed away — there was just so much going on in my life and I just said, 'I need to take a break.'"

The 45-year-old actress played Williams' on screen daughter in the CBS sitcom The Crazy Ones from 2013-2014.

The series marked Williams' final television role before the actor died by suicide at age 63 on Aug. 11, 2014. It was later discovered Williams had Lewy body dementia, the second-most common type of progressive dementia after Alzheimer's disease.

Although their time on screen together was short lived, the Buffy the Vampire Slayer star shared an incredibly special bond with her TV dad — inspiring her to take some time to be home with her own children, daughter Charlotte Grace, 12, and son Rocky James, 9.
"I need to be here for these early formative years of my kids' life," shared the mom of two. "I needed that break to be the parent that I wanted to be."
We talked yesterday about how Sarah Hyland saw Ty Burrell and Julie Bowen as parental figures after all their years on Modern Family. Kaley Cuoco talks about losing her 'dad' John Ritter and how it's still raw 18 years later. Sometimes bonds are instantaneous and when you work that closely together, they become unbreakable. I'm sorry that Sarah had to experience of losing someone so dear to her. I'm glad she had the wherewithal to know what she needed for herself and her family to get through it. She said she did start to miss acting on screen but was still held out for the right projects. She's not only starring in Wolf Pack, she's an executive producer as well. And she has her Foodstirs baking company, so she really does get to dictate her career on her terms, which is the dream. It's impressive that Sarah was able to take such a sad and tragic situation and become stronger from it by doing the work she needed to. I'm not going to bright-side the tragedy, but I'm glad Sarah was able to come out the other end of it.
I found Robin incredibly talented and for that alone I miss him. I met him once; he was a riot and encouraged me to continue my path when I was a teen. But we knew people in common and he was so incredibly kind and generous to them that I hold him in very high regard for it. I learned of a few of his additional kindnesses after he passed. It made me want to be better.
Photo credit: Avalon Red and Getty Images