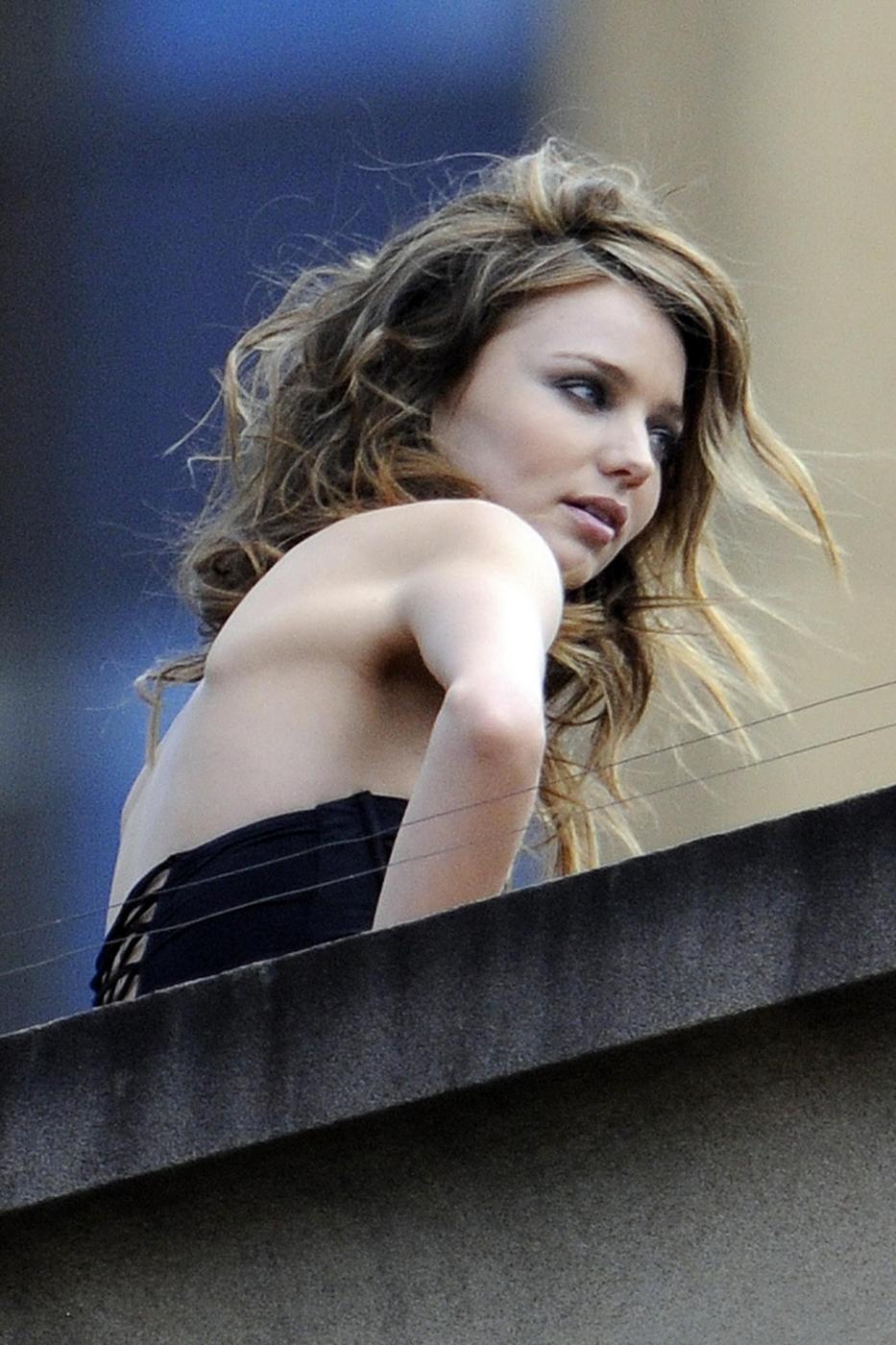 Looking at this ass-tastic picture of Miranda Kerr from V Magazine, it's hard to believe that Miranda is being criticized for being "too thin". Granted, I've always found her to be a bit too skinny for what I, personally, consider a healthy body, but Miranda has usually gotten a pass from the tabloids. Unlike Kate Bosworth, whose shrinking frame was noted all the time when she was dating Orlando Bloom. The Orlando Bloom connection is what's driving a story in Star Magazine this week. They're claiming that Miranda has lost weight, and they blame it all on Orly:
Miranda's emaciated frame shocked eyewitnesses Down Under during a photo shoot in Sydney on Oct. 15.

"She looks horrible," Dr. Stuart Fischer [some random diet doctor who studied pictures of Miranda] tells Star. "You can see the full scapula and her arms are very thin. The groove in her back is like a canyon! She needs to gain about 20 to 25 lbs to be healthy."

Despite public outcry over her scary-skinny look, Miranda claimed the photos were taken at an angle that made her "look thinner" than she is.

"I'm healthy and fill my body with the right foods," insists Miranda, who is releasing Treasure Yourself, a book on diet and nutrition, early next year.

But an insider close to the 26-year-old Aussie says she's been upset lately over her stalled relationship with Orlando, whom she has dated for more than two years. "She wants a ring – now! They've been fighting about getting married, as Orlando says he's just not ready yet, says the insider. "Things have been very rocky between them. Miranda feels like she's waited long enough."
[From Star Magazine, print edition, November 9 2009]
I've always believed that Orlando is the one who wants to get married, actually. I think Miranda is the one who's a little gun-shy. In any case, I don't think Miranda and Orlando are having relationship problems, even though they haven't been seen out and about lately. Actually, Orly is spotted regularly walking Miranda's adorable Yorkie. E! also has an interesting story up today about Miranda and Orly. Apparently, Miranda has no problems showing Orly that ass of hers… even when they're out in public:
It's been a bit chilly the last few days in Los Angeles, but that doesn't mean Orlando Bloom's girlfriend Miranda Kerr has been wearing layers.

In fact, she left the house the other night without any underwear on.

One of our eagle-eyed sources spotted Bloom, 32, and his Victoria's Secret model ladylove, 26, earlier this week enjoying an evening stroll down a Los Angeles street.

"They're both laughing and looking they're having a good time," our source tells us. "Then Miranda takes a few quick steps ahead of Orlando and pulls her skirt up to her waist…and flashes her ass."

And the bare buttocks show didn't stop there.

"She flashes him and then starts doing a little catwalk move while Orlando nearly doubles over laughing," our source says. "She takes a good 10 to 15 steps with her skirt pulled up, ass totally out, doing her model walk with him following."

What happened next, we'll have to leave to your imagination. "As they got past the well-lit corner of the street," the source says, "they disappeared into the shadows."

Our horndog source was impressed. He gushes, "It was definitely pretty cool."
[From E! News]
Usually, I could care less about Orly and Miranda, but I found that story cute. It sounds like they're still together, and still going strong. Strong enough for ass-flashes and dog walking in any case. I apologize to Orly's devoted fan base (like Orly-loonie Stacie) who might hate Miranda… looks like your boy is happy!
Here's Miranda Kerr showing off her super skinny frame during a rooftop photo shoot for Grazia magazine in Sydney on October 15th and posing for a photographer during a photo shoot forVictoria's Secret on Monday. Images thanks to BauerGriffinOnline. Pacific Coast News. Photos from V magazine thanks to Cover Awards.