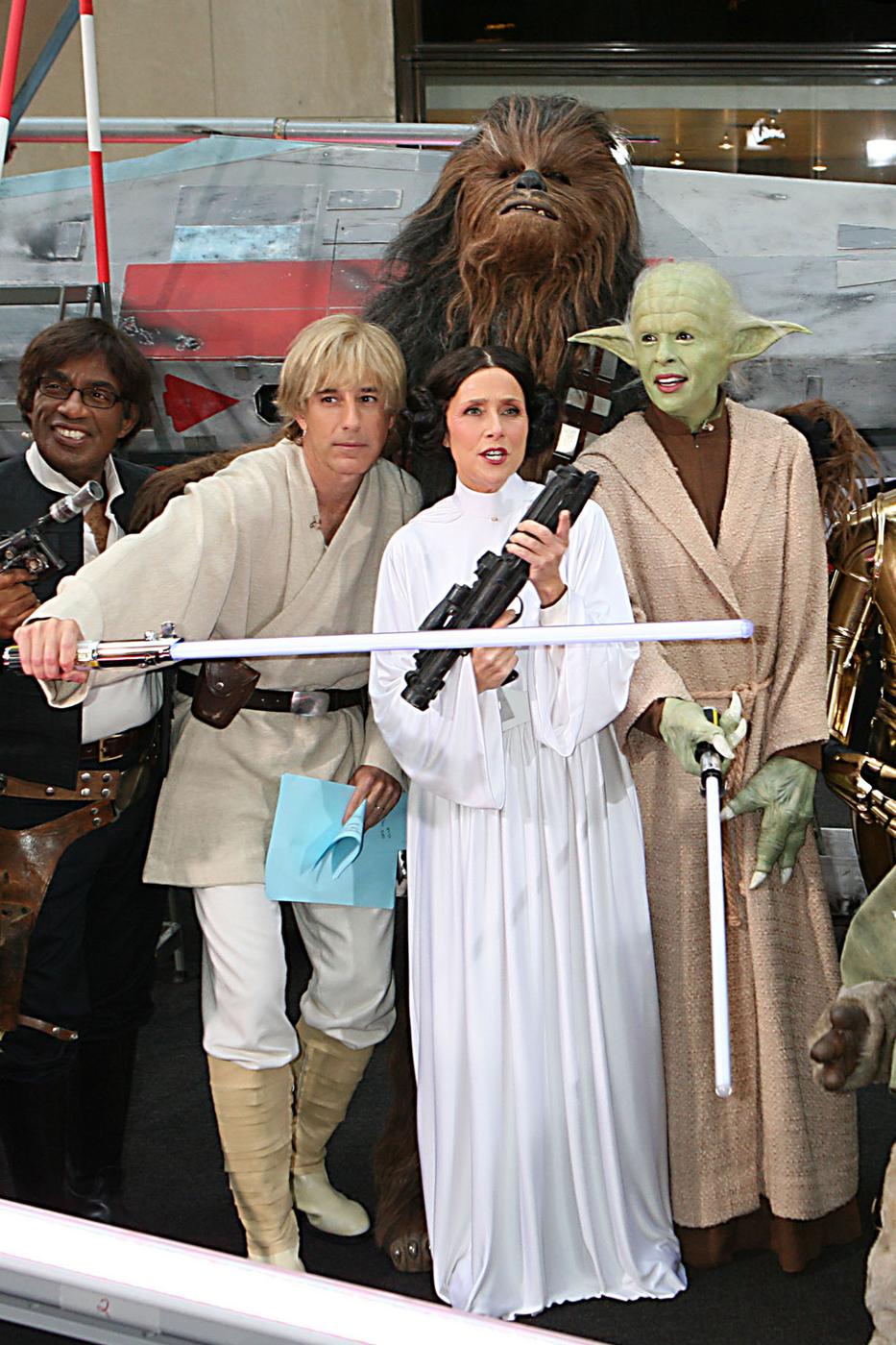 Every year the Today Show goes all out for Halloween. I'm fairly certain at least 30% of their annual budget must go to this effort. This year, the theme was "Star Wars" and they even worked with George Lucas to make sure the costumes were done right. I saw a couple minutes of the prep work this morning and it looked daunting, to say the least. There were a lot of complaints about how hot and uncomfortable everyone was. Needless to say, I didn't envy them. But the costumes looked good, and the gropy Ewoks had a nice time.
For this year's costume party, 'Today' traveled to a galaxy far, far away for inspiration. Why 'Star Wars'? As Yoda would say: Dwell on the logic you mustn't. Just enjoy the ridiculousness of this most beloved annual tradition of watching Matt Lauer and company acting silly.

Working with George Lucas, the gang gussied up in elaborate costumes — surrounded by Stormtroopers and huge set pieces from the original films. Al Roker showed up as Han Solo, while Meredith Vieira (with an Ewok by her side) bunned up as Princess Leia, Kathie Lee Gifford suited up as C-3PO, Ann Curry as cyborg meanie Darth Vader and Erin Burnett as Padme Amidala.

But the real fun began when Matt Lauer, as Luke Skywalker, had a hard time getting out of his X-Wing Fighter. The hatch opened at a crawl, leaving Lauer/Skywalker thoroughly helpless. "I got a bad feeling about this," Roker joked. After making some "c'mon, c'mon" gestures, Lauer was a finally able to pull himself out.

"Sorry, I'm late. I was on my laptop."

But the awkwardness level truly exploded moments later when Hoda Kotb emerged as — you guessed it — Yoda Kotb. "I am Yoda, I am." Unsure what to do next, Lauer began thanking George Lucas for providing the props, before being reminded that Curry was still wearing her Vader mask and needed to be introduced.

Later, an Ewok got a little frisky with Meredith. "Don't touch my butt!" she said.

Fans of synergy and corporate tie-ins will be curious as to why 'Star Wars' was chosen this year, when topics like the vampire craze, reality shows ('Jon & Kate') and 'Mad Men' could have been tackled. If you need a reason, go with the 'Star Wars: In Concert' live symphony show that is touring the nation right now.
[From PopEater]
Honestly I really wish they'd gone with something a little more inventive than Star Wars. Seeing a super realistic "Star Wars" costume isn't that novel, in and of itself. There are a lot of Star Wars geeks out there who get all obsessive about their costumes. And not just because it's Halloween. Some of them, it's just because it's a Tuesday. Last year they did Humpty Dumpty for the theme, which was awesome. First off, you don't see a lot of giant egg man costumes. And they were just fabulously done. It took real creativity and innovation, and I think most everyone was surprised. As PopEater subtly pointed out in their article, in this case the most interesting thing about the "Star Wars" theme was what went wrong.
Nonetheless, the pictures are still fun to look at. It's always enjoyable to see an otherwise respectable (mostly) journalist dressed up in a silly costume.
Images thanks to Pacific Coast News.