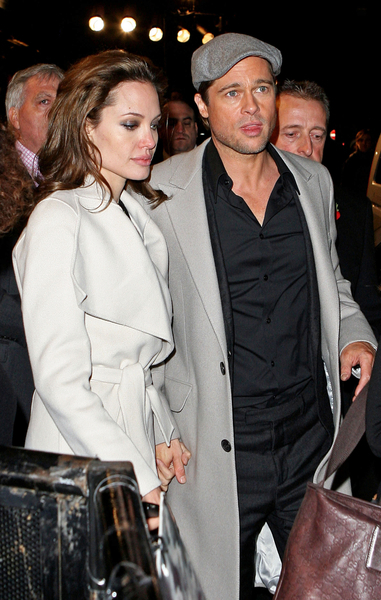 Angelina Jolie is said to have caused a lot of tension at home when she let the news drop that she would make a guest appearance on her ex husband, Jonny Lee Miller's new series on ABC "Eli Stone.
Brad got super pissed and she decided to cancel her plans, but not after he let her have it. He was said to be pretty upset that she would make a career decision like that without consulting him, and thinks it was hypocritical of her. If Brad wanted to work professionally with Aniston, Angelina would never allow it:
Angelina's ex, Jonny Lee Miller, stars in the new ABC drama series, "Eli Stone," and she had consented to appear on the show.

"Brad really blew up when she casually mentioned that she was, as she put it, 'helping Jonny Lee out,'" an insider told The Enquirer.

"Angelina usually discusses with Brad every role she takes before committing to it – so it was a double breach of trust.

"Brad has always been leery of Angelina's special relationship with Jonny Lee, and it really galled him that Angie went behind his back and agreed to the role.

"As a result, Brad exploded, and it really caused a rift between them."
[From The National Enquirer, print edition, December 3, 2007]
This could be totally untrue, because the gossip magazines have to manufacture shit about these two every week in order to move copies. Unlike the other usually-vague stories about how they're fighting or jealous or whatever, this seems possible, but I'm doubtful.
Miller is Angelina's first husband and they are still friendly from most reports. Brad doesn't seem like the jealous type, but it would probably really annoy him if Angelina wanted to appear on her ex's show. You know the tabloids would have a field day with that, since they jump on every little crumb you feed them and turn it into a meal big enough to feed the gossip-hungry masses.
Angelina has called divorcing Jonny "probably the dumbest thing I've ever done," but to me it seems like her biggest mistakes are the things she says rather than what she does. If only she would give vague interviews I think she would avoid a lot of trouble. And isn't it a sign of maturity to be friends with your exes?
Angelina and Brad are shown at the Beowolf premiere in London on 11/11/07, thanks to PRPhotos. Angelina is shown with Jonny Lee Miller below on 9/22/05 at the Peace Day One premiere, thanks to Splash News. Miller is the guy looking down on the right of the photo to Angelina's left.