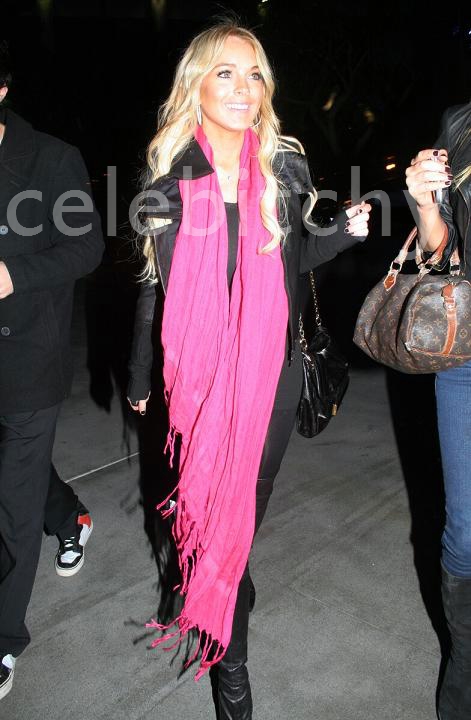 First things first: I never support Lindsay Lohan. Lindsay Lohan could somehow turn into the Virgin Mary, and I'd still have a really big problem with her. I think I might be going to a special level of Hell just for saying that. But if someone should be such a giant prick as to make me support Lindsay Lohan, I'm pretty sure that person is destined for a special level of Hell too. Probably one where "Herbie Fully Loaded" plays on a loop.
Lohan's car hit busboy Raymundo Ortega's van on October 4, 2005. Lohan had just finishing having lunch at the Ivy. The Los Angeles County Sheriff's Department's ruled the incident to be Ortega's fault for making an illegal U-turn directly in front of Lohan. They also ruled that alcohol was not a factor in the crash. It seems pretty clear that Ortega say dollar signs on impact. But he didn't do anything for two years, until Lohan went to rehab for the second time. Then he filed a negligence suit on June 14, 2007 against both her and the Ivy (who he believes served her alcohol even though she was underage) for $200,000. His argument seems to be that because Lohan has alcohol problems now, she must have had them then. While that could very well be true, I can't imagine how someone could prove that. More specifically, I can't imagine how he could prove that Lohan was drunk at that moment two years ago, especially when the sheriff's deputies said she wasn't. It seems like he's trying to take advantage of the situation.
Lindsay finally countersued the guy, since she paid for all the repairs to her car herself – which she didn't have to do, since the crash was ruled Ortega's fault. [I just want to note that I'm seething right now because I'm actually feeling something close to empathy for Lindsay Lohan, and that makes me HATE Raymundo Ortega with the fire of a thousand suns]. Anyway, Ortega has been dragging Lohan in and out of court almost weekly, promising that he has some evidence that will prove she was drunk that day. But he's failed to produce it or comply with any of the judge's orders to turn over paperwork pertaining to his evidence.
According to court documents filed in Los Angeles Superior Court, Lohan's camp is requesting that a judge order the Los Angeles-based busboy to provide proof that Lohan, contrary to the CHP's report, had been drinking on Oct. 4, 2005, before she smacked into Ortega's van with her Mercedes.

The 21-year-old starlet's lawyers also request in their latest filing that the judge conclude that Ortega's allegations are false because the plaintiff has ignored their repeated requests to turn over the documents he claims to have that prove his assertions. Ortega's lawyer has said that they have witnesses who will support their side of the story.
[From E! News]
I'm not inclined to believe Lindsay Lohan is innocent of anything. The sky could suddenly turn green and rain hedgehogs, and I'd be certain her drinking was somehow involved. But something tells me Ortega's "witnesses" are a load of crap. This whole thing sounds like it's filled with opportunists. And they need to be stopped, not to make Lindsay's life better, but so that no one feels inclined to cut her a break out of sympathy.
The judge also ruled against Lindsay's request not to have her deposition taped. Her lawyer argued that the press would try to get a hold of the tape, which would go for tens of thousands of dollars. But that's more than most of Lohan's movies rake in anymore. Really, it can only help.
Picture note by Jaybird: Here's Lindsey Lohan leaving Byron salon on November 28th. She then went to the Staples Center for a Lakers game. Images thanks to Splash Photos.