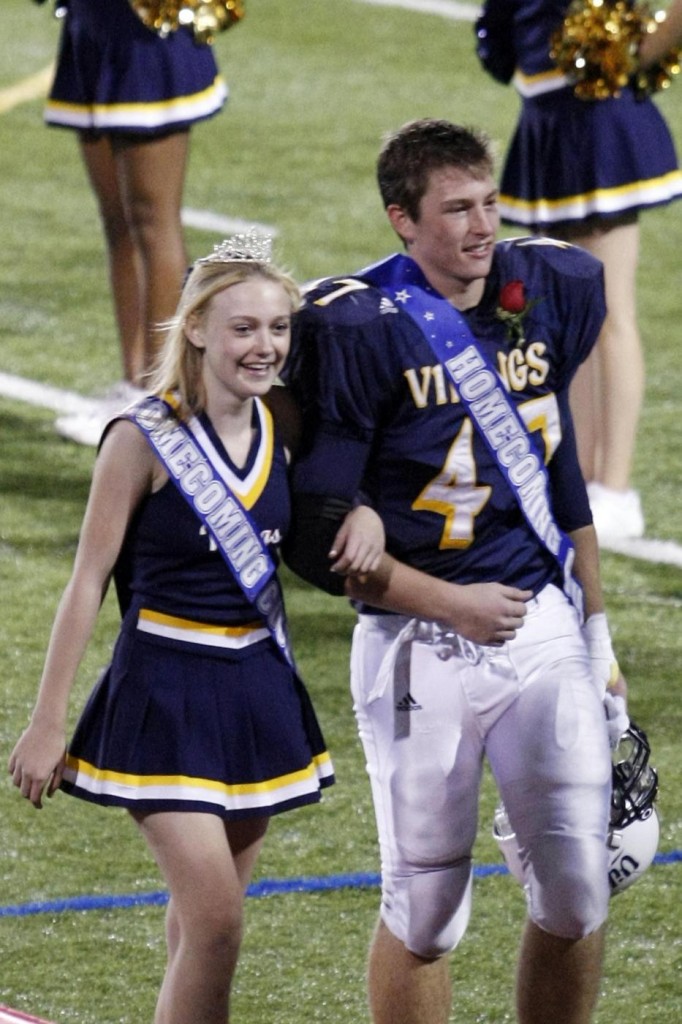 15 year-old actress Dakota Fanning is also a celebrity in her high school. Fanning, a cheerleader at Campbell Hall Episcopal School in North Hollywood, was crowned homecoming princess at a football game on Friday. Fanning joined in cheering for the home team, the Vikings, and then stepped up to receive her crown.
No stranger to the red carpet, Dakota Fanning, walks the red runway into homecoming royalty as she is named Homecoming Princess at her school. Multi-talented/ cheerleading Dakota, 15, and her fellow Vikings stepped up school spirit during a football game for their high school football team, The Campbell Hall Episcopal in North Hollywood. Taking a break from her life as an actress, Dakota looked like any other teenager performing with her cheerleading squad.
[From Pacific Coast News photo description]
Dakota seems to be leading a very normal drama-free high school existence (as if high school could ever be drama free), and she must be held in high esteem among her peers if she's being voted homecoming princess. At first I thought she was too young for homecoming queen at 15, but she's the princess, not the queen. These pictures are so cute and she looks thrilled at the honor.
The thing that bothers me about these photos is that the cheerleading moves look dangerous! I know this is the norm for high school cheerleading, and that's part of the reason why it's the most dangerous sport. Years ago I saw an expose on cheerleading on HBO's Real Sports featuring young women who were disabled as a result of cheerleading moves gone wrong, and that's something I remember when I see cheerleaders getting tossed like this.
Photo credit: Pacific Coast News