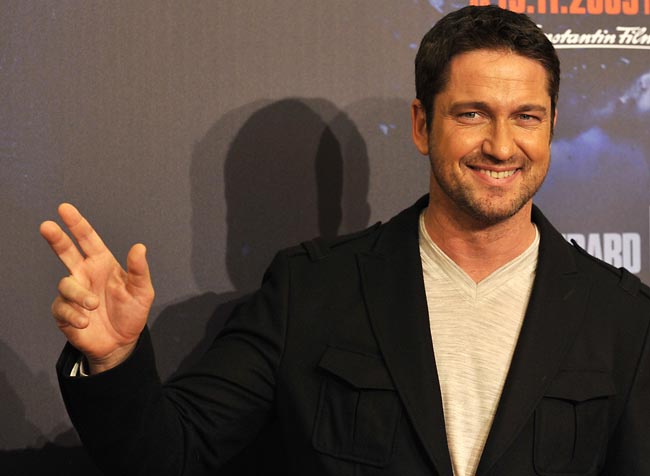 CB sent this link to me with an apology, but at this point I know my imaginary boyfriend Gerard Butler is a total horndog who will nail anyone and anything. In the past few months he's been linked romantically to everyone from Jennifer Aniston, Priyanka Chopra, Jessica Simpson, random reporters and me (in my dreams). Now it's Lindsay Lohan's turn on the merry-go-round known as Gerard's jock. Here's the thing – and this could totally be my crush talking – but I think Lindsay was the one trying to hook up with Gerard, or at least get press for it, while Gerard couldn't have cared less. See what this sounds like:
It seems there is yet more heartbreak in store for unlucky-in-love Jennifer Aniston. The Friends actress has been romantically linked to her latest co-star Gerard Butler, but he's turned his attention to another Hollywood bachelorette – one Miss Lindsay Lohan.

The Scottish actor, 39, was spotted kissing the 23-year-old Mean Girls star at a lavish party to mark the opening of the Mazagan Beach Resort in Morocco on Saturday night.

The pair spent much of the night dancing and flirting in the hotel's Sanctuary nightclub before eventually leaving the party together in a golf buggy, according to an onlooker.

Before she was whisked away, Lindsay told the Mirror: 'He's hot, he's mine! I've got no ring on my finger so I'm going to have lots of fun. This is the most romantic place in the world.'

However, another party-goer said Gerard was busy flirting with lots of women, and that they didn't lock lips.

Either way, Lindsay's on-again off-again romance with DJ Samantha Ronson has quite clearly cooled, with Lindsay saying she is 'fed up with all the drama'.

Gerard was also behaving like a single agent despite reports of a romance with 40-year-old Aniston, who co-stars with him in The Bounty. He has previously insisted they are just friends.

Gerard and Lindsay were among the celebrities, businessmen and socialites galore gathered for an exuberant party to mark the opening of the new five-star hotel in El Jadida, overlooking the Atlantic Ocean.

Costing an estimated £2million, the celebrations featured 20 fire-eaters, scores of belly dancers and 50 Arabian horses lined up to greet guests.

A team of workers spent three hours lighting 100,000 candles dotted around the pool, petals from more than 100,000 red and white roses were scattered around the resort and a huge fireworks extravaganza – created by Phil Grucci who did the Beijing Olympics display – was the highlight of the evening's entertainment.

While endless bottles of Veuve Clicquot champagne flowed all night, guests feasted on a mouth-watering spread of fish, sushi and traditional Moroccan cuisine. Photo opportunities with snakes and monkeys were even on offer for the more daring members of the party. Guests were flown in from around the world for the all-expenses paid two-night stay at the lavish 500-room resort.
[From The Daily Mail]
Gerard was actually photographed entering the event with some random orange-clad woman, so he might have had a date. And I've been looking at pictures from the event, and he was photographed with lots of other women, but no Lohan. Of course, if you're really going to have a downlow hookup, you'd probably be sure to avoid being photographed, so that could be one explanation. Argh! So, what's the verdict? Is Gerry a big enough skeeze that he hooked up with Lindsay?
Photos above are from the event in question. Photos below are from a photocall in Berlin today for Law Abiding Citizen. Credit: WENN.com