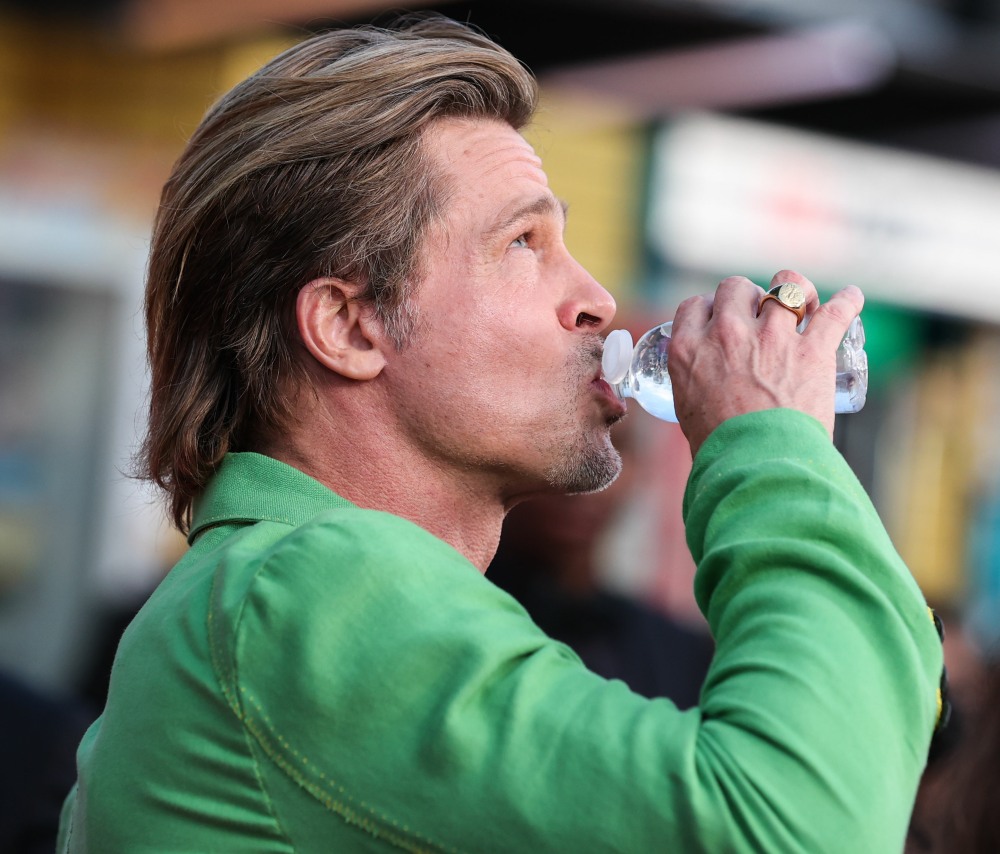 Brad Pitt arrived in Venice yesterday, but all of the arrival photos are exclusive for some reason. I guess we'll get red carpet photos of him later today. Brad is probably eager to change the subject back to "look how glamorous I look in Venice" as opposed to "look at my abusive scumminess coming to light." Not only did Brad assault Angelina Jolie and terrorize her and their children over the course of hours on a plane in 2016, Brad spent the following six years after that night financially abusing her, smearing her in the media and publicly gaslighting her. The latest salvo in this whole situation is a lawsuit filed against Pitt over Chateau Miraval. One year ago, Angelina was finally cleared (by the courts) to sell her half of Miraval, called Nouvel. Nouvel's new owner (Tenute del Mondo) has sued Brad for $250 million, and the lawsuit is full of fascinating details. Details like: Pitt tried to force a gag order on Jolie when she tried to sell Nouvel to him; Pitt was hiding assets, mismanaging the business and cutting her out of her half; Jolie didn't want to return to Miraval after the 2016 plane terror night. Well, Pitt's people finally ran to People to cry about the latest lawsuit.
Jolie's business Nouvel is seeking more than $250 million in damages, accusing Pitt of "waging a vindictive war against" Jolie ever since she filed for divorce back in 2016.

"These counterclaims lay bare the true nature of Pitt's egregious misconduct. To be clear, it is Pitt, and not Jolie, Nouvel or any of the other Defendants, who has acted in a hostile, destructive, and illegal manner. Pitt's behavior has caused serious harm to Nouvel," reads the documents, obtained by PEOPLE.

A source close to Pitt tells PEOPLE, "This is just the latest in a series of deliberate efforts to misdirect, recycle and reposition the truth of what has happened over the last six years, thinking that reasonable people would be duped by these obvious misrepresentations. It's hard to understand how leaving an inheritance of 40 percent of something is better than 100 percent of something, and it's equally inexplicable how continuing to revisit the same points over and over again is in any way beneficial to this family."

The new filing from Jolie's legal team says, "Pitt is gaslighting, claiming that he is the victim in order to cover up the harm he intentionally caused to his ex-wife (excluding her from the business and holding the most significant part of her net worth hostage) and the business (asset stripping and foolish spending). But Pitt should look in the mirror because it is he, and not the Stoli Group, who carries baggage, some of it recent front page news, that is detrimental to Château Miraval's business."
"It's hard to understand how leaving an inheritance of 40 percent of something is better than 100 percent of something…" Is Brad an idiot? He was mismanaging Miraval and cutting Jolie/Nouvel out of the business and he was pissing away millions of dollars. Jolie simply wanted out, she tried to sell him Nouvel and he used that offer to try to silence her to protect his precious image. Jolie made a substantial investment in Miraval too, and she wanted to get her money out before he pissed all of that away. Which is her right. Anyway, I appreciate that Jolie is fighting back in the media now.
Meanwhile, Vanity Fair published the first look at Hollywood Babylon starring Pitt, Margot Robbie and others.
Photos courtesy of Backgrid, Avalon Red.