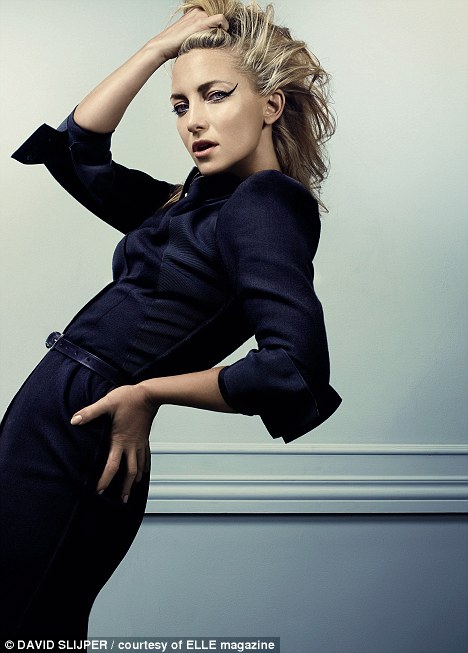 Kate Hudson is the cover girl for the December issue of Elle Magazine UK. Kate's promoting her role in Nine, but she's also promoting her recent "weight loss" (yes, I was surprised too) and her relationship with Alex Rodriguez. I find the photos to be very sketchy, but maybe that's just me. They've got her greased up and her body looks very, very athletic – like she's a female bodybuilder or something. Or Madonna. I don't care for the look or the styling, but whatever. In the interview (excerpt from the Daily Mail), Kate talks about how she is not engaged to Alex Rodriguez, but how she is totally in love with the idea of Botox. Yikes.
Kate Hudson has cast off her wholesome girl-next-door image in a new series of raunchy pictures. The stunning shots show the blonde actress oiled up in a black swimsuit with satin gloves and feline eye make-up.

Kate, whose mother is Hollywood actress Goldie Hawn, is also snapped with the same eye-catching make-up teamed with tousled hair and a sexy belted dress.

The 30-year-old, who has been dating New York Yankees star Alex Rodriguez for six months, revealed she has given up alcohol in preparation for a film role in which she stars as a terminally ill woman who falls for her doctor.

The star, who lost 20lb, said: 'I love my glass of wine. I love tequila. To be in New York for two weeks and not have one beverage, I'm not sure I've ever done that!'

Kate also used the interview to set the record straight and deny that she is engaged to Alex after she was reportedly spotted with a ring on her finger.

She told Elle: 'Did you know that it was this one, on my right hand? I hear about this and I'm like "Why would I even respond? What would I say if you're going to lie about something ridiculous?"'

'And if you really did your job, you'd look at the pictures taken that day and realize [the ring] was on my right hand.'

The mother-of-one also revealed: 'I love being a girl. I love clothes and I love the rituals of facials and body treatments, all the stuff girls get, make-up, scarves, hats. And we're like a tribe. That's just our nature. You get a group of women together and, somehow, we keep it together. I love that we can be that powerful, as a group. Men, you know, it's survival of the fittest.'

Kate, whose film Nine is out in December, admitted she would be willing to try Botox in the future.

She said: 'Everyone's so obsessed with who gets Botox, but it's great! Are you kidding? The fact that women can avoid going under the knife and get a little Botox treat and not have to worry about it? I'm glad it's there for when it's time.'
[From The Daily Mail]
I think Kate is saying she hasn't had Botox, but will when her time comes. Maybe she's trying not to be judgy because her mom uses it? Who knows? As far as the engagement stuff goes – well, I'll admit that I do think Kate wants to be engaged, and wants to marry Alex Rodriguez. It probably wasn't an engagement ring she was wearing, but that doesn't mean she isn't up for it. I was actually thinking about Kate and A-Rod over the weekend, and I came to uncomfortable conclusion that A-Rod might be the healthiest relationship Kate has been in for a while. That's not some great leap, but it is interesting. In any case, I've got twenty bucks on their engagement in the next two months. Any takers?