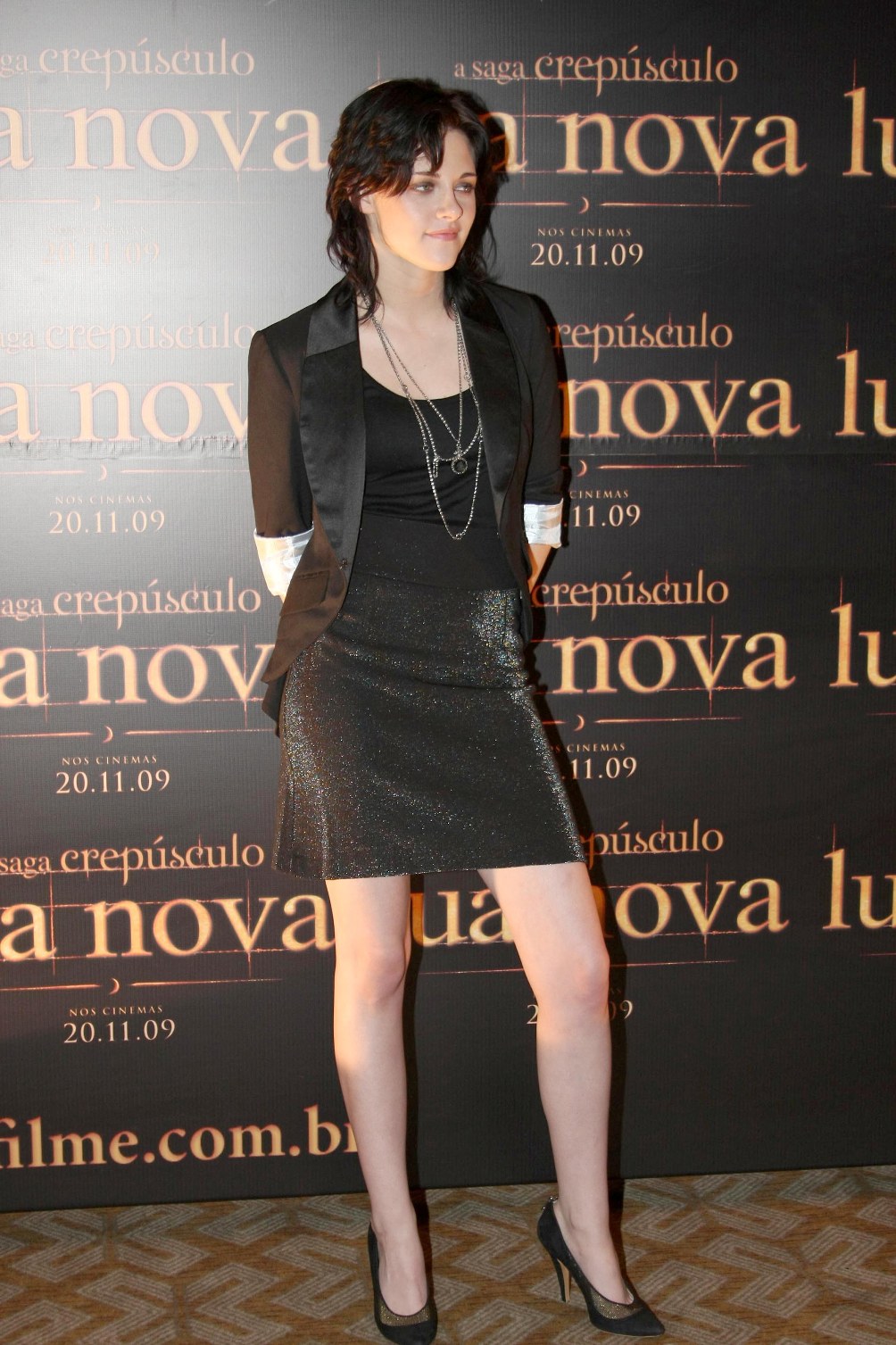 Kristen Stewart gave some kind of interview to Fabulous Magazine (which is British, I think) where she was discussing how fame is like being a vampire. Sort of. She said Robert Pattinson's character Edward Cullen is "actually a really good parallel to fame… As a vampire, he has a sad, desolate life—fame is the same." Aw…poor baby. It's so tough being so beautiful, rich and beloved! No, no. I understand what she's trying to say, I get it. And the fame must be crushing for both her and Pattinson.
Kristen also name-checks Angelina Jolie as someone whose celebrity she doesn't want – but it's kind of a diss too. I read her comments as "I'm an actor while Angelina is a celebrity, which sucks for her." Maybe I'm reading too much into to it – Kristen isn't the most coherent celebrity, so perhaps she just got jammed up:
Famed bottom-lip-biter Kristen Stewart says there is some parallel poetry between the vampires of Twilight and the life of fame and riches that the movies' roles have brought about for their young stars. Which really is the sort of startling conclusion that would've helped the past couple generations of child stars age a lot more gracefully.

Maybe Stewart's exceptional worldview is just part of a sea change for many young celebrities quickly learning to adapt to the ruthlessly fickle rhythms of celebrity culture. But she presents co-star Robert Pattinson's Edward Cullen as a bleak metaphor for celebrity. She says, "Edward is actually a really good parallel to fame."

"As a vampire, he has a sad, desolate life—fame is the same." Too true, K-Stew! It's lonely at the top. Because when you're reportedly raking in at least $12 million to bite your lower lip, there really is no one else—apart from those already lingering in that same dark chamber of celebrity shame—who can "get" you.

The rest of us will just bitterly bray about how you act by biting your lower lip, hoping that no one finds the joke tiresome. But Stewart's candidness is refreshing. She adamantly wants to avoid becoming too A-list. "I don't want to be a movie star like Angelina Jolie. Nothing about being a celebrity is desirable. I'm an actor. It's bizarre to me that everybody's so obsessive."

It's like growing up in a Hollywood universe and watching their peers, like Lindsay Lohan, implode so publically, young would-be A-listers tread showbiz turf with more practiced reservation than even venerable Oscar darlings.
[From Blackbook Magazine]
The whole "lip-biter" thing is linked in the original Blackbook piece to a hilarious College Humor video mash-up of Kristen Stewart's epic lip-biting in scene after scene, movie after movie. She really does have a problem. Biting her lip is her acting crutch. Whenever she doesn't know how to "act" she bites her lip and stares blankly. Seriously! This is one of the best videos ever! Here you go:
Here's Kristen Stewart with Taylor Lautner at a press conference to promote their new movie 'The Twilight Saga: New Moon' in Sao Paulo, Brazil yesterday. Images thanks to INF Photo.