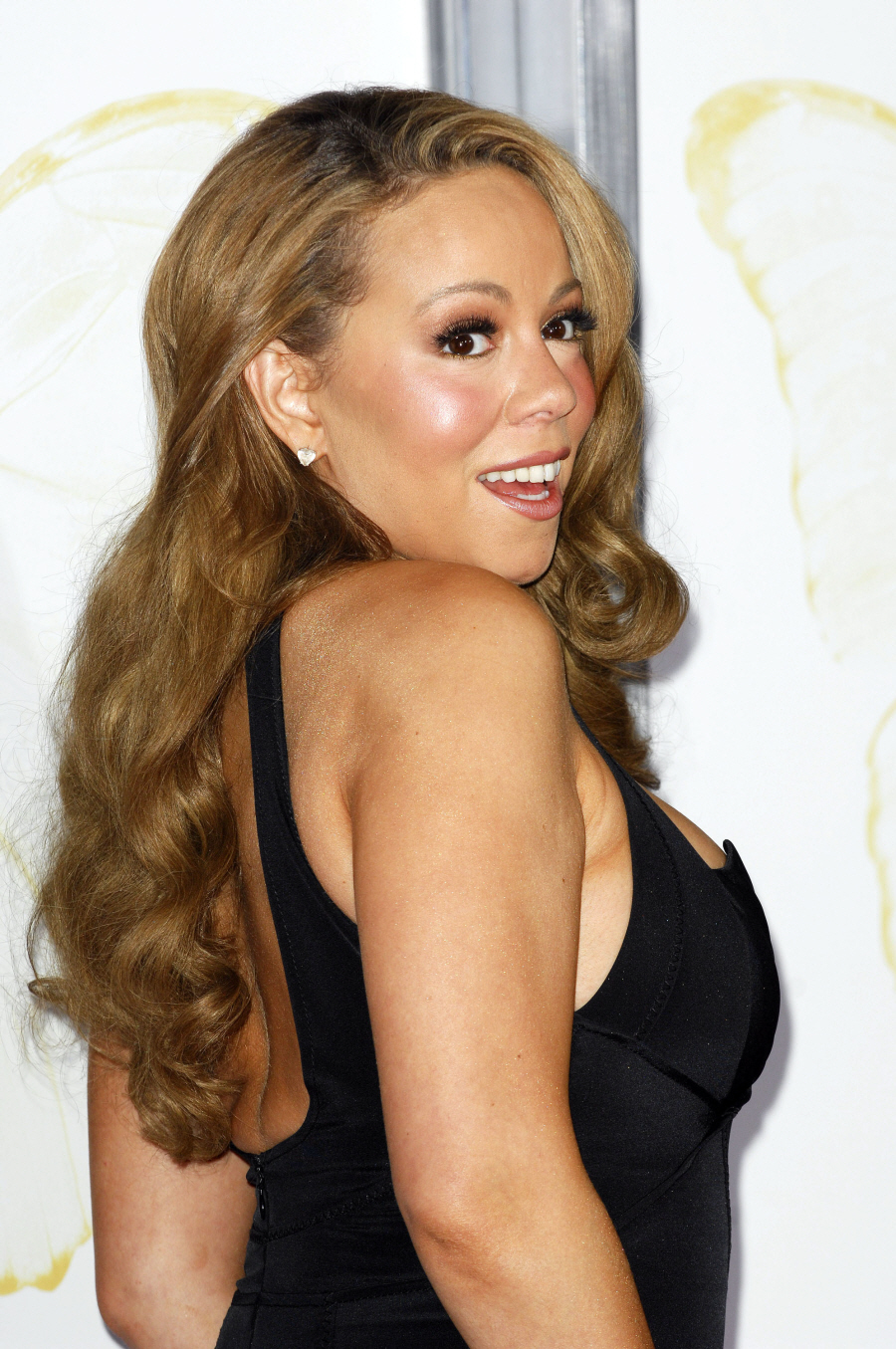 It's no secret that Mariah Carey wasn't a big fan of her styling for the film Precious. From the clips and promotional images I've seen, Mariah is wearing a fug wig, little to no makeup, and they even gave her a little mustache. This is Mariah's chance at Oscar, and she knows that Oscar loves when a woman uglies it up. So she'll campaign for her Oscar like a good girl (and unlike Mo'Nique, who seems to be pulling a diva act so hard, she probably won't even get a nomination, much less an Oscar). Mariah's heart is in this campaign – but she's still going to let everyone know how unhappy she was with how horrible they made her look.
When Mariah appeared on Oprah back in September, she even dropped the f-bomb when she described all of the crap director Lee Daniels did to her to make her look horrible: "I didn't even know what to do, man. I was like, 'This is so ugly, I don't know what to do.' He put dark stuff under my eyes, he … put fluorescent lighting, the most hideous lighting. Some people had the most beautiful, angelic lighting, and I looked at Lee like, 'You motherf-cker, why did you do this to me?" Mariah echoed the same sentiments (minus the f-bomb) when she spoke to Us Weekly on the red carpet of the Hollywood premiere:
Mimi — a.k.a. Mariah Carey — doesn't enjoy being emancipated from her glamorous self.
The singer returns to acting in the buzzed-about gritty drama Precious, playing an 80s-era hard-knock social worker named Mrs. Weiss. And her look in the film — bad hair, dowdy clothes, even a faint mustache — is as far from fabulous as she's ever been.

"It wasn't just de-glamorized," Carey, 40, told Usmagazine.com at Sunday's Precious premiere at Mann's Theater in Hollywood. "They added some hideousness on top of that too. I drank some ugly juice," she said, laughing.

It's not the first time the music star has told Us about the humbling experience, either. At a Precious event in Toronto Sept. 13, she noted "I couldn't even look in the mirror! It was tough."

Gabourey Sidibe, Precious' young star, told Us in Toronto that Carey "hated" her time in the makeup truck. "She hated her wardrobe! It was the funniest thing. Like the first day of school or something, where you're not wearing the right socks and the whole outfit's ruined."

"I wouldn't let her look at herself!" added the film's director Lee Daniels. "She just trusted me. I knew she was serious [about her performance]."

But once filming was through, Carey used her beauty school education to make things right again. "I just dealt with hair first — I have my own little tricks!"
[From Us Weekly]
Mariah also spoke to People Magazine about her fug "transformation" – and she goes off again! Mariah told People: "I felt completely rancid!" Mariah also said that the unglamorous look helped with her diva behavior: "I didn't have to feel compelled to be always glamorous. With the music industry, it's very like 'Oh, she's got a hair out of place! Go fix it!' And so this was such a liberating experience and yet humiliated me. But I needed that. We all need that. We all need to understand how to be humble, and it's a difficult business to do that in." No! Mariah can't be humble! I only love her because she's an insufferable diva!
I pray to God that Mariah gets a slew of nominations for Precious, just because her campaign will be amazing and hilarious. I want her to get thousands of questions about her sh-tty styling, about her mustache, about her awful wig. I want Mariah to try to convince us over and over again that she's not a diva. I want all of this just because I think it would be hilarious. For me. Not for Mariah. Motherf-ckers.
LaineyGossip put up this incredible 16-minute interview with Mariah, conducted by B. Scott. It's kind of insane how far Mariah is stuck up her own ass, but it's kind of cool too:
Here's Mariah and Nick Cannon at the AFI Fest 'Precious' Hollywood premiere held at the Grauman's Chinese Theatre on November 1, 2009. Photo credit: WENN.com