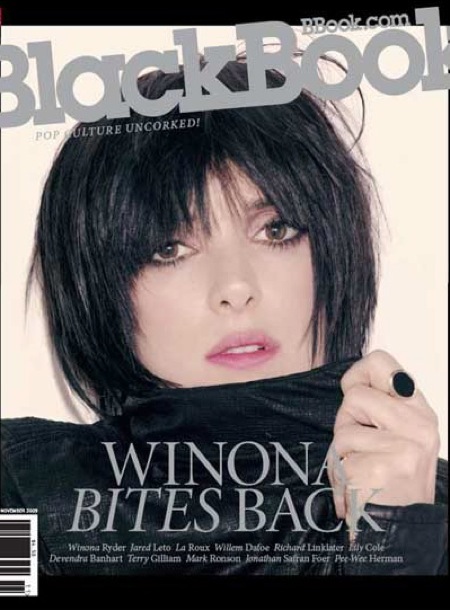 Winona Ryder finds herself in a strange position in Hollywood. Once one of the most in-demand actresses, the 38-year-old finds herself taking what amounts to odd jobs in independent films and the occasional studio picture. She's not a lead actress anymore, but I'm not sure she even wants to be. My full disclosure is that I once loved Winona with a passion. At one point in my teenage years, Winona was my favorite actress, the woman whose pixie-like beauty and killer body I wished was mine. I grew out of it – but I still have problems seeing Winona as the screwed up person she most likely was and is.
To promote her supporting role in The Private Lives of Pippa Lee (also starring Robin Wright Penn, Alan Arkin and Blake Lively), Winona sat down for a cover interview with Blackbook Magazine (full interview here). I don't think the cover shot or the rest of the photo shoot are anything spectacular, honestly. Her shag haircut is cute, but she looks a little like a deflated Robert Smith (from The Cure) in some of these pictures. Here are some excerpts from the interview:
Winona on whether she's an icon: "What makes someone an icon? Is Nelson Mandela an icon? Is Václav Havel an icon? Is the alien from Alien: Resurrection an icon? I don't know what the requirements are… I would never consider myself anything like that."

Winona on rarely giving interviews: "It's weird, the whole concept of an interview. To hold someone accountable for what they've said or done when they were younger is bizarre. We evolve, we change—at least I hope we do."

Winona on her rare forays to public events: "I hosted a benefit for this theater company one night with Courtney Love. We got photographed on the way in. It was kind of a nightmare."

Winona's TMI on her Aunt Flo: "I've just been told that news will break next week that I'm pregnant," she says laughing, "which is impossible." And just to make sure she has been understood, Ryder adds, "Because, you know, I'm on my… " Her left hand circles the air just south of her phantom baby bump.

On Heath Ledger's death: When discussing the death of her friend, actor Heath Ledger, she wonders, "What happens to you when you die? Does your energy dissipate? Is there something whole about your soul that keeps going?"

On separating art from the artist: "I was once published under a different name for a short story I'd written," she says, so shy that it becomes difficult to hear her. "I wanted to know what it felt like to have people enjoy something and not know it had anything to do with me." But wouldn't the recognition validate the work? "Well, I can't listen to Wagner because he hated Jews. I can't read Émile Zola—I mean, I love Émile Zola, but he had some scandals that were kind of scary—and I worship Woody Allen, but he had his thing, too. I struggle with the age-old question of how to separate the art from the artist."

On her 4-year relationship with Johnny Depp: "Things changed for me when I met Johnny… This weird thing happens when you're written about in magazines, where you start to think, This is who I am. This is how I have to be. I felt restricted and pressured into being the way people perceived me. It was hard for me to find my footing. The Johnny thing made me really afraid of the press because, even though it was about him, I was beside him the entire time."

On getting along with her exes, Johnny and Matt Damon: "Matt Damon couldn't be a greater, nicer guy. I'm really lucky that I'm on good terms with him. With Johnny, it's like we're good, but we lead very different lives. I was out at a bar with a friend who said, 'Do you realize that in America you're never going to be able to meet a guy who knows nothing about you? Everyone will have preconceived ideas about who you are.' I got so bummed out. I'd never really thought about it that way."

On her 1990 stay at a psychiatric facility: "I remember waking up one morning," she says of her breaking point. "I looked in the mirror and thought, Am I going crazy? So I checked myself into a hospital where I stayed for a few days. I was surrounded by people who had been molested and abused. I felt like they hated me, didn't know what the f-ck I was doing there and wanted me to get the hell out because what the f-ck did I have to complain about?" A smile builds across her face when she adds, "When it was my turn to talk in group therapy sessions, I was like, I'm just really tired because it's hard to be famous."

On Angelina Jolie winning an Oscar for Girl, Interrupted: "I never had any bad feelings about Angelina. And I was hurt that people thought that. Everyone assumed I was really jealous because I thought this would be my vehicle. We said from the very beginning that the actress who played Lisa would probably win an Oscar, because it was the big, great, showy part. But I always related to Susanna." In a way, Ryder was responsible for jump-starting Jolie's career. "I fought very hard for her to have that part, and I never really felt like I got the chance to know her." Did Jolie ever personally thank her? "I feel like it won't read in print very nicely if I say that wasn't really her style," she says. "But she seems to be a completely different person now."

Winona on her career prospects: "One of the worst things you can be is mediocre," she says. "I get offered a lot of studio things—you wouldn't believe some of the stuff I turn down that then gets packaged with two movie stars. I'm getting a lot of horror movie offers, too, but I just don't like the ones where you have to cut off your own arm to escape the killer. Or," and here she imitates the nicotine-soaked baritone that plays over trailers for budget slashers, "What if people did horrific things to your daughter and then they were trapped inside your house?"
[From Blackbook Magazine]
Winona talks quite a bit about The Private Lives of Pippa Lee, but I found that part of the interview rather boring. Winona refuses to talk about her 2001 shoplifting arrest and all of that drama, but she doesn't do it a nasty way, so I give her credit for being able to keep her junk together and still be relatively classy about the incident. All in all, I found myself liking Winona again… well, maybe I just find her interesting. I love how she has no problems talking about her exes in interviews, when they never talk about her. Oh, Winona… you're crazy, but I'll still watch your old movies and love you. Heathers 4 Eva.
Blackbook images via CoverAwards