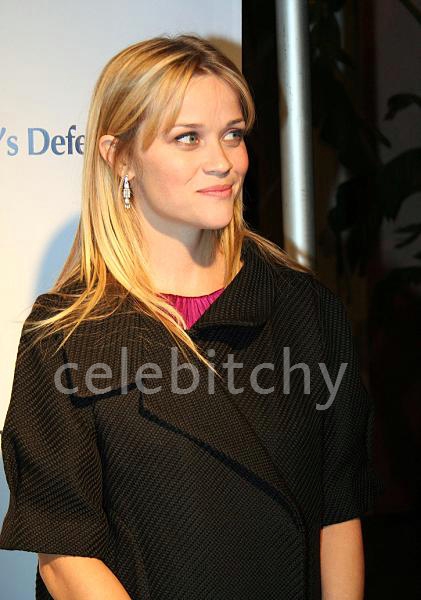 One of my most and least favorite things to read about are actresses' salaries. It's fun to see who makes what, but it's also a little depressing to realize you won't make 1/10th of that in your lifetime. It's equally fun to see how they blow all that money. Though I tend to think they should all blow a little more of it by sending it my way, but whatever.
Even though her latest film, "Rendition," was a flop, Reese Witherspoon is a moneymaker. The 31-year-old Academy Award winner commands $15 million to $20 million a movie, placing her at the top of The Hollywood Reporter's annual list of the highest-paid actresses. Angelina Jolie came in second with similar salary demands, though the animated "Beowulf" earned the 32-year-old actress far less – just $8 million.

Cameron Diaz was third, with a $15 million-per-movie price tag. Nicole Kidman dropped to fourth place, two spots lower than last year, with an asking price of $10 million to $15 million a film. Renee Zellweger and Sandra Bullock also get $10 to $15 million paychecks. So does Julia Roberts, who hasn't appeared on the big screen since 2004. Her next film, "Charlie Wilson's War," is due in theaters in December. Rounding out the top 10 are Drew Barrymore and Jodie Foster, who ask $10 million to $12 million per project, and Halle Berry, who gets $10 million a picture.
[From the Associated Press]
Some of those numbers seem kind of backwards to me. Well frankly they all seem backwards to me, just in terms of sheer amounts. But I can't believe that Cameron Diaz is worth more than Nicole Kidman and Julia Roberts. The most sophisticated movies she's been in was "There's Something About Mary." I know I've read that Kidman, Roberts, and Jodie Foster have all done several lower budget films where they've taken a pay cut, so that probably lowers their average. In the last ten years Cameron Diaz has only done cheap commercial crap with a very occasional decent, big budget movie thrown in. But clearly she knows what she's doing – she's worth $15 million a film. I don't know why, but she is.
Picture note by Jaybird: Here's Cameron Diaz on the set of "What Happens in Vegas" in NYC on October 17th. Images thanks to Splash Photos. Header of Reese Witherspoon at the Children's Defense Fund 'Beat the Odds' awards on November 1st. Images thanks to WENN.