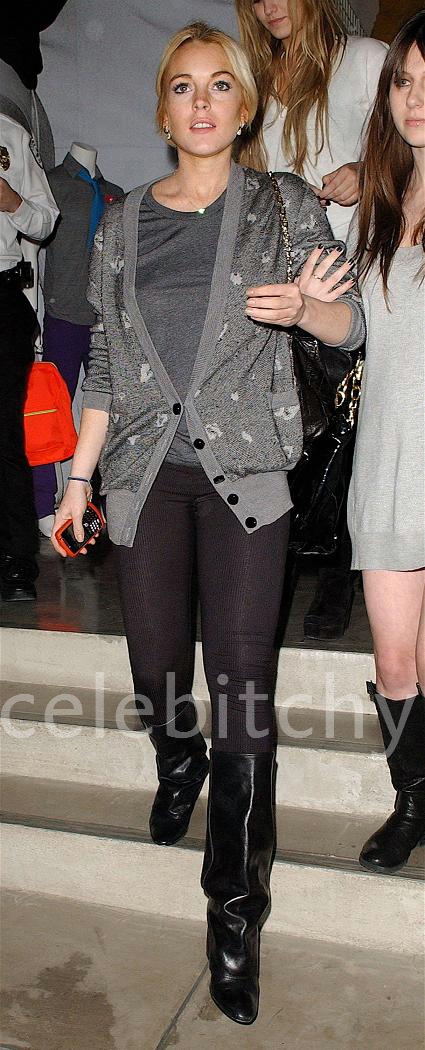 Oh greatest of sadnesses: Lindsay Lohan is single once again. Though Michael Lohan had called every major (and minor) news organization to report on his happy Thanksgiving with Lindsay and mentioned her lovely relationship with Riley Giles, it turns out the pair broke up right after the holiday. You know, a really big turkey dinner can do that to the best of us. You're sitting there uncomfortably full, and you turn to Lindsay Lohan and realize she's tanned to the exact same color of the turkey, and if she keeps doing that for a few more years her skin will have the same consistency. And suddenly, the fame and money doesn't seem worth it, and you're on the next flight back to Utah. But not before you make room for some pie. Because your turkey stomach may be full, but your sweet stomach still had a pie-shaped hole that needs to be filled. Am I projecting here?
Lindsay Lohan and Riley Giles, the 25-year-old snowboarder she met while seeking treatment at Utah's Cirque Lodge, have ended their relationship, sources confirm to PEOPLE. "They're over – they've broken up," a source says. "They split after Thanksgiving weekend." Adds another source: "She is concentrating on her life and her career."

Lohan, 21, checked out of the exclusive Cirque Lodge on Oct. 5. She had been there since August. (The breakup was first reported by E! News.) A week after his daughter had left Cirque Lodge, Lindsay's father, Michael Lohan, told PEOPLE about Giles: "He's a great, great kid. If you met him, you'd like him."
[From People]
People also mentions that Lindsay is heading back to the studio to record her second album. I'm not sure if that's really the best way to further your career, considering how poorly the first album did. Though she's actually got a decent voice – it's not nearly as embarrassing as Paris Hilton or Nicole Richie singing.
On the career front, Lindsay is gearing up to head back to the studio to record an album for Universal Music Group's Motown label, to be released next year. (She had previously recorded with the parent company's Casablanca label.)

A label source tells PEOPLE that Lohan "is expected to start recording within the next two weeks." In addition, Lohan is gearing up for a scheduled cameo on ABC's Ugly Betty. Says her rep: "As we left it, she was in talks to do an arc on Ugly Betty, which she is a huge fan of. She's hoping that the [writers'] strike ends soon. She'd love to get back to work."
[From People]
Though a few reports of Lindsay trying to drink came in when she first left rehab, it seems that she's actually been on the straight and narrow for the most part. Though her parents are world-class idiots, she's reconnected with her father and remains close to her mother. The worst thing that's been confirmed is spending too much time in the tanning booth. Hopefully she'll stay out of random guys' beds for a while and settle into her life for a bit.
Picture note by Jaybird: Here Lindsay shopping at American Apparel in Los Angeles yesterday. Images thanks to WENN.