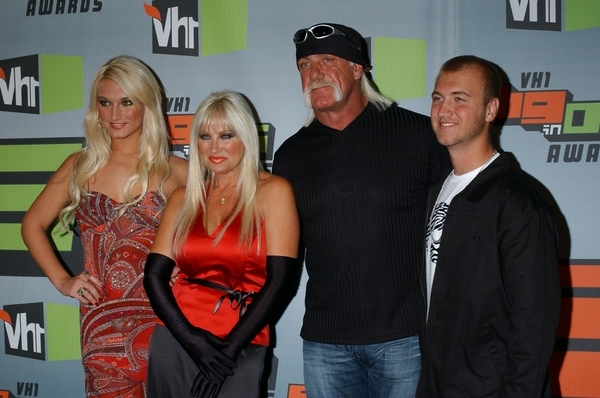 The current drama with the Hogan family is proof that Karma really is a bitch. And like any other form of justice, it's best when it's sure and swift. Though Linda Hogan, 48, just filed for divorce last week, it turns out the couple has been separated for several months. Given that fact, it's weird that Hulk Hogan publicly professed surprise at the divorce papers.
Either way, the Hulk is pissed. He's going to fight Linda on alimony and child support. Their loser son Nick is still 17, so technically Linda could get some child support if Nick lived with her. Hulk says Linda is able to support herself, and notes that they have two houses and their liabilities should be divided equally between the pair. I wonder if that includes the legal liability the family will be facing when John Graziano's parents sue them for the car crash Nick caused that turned Graziano into a vegetable?
In the court filing, Terry Bollea, 54, contested everything from his wife's alimony and custody claims to the couple's marriage date. Linda Bollea's petition lists it as Dec. 12, 1983, while Terry Bollea says it was Dec. 18. Terry Bollea had it right: Public records show they were married Dec. 18, 1983. According to court documents, Terry and Linda Bollea separated about a month after their son Nick's Aug. 26 car wreck, which critically injured his friend and passenger, John Graziano.

Linda Bollea, 48, is seeking an unspecified amount of alimony and child support. She also wants custody of their son, subject to "liberal visitation" with his father. But in his counter-claim, Terry Bollea said his wife is capable of supporting herself and helping support their son, 17, who will be a minor until July. The petition also says Nick Bollea is old enough to decide with whom he will live and that "it would be in the best interest for the parties to have shared parental responsibility."
[From the St. Petersburg Times]
I love that quote about "shared parental responsibility." That implies that they have some parental responsibility, which they clearly don't. Unless they're planning on starting it now, I doubt that makes a bit of difference. I hope they both lose their shirts when the Grazianos sue them, and then they won't have to argue about alimony and division of assets – just division of debt.