ABC will air an exclusive interview with Rihanna on Good Morning America and 20/20 in which she'll speak publicly for the first time about the brutal beating she suffered at the hands of then-boyfriend Chris Brown in February. Chris has since pled guilty to felony assault and is serving five years probation along with six months of community service.
Chris has spoken several times about the beating, albeit in a passive roundabout way, and has apologized to Rihanna and his fans. Rihanna has yet to say anything, but that will soon change with her interview in Glamour's December issue and with this televised interview with Diane Sawyer.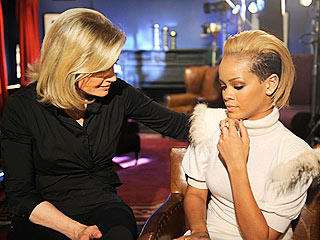 From the kind of vague advanced details released by ABC, it's hard to tell whether she'll go into detail or if she'll just speak in general terms about the abuse. ABC quotes her as saying Chris "was definitely my first big love," and that "This happened to me…it can happen to anyone," but those are the only quotes they're providing.
Rihanna also talks about the incident in the December issue of Glamour, and the interview is available online. She primarily focuses on the press fallout and how she was embarassed by the release of the police photo showing the extent of her injuries. She also makes what will become a much-repeated remark comparing the massive press attention after her attack to what Britney deals with, "I went to sleep as Rihanna and woke up as Britney Spears." Rihanna also gives a thoughtful comment about how she hopes that her situation will inspire women in abusive situations to break their silence and seek help.
Glamour: Let's talk about this past year—you've obviously been through some difficult things. How did the people around you help you cope?

Rihanna: My friends and family have been extremely supportive, and everyone has been there for me. But at some point you are there alone. It's a lonely place to be—no one can understand. That's when you get close to God.

Glamour: Are you referring to the [Chris Brown] incident?

Rihanna: I am talking about starting with the night [before] the Grammys and then on. That was not the only thing that occurred this year. The picture leaking…it was one thing after another.

Glamour: You're talking about the photo [reportedly of Rihanna's injured face taken by police after Brown assaulted her] that was allegedly leaked by cops. You handled that so well; you kept silent in the press.

Rihanna: It was humiliating; that is not a photo you would show to anybody. I felt completely taken advantage of. I felt like people were making it into a fun topic on the Internet, and it's my life. I was disappointed, especially when I found out the photo was [supposedly leaked by] two women.

Glamour: How has this event changed you as a person, as a woman?

Rihanna: I'm stronger, wiser and more aware. You don't realize how much your decisions affect people you don't even know, like fans.

Glamour: Do you think you've gotten your strength from your mom?

Rihanna: Definitely. My mom gave us the tools to survive…. My parents separated when I was eight or nine. I helped her raise my [youngest] brother, because my mom was working all the time. He's my favorite.

Glamour: Do you feel that this experience has laid the groundwork for coping with anything so public again?

Rihanna: It has taught me so much. I felt like I went to sleep as Rihanna and woke up as Britney Spears. That was the level of media chaos that happened the next day. It was like, What, there are helicopters circling my house? There are 100 people in my cul-de-sac? What do you mean, I can't go back home?

Glamour: If you could offer a message to the millions of young women who look up to you, what would you tell someone who found herself in a similar situation?

Rihanna: Domestic violence is a big secret. No kid goes around and lets people know their parents fight. Teenage girls can't tell their parents that their boyfriend beat them up. You don't dare let your neighbor know that you fight. It's one of the things we [women] will hide, because it's embarrassing. My story was broadcast all over the world for people to see, and they have followed every step of my recovery. The positive thing that has come out of my situation is that people can learn from that. I want to give as much insight as I can to young women, because I feel like I represent a voice that really isn't heard. Now I can help speak for those women.
[From Glamour.com]
It sounds like Rihanna is acknowledging what happened to her without getting into the details and without directly condemning Brown. This is a smart media strategy, and one that makes her seem like she's moved on, but is still very sensitive to the plight of women who suffer abuse. Maybe that's why she waited to speak to the press – she wanted to process everything and reach a point where she could talk about it. I have a lot of respect for the way she did this and I'm looking forward to seeing her interview with Sawyer.
Rihanna is shown on 11/2/09. Credit: WENN.com. Other image courtesy ABC