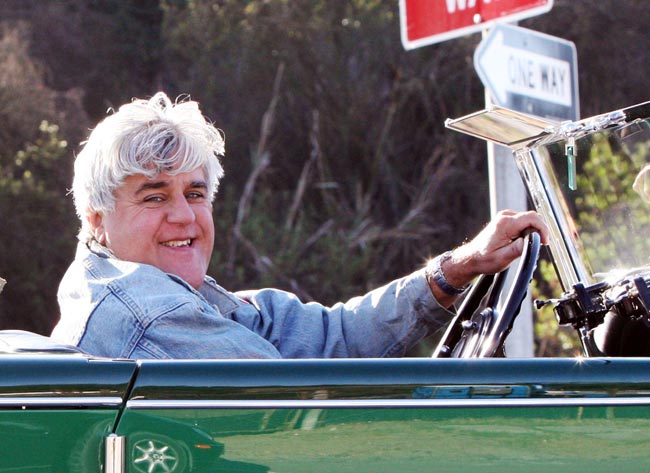 Last week, I heard the unfortunate and funny news that The Jay Leno Show, which is NBC's new 10 p.m. show every damn week night, is eating it big time. The show's ratings are so bad, Leno doesn't even beat out a CSI rerun. The ratings are so bad, local NBC affiliates are starting to complain. Loudly. Their 11 o'clock local news shows are being decimated too. While I do think it's sad that Leno's show isn't working out quite the way people expected, I also feel quite happy, in that schadenfreude way. NBC made a stupid gamble cancelling out all of their 10 p.m. hour-long dramas (or maybe I can't get used to watching Law & Order at 8 p.m.) and the network deserves to have their asses handed to them. It sounds like Leno knows how big a mistake was made too – he gave an interview to Broadcast & Cable Magazine, and Leno basically said that he probably wants his old job back. Whoops! Sorry, Conan!
Jay Leno's new 10 pm talk show is losing viewers, as are the local news programs that follow it in several major markets. This is not good for the network that made the decision to move Leno from his perch atop the late night talk show rankings.

One of the silver linings proferred by NBC types during the show's ratings slide is that, while they knew Leno would have tough going in the fall when the new dramas it was up agaisnt were in full swing, he would kill the much more expensive dramas he is up against once said pricey programs were in reruns.

Last week, that theory got put to the test when Leno went up against a "CSI:Miami" rerun.

He lost.

That is the backdrop for Leno's illuminating QA with Broadcast & Cable magazine today, in which he was asked flat out if he regretted his move to primetime.

"Would I have preferred to stay at 11:30?" Leno mused. "Yeah, sure."

Leno went further, comparing hosting the "Tonight Show" for 17 years to winning the prestigious America's Cup yacht race, adding the rejoinder: "Do I enjoy the battle [of making the new show work]? Yes, I get a certain amount of satisfaction from pounding my head against the wall."

Then later, when asked if he would take back the "Tonight Show" if offered, Leno seemed unaware that the job had been filled: "If it were offered to me, would I take it? If that's what they wanted to do, sure. That would be fine if they wanted to."

This does not sounds like a happy man.

And with Conan O'Brien's "Tonight Show" ratings way below Leno's when Leno left, one can only wonder if the 18-foot tall red-headed gabber is hearing Leno's iron-jawed noggin pounding against the wall… in his nightmares.
[From Fox News 411]
I rarely watched The Tonight Show when Leno was host, and I never watch Conan, so I have no basis to experience as a viewer to compare and contrast. That being said, and even though I hate the idea of The Jay Leno Show, I have watched it more than a handful of times, and it's not horrible. It's not great, either, but I actually like some of the interviews Leno has done. I think Leno wanted to make a forum for a more in-depth kind of interview, in the vein of the old Dick Cavett Show from the 1970s (TCM shows reruns, and they're awesome!). I kind of hope that Conan gets to stay on The Tonight Show, and that NBC ends up canceling or scaling back The Jay Leno Show. Perhaps Leno should only be on two nights a week, or something like that? It would give him the opportunity to do good interviews without all of the extra crap that isn't funny.
Here's Leno's great interview with Ewan McGregor from one week ago – I really enjoyed how relaxed both Ewan and Jay were:
Jay Leno is shown out driving on 10/25/09. Credit: Mike/Fame Pictures