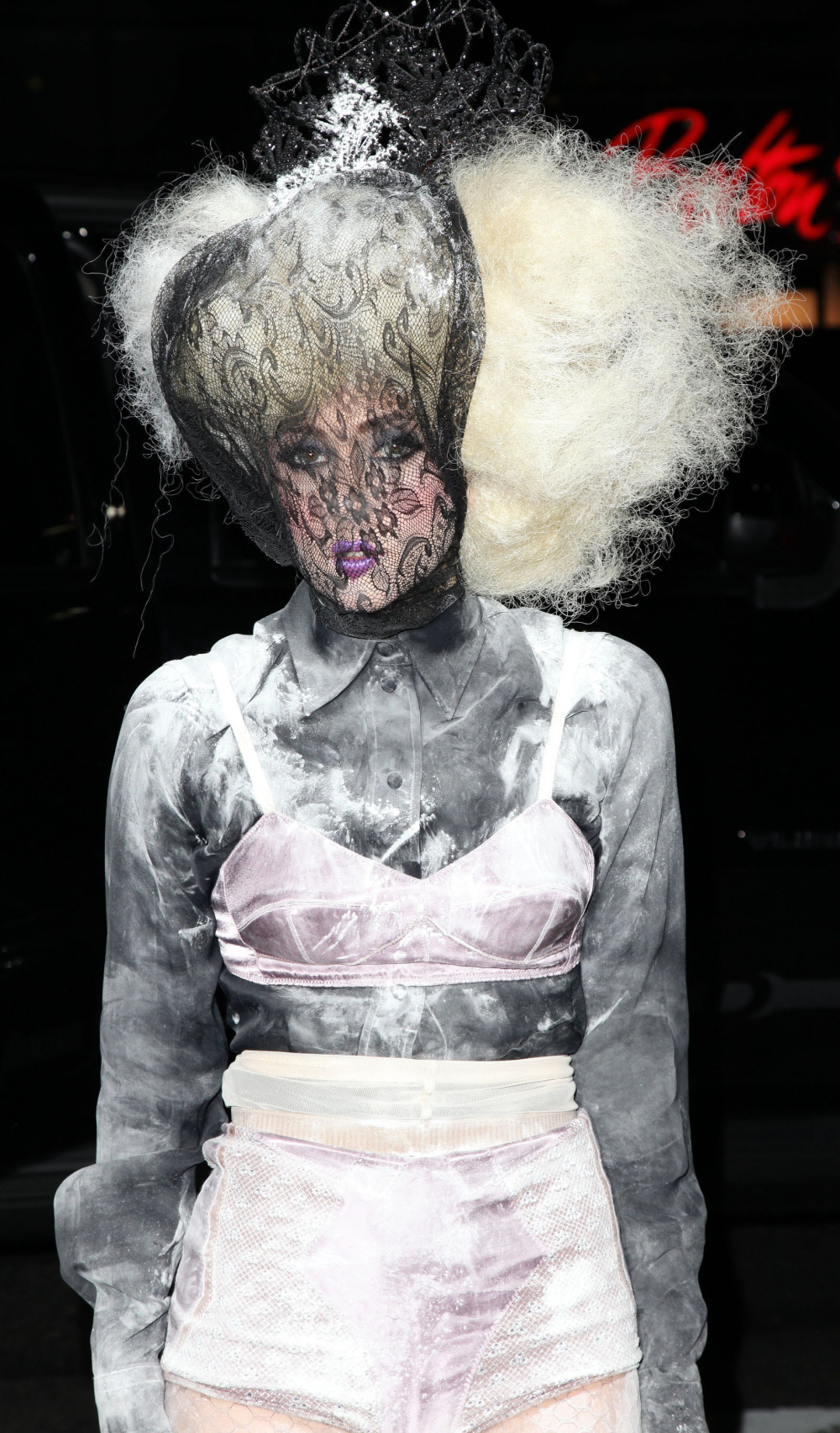 Here's Lady Gaga at the 2009 Accessories Council Excellence Awards in New York last night. Where do we even start? The bra? The panties? The hair? The black lace veil? I don't even know. But this sh-t is a mess. Anyway, she was presenting an award to Marc Jacobs (who must have blanched at the sight of her):
Halloween may have been over three days ago, but Lady GaGa clearly looked like she wanted to continue the spooky holiday last night.

As the singer attended the Accessories Council Excellence (ACE) Awards in New York, she decided to demonstrate why she had won an award by wearing bizarre headgear.

The 23-year-old singer wore a black lace veil partially covering her Marie Antoinette-style big hair, which was topped with a black beaded crown.

When it came to her outfit, onlookers could have been forgiven for wondering if she had recycled her Halloween night outfit.

Stepping out in a pink bra over a black shirt, pink hotpants, fishnet tights and killer heels, GaGa was covered in white dust, giving her ensemble a zombie-esque feel.

Clearly aware the impression her outfit was giving off, GaGa played up to the Halloween theme as she pulled scary poses on the red carpet.

GaGa, real name Stefani Germanotta, was one of the guests of honour at the 13th annual Ace Awards at the Cipriani restaurant in Manhattan.

She was presented with a Stylemaker Award by designer Marc Jacobs for her commitment to accessorising.

ACE President Karen Giberson said: 'As an artist, she's well-appointed in accessories. Just when you thought you saw everything in originality, there she is again. People anticipate what she's going to wear and it's exciting to see accessories as such a meaningful part of someone's wardrobe.'
[From The Daily Mail]
In other news, Lady Gaga was recently given a peculiar honor in the UK. MTV UK named her music video "Paparazzi" the "creepiest video of all time. The video, directed by Jonas Akerlund, is all about Lady Gaga killing people, and it is oddly hypnotic. The other artists on the top ten included Michael Jackson's "Thriller" (at number 3), Nirvana's "Heart-Shaped Box" and Prodigy's "Smack My Bitch Up" (at numbers 8 and 9). Go here for the full list.
Here's "the creepiest video":
Here's Lady Gaga last night in New York at the ACE Awards. Note that it's even worse from the back. Credit: WENN.