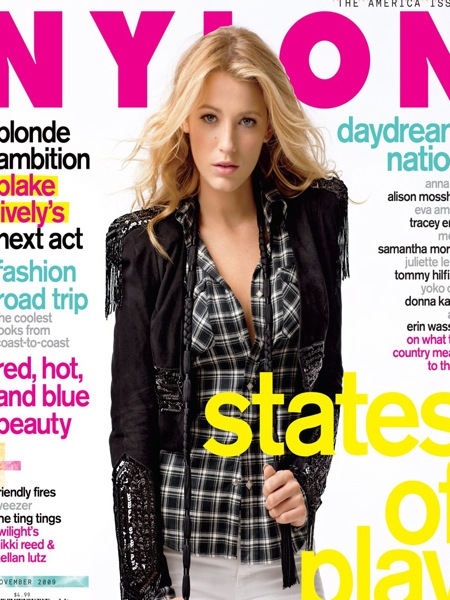 There's my girl! Why do I even love Blake Lively so much? I don't even watch Gossip Girl! I guess I just think she's pretty. I have a girl-crush on her, one that would probably be destroyed very quickly if I ever really concentrated on her. Anyway, my girl-crush is on the cover of Nylon's December issue, looking very pretty. I don't care for the clothes that much, but the makeup and hair is flawless, in my opinion. Sigh. So pretty. Nylon has an excerpt from the interview, and Blake seems like a nice, down-to-earth girl. She even "pranks" her friends by swiping credit cards down their ass cracks. I'm ashamed to admit that little tidbit cracked me up:
On TV, Serena van der Woodsen changes boyfriends, life goals, and party plans on a daily basis. But Blake Lively, who embodies Serena so well on Gossip Girl, couldn't be more different.

When executive editor Stephanie Trong sat down with the fast-rising star to discuss her new movie, The Private Lives of Pippa Lee, she found that the former high school class president and California native is a focused and fiercely intelligent young woman.

The one similarity between Blake and her on-screen alter ego? They pile on designer clothes with the glee of a tween stacking her first set of plastic bangles. But nobody can blame her – if we had a Serena / Blake closet experience, we'd do it, too.

Blake on her new film, The Private Lives of Pippa Lee. "I had a leash around my neck, and Julianne Moore was taking pictures. I thought, What am I doing with my life? What is happening? How is this a good idea?"

How she pranks her friends. "I [credit-card] swipe my friends with, like, my phone or something, – I slide it in their butts. Like in middle school! You say 'Visa! Mastercard!' Just to give somebody a jump. I'm a prankster."

Her empathetic nature. "I feel a lot. I get really bad stomachaches all the time. So I went to a doctor, and he said, 'You're a feeler. I take on people's pain a little too much."

Is she completely different from Serena? "No, because I dress just like Serena! I own half her wardrobe, so it's far too similar to the way I dress. I feel ridiculous at times with her – because I'm, you know, killing someone or marrying someone, but I look like me. I'm like, 'Oh, this is absurd.'"
[From Nylon]
Blake also talks about her supporting role in The Town, in which she is being directed by (and playing the love interest of) Ben Affleck. While she doesn't say anything about Ben (and those rumors), she does have high praise for her styling for the film. She describes her press-on nails as "really amazing" and her newest style tip. I love this girl. I wish she would credit card my ass.
Photos via Cover Awards