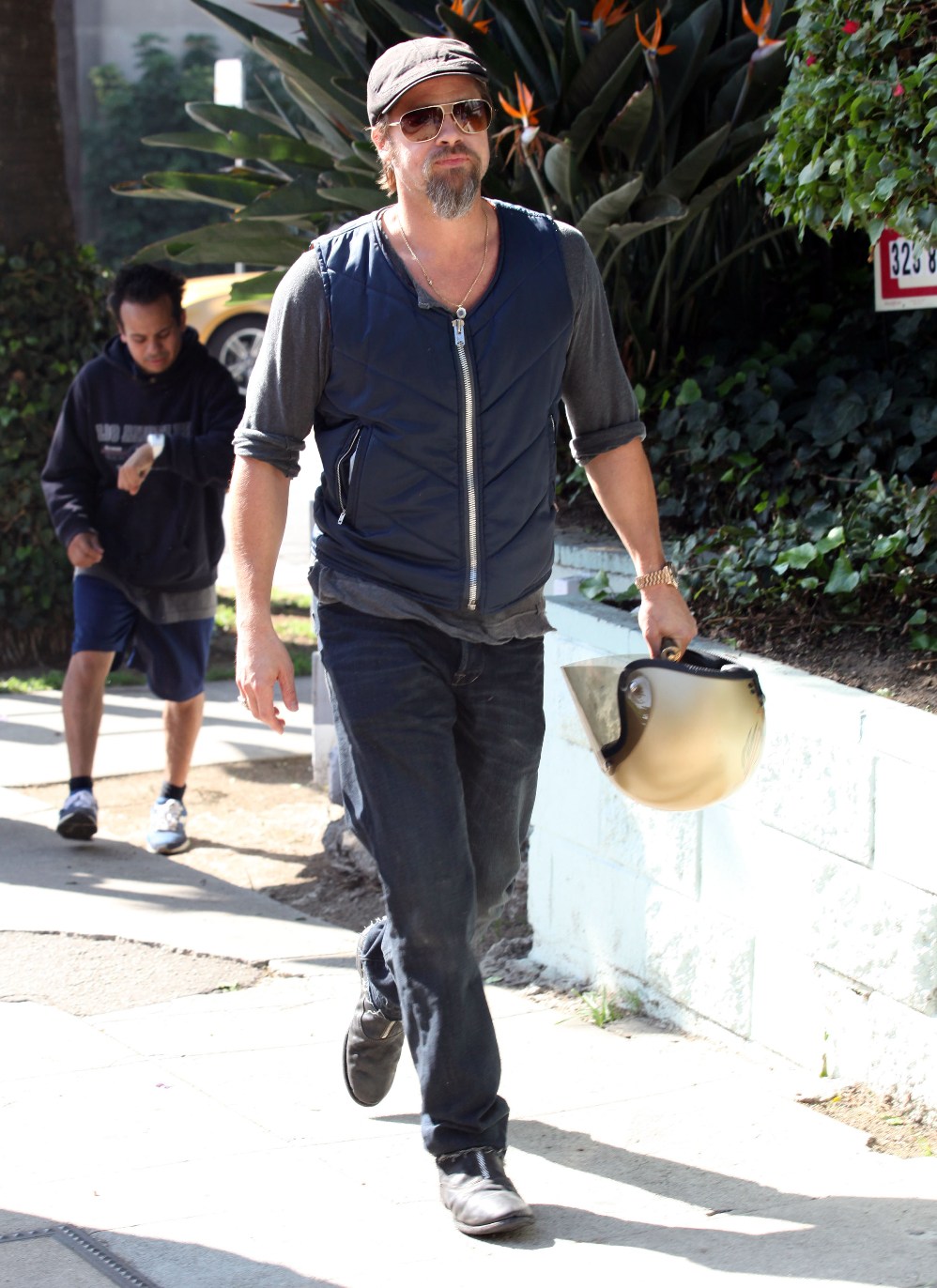 There's lots of smaller pieces of Brad Pitt news today, so I'm putting it all together. First up, Brad is in Tokyo today. I don't know why. He was photographed at the Tokyo airport, sporting little beads in his dreadlocked goatee. We don't have access to the pictures, but you can see them here. As I was contemplating Brad's goatish scruff, CB sent me a link to a story that may explain why Brad's grooming has gone even more downhill as of late. It seems that he might be growing his junk out for the role in The Lost City of Z, in which Brad will be playing Percy Fawcett, a man who explored Brazil in the 1920s, and who got lost or something:
I'm not sure if you saw Brad Pitt a fortnight ago talking with Bill Clinton in New Orleans about his charity, he was looking pretty grizzly. Coincidently I'd been reading at the same time The Lost City of Z, a film Brad Pitt is starring as Percy Fawcett an explorer who treks through the uncharted regions of the Amazon, I couldn't help but think perhaps some work has begun or is beginning extremely soon on the project. Pitt is rocking a pretty good Fawcett beard.

The film, based on David Grann's novel, has been scripted and will also be directed by James Gray (We Own the Night, Two Lovers) but really no news has been given as to when the project is shooting. It was meant to start around Summer (June, July, August) this year but it seems no word has arisen that shooting has started. So check out the photo below of Pitt and Fawcett, let me know if you agree. Maybe they've just done some costume tests either way I doubt Pitt is looking that way because of the pressure Angelina puts on him (that was what the latest tabloids Down Under are claiming).
[From Cinefools]
Eh. If this is true, the film is probably getting pushed up because Brad's last film, Moneyball, was only in production for about a week before that artsy-fartsy junk had its financing pulled. Brad has a gap in his schedule, thus every one of his future film projects is getting pushed up. Personally, I doubt this story. I don't think The Lost City of Z is going to go into production any time soon. My guess is that Brad's just growing out his goatee for fun.
In one more Brad Pitt-related piece of news, Us Weekly got a statement from Yo Gabba Gabba's DJ Lance Rock. Brad dressed up as DJ Lance for Halloween (see Radar's photos here), complete with hazard-orange jumpsuit and turban. Although Brad added a cocktail to the mix, just for fun! Anyway, DJ Lance was thrilled, and he's invited the Jolie-Pitts to Yo Gabba Gabba.
The verdict is in on Brad Pitt's 2009 Halloween getup: awesome!

Along with partner Angelina Jolie and four of their six kids, Pitt went trick or treating Oct. 31 in a residential area near the Hollywood Hills. Wearing a high-visibility orange jumpsuit and beads in his beard, Pitt was impersonating DJ Lance Rock, host of Nick Jr.'s hit show Yo Gabba Gabba!

And the real DJ Lance Rock couldn't be more flattered.

"Brad Pitt looked AWESOME in my costume!" DJ Lance Rock tells Usmagazine.com exclusively. The performer even has a special invitation for the high-profile Jolie-Pitts:
"If he, Angelina and the kids want to come hang out in Gabba land, they're welcome anytime!"

A Nick Jr. staple since August 2007, Yo Gabba Gabba, hosted by the DJ Lance Rock character, blends live action, animated sketches and musical numbers and features outlandish costumed creatures: Muno the red cyclops, Foofa the pink flower bubble, Brobee the green monster, Toodee the blue cat-dragon and Plex the yellow robot.

For their Halloween outing, Jolie sported gray hair and a bloody face, daughter Zahara was Batgirl, her sister Shiloh a military figure and their older brother Maddox was a "dead soldier" in camouflage with ghostly makeup.
[From Us Weekly]
I wonder if Brad or Angelina would consider going on Yo Gabba Gabba. If I were Brad, I'd hold out for Sesame Street. Sesame Street always looked like such a fun gig for an actor. For anyone, really. I want to see Brad with Oscar the Grouch. And I want to see Angelina with Big Bird. I want to see Empress Zahara with Cookie Monster.
Here's Brad heading home after having breakfast at the Beverly Hills Hotel (before crashing his motorcycle) on October 24th. Images thanks to Fame Pictures .