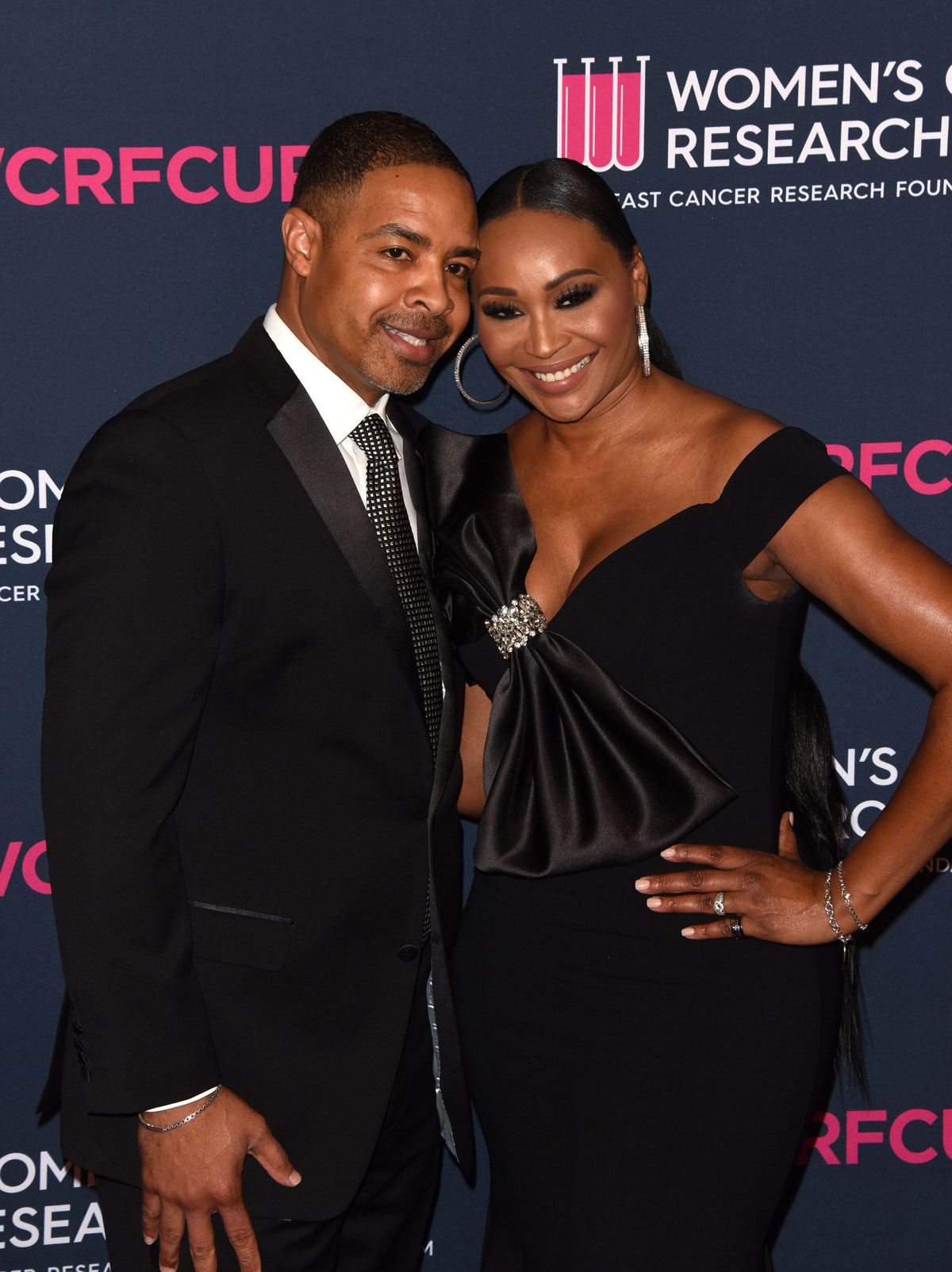 Cynthia Bailey, from Real Housewives of Atlanta, is divorcing her second husband, Mike Hill, after only two years of marriage. Monday would have been their second wedding anniversary, but the pair made a joint statement about their divorce on Wednesday. Their joint statement is the typical mature and professional one that all celebrity publicists have drafted: still have love, separate ways, remain friends, memories, new chapters, etc. Cynthia's exclusive statement to People talks about destiny and she specifically says that she "jumped in, both feet first" and "gave it [her] all."
Cynthia Bailey and Mike Hill are going their separate ways.

The Real Housewives of Atlanta alum, 55, has filed for divorce from the TV host, 52, after two years of marriage.

Bailey addressed the split in an exclusive statement to PEOPLE: "God does not make mistakes! I truly believe in my heart Mike coming into my life was destiny. I jumped in, both feet first and gave it my all."

"Although that journey has come to an end," she continued, "I am so grateful for our continued friendship, and the beautiful memories that we made together. God willing, I will find love again. Whatever is destined to be, will be; and I could not be more excited for my next chapter!"

Added Bailey, "I pray my friends, family, and fans will continue to be along for the ride with me in this awesome thing we call 'life!' Thank you for your continued prayers, support, and well wishes."

Hill also provided an exclusive statement to PEOPLE: "I love Cynthia and will always love her because she is a phenomenal woman and a beautiful person."

"Even though our relationship is ending, our friendship remains rock solid and for that I am grateful," he continued. "Honestly, we've been thinking about going our separate ways for the last few months, so it was good for us both to have that time to process it all privately and I can smile knowing she'll always be there for me as I will be for her."

theJasmineBRAND was first to report the news of the split.

Earlier on Wednesday, Bailey and Hill released joint statement to Entertainment Tonight: "While we both will always have love for one another, we have decided to go our separate ways."

"We are grateful that we remain good friends, and will always cherish the many memories we've shared together as husband and wife," the statement continued. "Many of you have been on this journey with us from the very beginning, and we appreciate our family, friends and beloved fans for your positive support as we move forward and start new chapters. Thank you for your prayers & well wishes!"

Hill and Bailey tied the knot on Oct. 10, 2020. Though Monday was their second wedding anniversary, they did not acknowledge the occasion.

Their wedding planning and ceremony were featured in season 13 of the Bravo reality show, which marked Bailey's final season after joining in season 3. Fans also saw Hill propose in season 12 of RHOA.
I'm always looking for the subtext in these statements, and I did briefly wonder if Cynthia's "I gave it my all" was meant to imply that Mike didn't give it his all. And I'm still not sure! There were cheating rumors, which Cynthia has already denied, but who knows. All I know is I'm not surprised a Real Housewives marriage ended. That's what they do — they get married and divorced and married and divorced. And having an indoor superspreader wedding pre-covid vaccine availability certainly didn't bode well. If the relationship was so solid, why rush the wedding? For ratings, perhaps? Mike is a TV journalist/host that worked his way up the ranks from local TV stations, to ESPN, to FOX Sports, to hosting a morning show on Black News Channel. Getting married to Cynthia certainly raised his profile. Apparently their marriage was bicoastal for awhile; I wonder what the final straw was. Her first marriage lasted for seven years so she can definitely stick it out when she wants to. In any case, Cynthia did leave the show after they got married and maybe this will pave the way for her return. She's always been one of my favorite Housewives.
Photos credit: Avalon.red, Cover Images and via Instagram