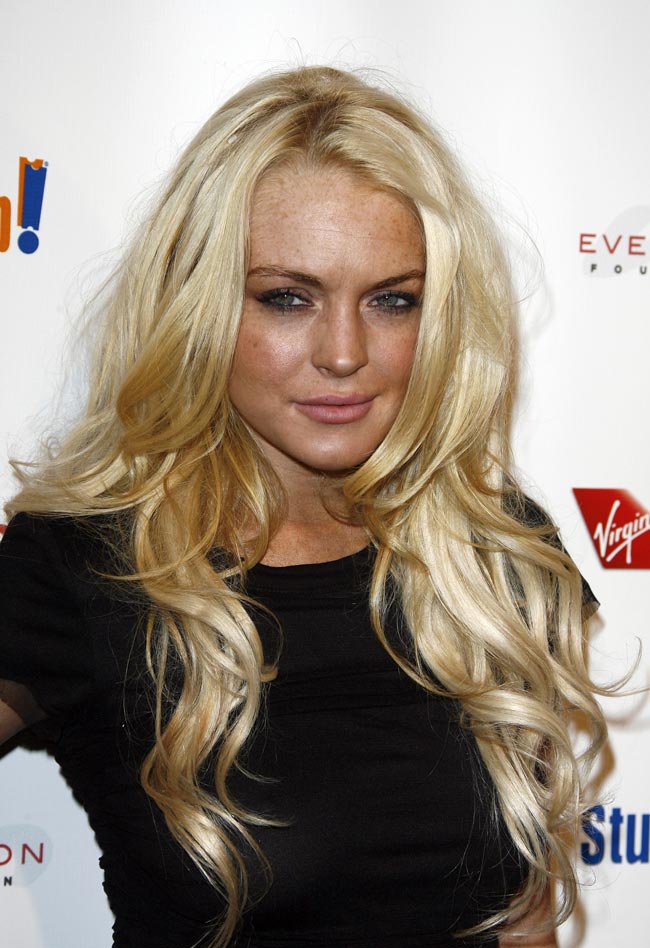 Yesterday we heard a pretty sad and disturbing phone call from Lindsay Lohan to her dad, asking for some kind of help. In our coverage, I neglected to mention that Lindsay's dad Michael threatened last week to release the tape in retaliation to his ex wife's claim that he was lying about Lindsay's prescription drug addiction. The truth is that I try not to pay that much attention to the guy and am embarrassed that I missed that detail. Michael said "If Dina and her cohorts want to continue lying, I could [keep exposing her] for a year – on so many different subjects. My lawyers told me to keep every single conversation – and I did."
In the tape, Lindsay sobs uncontrollably and says that her Mom told her she was worse off than her dad was. It's kind of clear she's talking about her drug addiction, although she doesn't specifically say that.
Lindsay's lawyer tells Radar Online she's trying to figure out if Michael violated the law by releasing the tape. If so, it sounds like Lindsay is going to go after him legally. She's already said to be seeking a restraining order against him, although I haven't seen confirmation that it's gone through:
Lindsay Lohan's legal ace attorney, Shawn Chapman Holley, is doing every thing in her power to go after Michael Lohan, following his release of a phone conversation between himself and his daughter.

Chapman Holley tells RadarOnline.com that she is "exploring all options both civilly, and criminally. We are talking to legal authorities in New York and Los Angeles to determine if any laws were broken."

Chapman Holley goes on to say, "This was a private phone conversation, and if this conversation took place in California then it was a violation of the law."

Michael Lohan tells RadarOnline.com that Lindsay made the call from New York.

Michael Lohan has been publicly saying that Lindsay needs help and is in a fragile state. He says he released this tape in an attempt to prove his point and to disprove those around Lindsay who are saying she is fine.
[From Radar]
Lindsay has taken to her Twitter to deny that the call is recent along with expressing her outrage that her dad would release it. She wrote: "fathers such a loser & those recordings are from years ago. To release personal things is foul enough, but to edit them. I used to think That he needed the book for dummies on learning how to be a father. Haha-he's needs the book for dummies on HOW TO BE A MAN."
Lindsay definitely needs help. Look at her – her pupils are pinpricks and she looks strung out. (Very small pupils like Lindsays are indicative of opiate use, often prescription drugs like Oxycontin. Large dilated pupils show stimulant use like cocaine.*)
Her dad is just pushing her further away with these obnoxious tactics. He name dropped Heath Ledger in an interview and said she'd be dead in a year for God's sake – he went on Maury! If anything Lindsay's family, with her in-denial mom and her in-your-face self-righteous famewhore dad, just goes to show how she ended up so messed up.
The girl is just 23. She's at an age where she should know better though, definitely, and she's done so many awful things that it's hard to know whether she'll ever realize that she's not the center of the universe. Getting clean and sober would be a start. I doubt she'll give up her crutch while she's fighting her dad over this, though.
*Here is a link to a book that describes pupil size by drug use. I heard this last week on NPR's Fresh Air with a doctor who used to work at Bellevue.
Lindsay is shown at an event on 10/24/09. Credit: Juan Rico/Fame Pictures