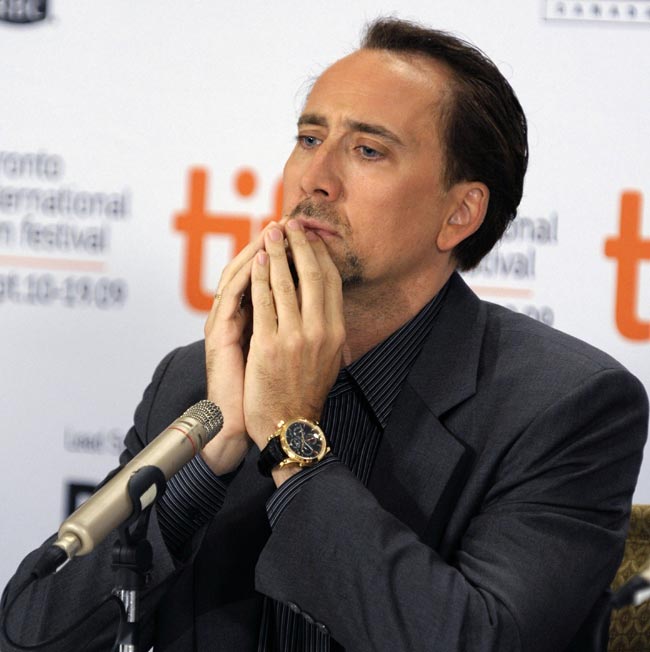 The Daily Beast has a pretty fascinating profile of Nicolas Cage's mind-boggling lifestyle. Action star Cage, 45, owes over $6.5 million in back taxes and is currently suing his former business manager for fraud, alleging that the manager "placed Cage in numerous highly speculative and risky real estate investments" and essentially is responsible for Cage's debt problem.
Those who knew Cage say that's not true, though, and that Cage bought frivolous high-ticket items nearly constantly, including a luxury car a month, various exotic animals, and more mansions, castles and even islands than he could ever use. It all sounds eerily close to Michael Jackson's lifestyle, including bizarre purchases like shrunken heads and a dinosaur skull. When the economy was flush it didn't matter as much because Cage's properties were worth something, but when the real estate market tanked Cage was in deep trouble, and had to sell everything and cut way back.
Here's a segment from the Daily Beast's article, which is well worth reading if you get a chance:
Until fairly recently, Cage's primary residence was the 1940 Bel Air mansion, with eight bedrooms, a theater, wine cellar, and a library. The house's previous owners included Dean Martin and Tom Jones. "A Gothic mausoleum" is how one sometime guest describes its décor in recent years. When Cage first put it on the market a few years back, the asking price was more than $30 million. He later dropped the price in half, and finally put it up this September in a sealed bid sale, where only offers above $9.95 million were considered. A source close to the sale says it went for less than $15 million. Some argue that the economy may not be the only reason the house went for so much less than Cage had desired. "It was not what I would call good taste," says the visitor.

Down South, Cage's two mansions in New Orleans have been foreclosed upon and will be auctioned off later this month. The first, a 13,000-square-foot, six-bedroom house in the Garden District, was originally put on the market for a reported $3.45 million. The second, on Royal Street in the French Quarter, went on sale for $3.5 million and has been described as one of the most beautiful houses in the city, though there are rumors it's inhabited by ghosts. (Seriously.)

They are among more than a dozen other homes Cage has bought in the last decade or so, in places like Newport Beach; Venice Beach; Malibu; San Francisco; Middletown, Rhode Island; New York; and Las Vegas. There was a castle near Bath, in England, an 11th-century estate in Etzelwang, Germany, and not one but two Bahamian islands, which Cage bought in their entirety. (Movie stars, after all, like privacy, so long as you're paying attention to them onscreen.)

The bulk of those properties have been sold or are in the process of being sold.

Cage also had a serious car and motorcycle habit. In June 2004, he owned 18 motorcycles and 30 cars, a member of his entourage says. And that was on the low end: At another point, two sources say, the car total was around 50.

In 1997, Cage spent nearly half a million dollars on a Lamborghini Miura SVJ that had been owned by the shah of Iran and was confiscated from the Imperial Garage during the 1979 revolution. Never mind that at the time he bought it, the car was trading for an estimated $250,000 to $300,000. "He didn't care," says a close source. "Nic at an auction is dangerous. There's just no limit to what he'd spend." He kept the cars in a hangar at the Santa Monica Airport, where neighbors with their own hangars included Jerry Seinfeld, Tom Cruise, and Charlie Sheen.

The most bizarre display of Cage's conspicuous car consumption? A 1955 Jaguar D-Type that he decided to put on exhibit in his billiard room at the Bel Air house, where it was lit from above, like something out of a car dealership. (There was also at least one expensive motorcycle sitting in the foyer, according to three people who visited the house. "It was an eclectic way of decorating," one shrugs.)

Nor did Cage limit himself to vintage cars, which are typically better investments than new ones. "He had one of every thing that was new and fantastic," says one source. "Ferraris, Lamborghinis, Rolls Royces, Bentleys. If Aston Martin was coming out with a new model, chances are, he would have it." At one point, the source says, Cage was snapping up cars at a rate of about "one per month." For a time, the actor also employed a full-time car mechanic, whose job was solely to service his cars, two sources say.

Cage's penchant for acquisition was aided by the fact that for years, many of the things he spent money on appeared to be good investments. The vintage cars he bought frequently doubled in value, so Cage made a lot of money buying and selling them. (In his case, most sales were followed by more purchases). Real estate was seen as an even safer bet. According to a source from his inner circle, when the first few houses he bought began to accrue in value, Cage began to borrow heavily against them to buy more properties. Unlike the cars, though, he didn't do nearly enough selling, which placed him in a particularly precarious position when the market began to collapse over the last two and a half years.

And then there were two yachts, at least, and the Gulfstream jet…

Three people who visited his house also report seeing shrunken heads. None is sure whether they were actual people's heads (which are illegal to import) or simply those of animals (which generally are not). Still, one thing was for certain. "They were pretty weird," says a source.

So was Cage's pet collection, which in addition to a handful of purebred dogs, included rare birds and a host of lizards, snakes, and other creepy crawlies. "Basically, a zoo," is how a person who's known Cage for many years describes it. He also had two albino King Cobras, this person says, as well as "an antidote serum on the wall, so that if you got bit by a snake you could save yourself."

There also was a dinosaur skull that Cage purchased in 2007 for $276,000 in a heated auction with Leonardo DiCaprio.

It was a fabulous life while it lasted, but it helps explain why so many people in Hollywood aren't entirely convinced his ex-money manager is solely to blame for the actor's financial troubles. Says one person who has known Cage for many years: "I remember a bunch of us saying, 'How many more magic tricks can Sam do to keep Nic afloat?' It was a house of cards… I think Nic thought he was invincible."
[From The Daily Beast]
So poor Nicolas Cage is probably still living in luxury with just a few staff members and a radically reduced set of toys. I can't say I feel sorry for him. He wasn't entirely selfish in his spending, though. The article notes that he gave a million to the Red Cross to aid Katrina victims in 2005 and that he donated $2 million to Amnesty International in 2006. Many people have addictions and it sounds like Cage's is spending. It took a real crisis for him to start to get a handle on it too.
Nicolas Cage is shown on 9/14 and 9/15/09. Credit: WENN.com