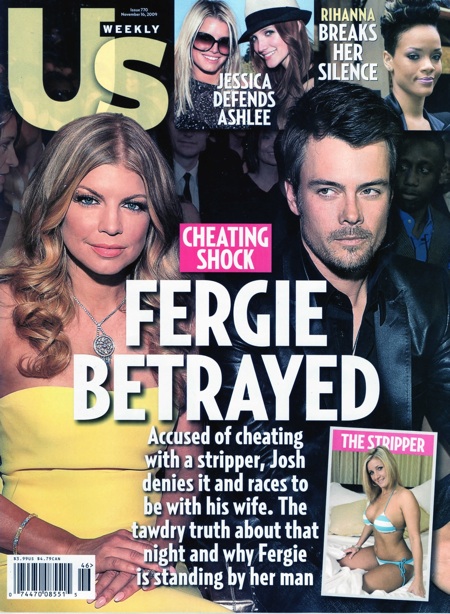 The Atlanta stripper who claims to have had a one night stand with Josh Duhamel told her story on a local radio station yesterday. The woman in question, Nicole Forrester, first sold her tale to the National Enquirer last week for a reported $20,000, although she says that money has yet to come through. She claims to have had a porn-filled hotel night with Duhamel after he came to her place of work, the ironically named "Tattletales." Forrester isn't backing down from her story, and is currently featured on the covers of People and US Weekly.
After watching the video of the woman's interview, available on E! Online and below, I have to say that I believe her story. She's not the brightest bulb, but it really sounds like she's telling the truth. She says that Duhamel came in while she was working and that she had no idea who he was, but "knew he was really freakin' hot. He was so hot." A waitress at the club told her it was Josh Duhamel from Transformers and that he was married to Fergie. That doesn't seem to have stopped her from hooking up with him or from letting him drive drunk with her to his hotel.
Forrester, a single mom, claims that the National Enquirer approached her first about the story and that she didn't want to talk to them because of her kids. "I didn't want my kids to find out I was a stripper. [They're] 13 and 10 and it would kind of mess up their school and just stuff like that."
The Enquirer called her three times and said "we're going to print the story anyway, they're going to know you're a stripper, so why don't you make money off of it?" At that point she decided to come forward. E! Online has more from the interview:
Josh Duhamel seemingly put a stop to this, but it appears that Nicole Forrester is just getting started.

"We did hook up, we had lots of sex, and we had a really, really good time," the stripper and mother of two said in an exclusive interview with The Bert Show on Atlanta's Q100-FM.

"And then the next morning, when I left, you know, he kissed me on the cheek, really sweet guy."

And a really married guy, too, of course.

Duhamel's rep has vehemently denied Forrester's story about having a one-night stand with the Transformers hottie. Mrs. Duhamel, aka Fergie, was with her hubby last night in Atlanta, where he's filming Life As We Know It.

But Forrester says she has saved text messages and "a lot of evidence" that she had a tryst with the actor.

She denies feeding the story to the National Enquirer herself, saying that the tabloid came to her, offering her $500 just to come in and talk, after an anonymous tipster reported that Duhamel was bragging on the set that he had "banged a hot, blonde stripper at Tattletales."

Forrester insists that she is not in this for the money or the 15 minutes of fame. She just wants to clear her name and not be branded a liar.

Yet she did, in fact, take money from the Enquirer—$500 for the initial sit-down and $1,500 to pass a polygraph test. (She says she was supposed to get $20,000 for spilling all the details to the mag, but that transaction was never completed.)

"I would actually pay money to make this go away. If I had it, I would do it, you know? But I don't," she shrugged. "Nothing I can change now…If it was going to get out there, I figured I might as well benefit from it. I think most people would."

And she says she doesn't fear Duhamel, Fergie or their legal team.

"No, because it's the truth. I'm not lying about anything, and he's just as guilty as I am."

Sounds like a classic case of he-said, she-said, everybody-cringes.
[From E! Online]
As Kaiser said when she first covered this story, I believe this. The woman seemed genuine to me in the interview. Fergie is standing by her man, though, and the two made a very public show of solidarity on Tuesday night at a restaurant in Atlanta. Reports claim that Josh is in the doghouse, but it sure didn't look like it as the two noshed on steak and lobster and were "snuggling up." Do you think that Fergie knows what's going on and either doesn't care or has made peace with it?
Nicole Forrester interview part 1

Nicole Forrester interview part 2

Nicole Forrester interview part 3

Fergie is shown at an event in Las Vegas on 10/23/09. Credit: WENN.com