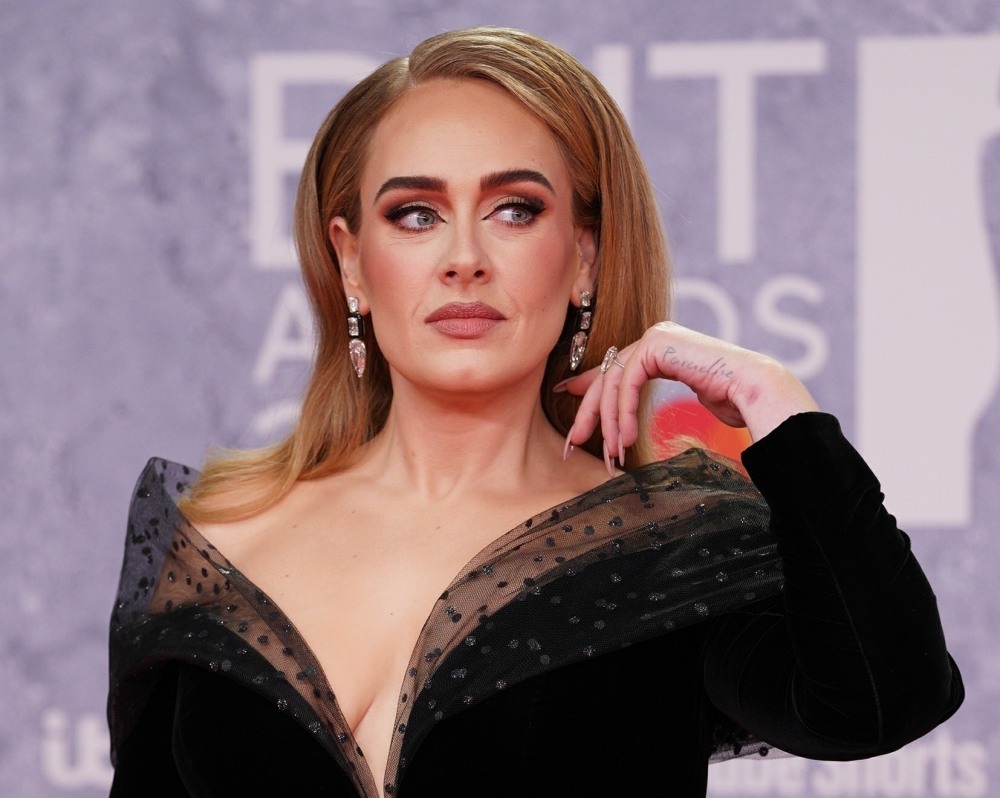 Adele is currently in rehearsals for her Las Vegas residency, which finally starts in November. She had to delay the show for more than ten months because nothing was ready back in January. It feels like it's been a weird year for Adele – she originally saw herself spending half of her time in Vegas, half in LA, and working throughout the year. But instead it's been a surprisingly quiet year for her professionally, especially given that she's had a whole album out. Anyway, to promote her latest single, Adele did a fan event, and she spoke about Taylor Swift's new album, Midnights, the sales of which are blowing everybody out of the water.
Turns out Adele is a bonafide Swiftie! The superstar offered up her take on Taylor Swift on Tuesday (Oct. 25,) and had nothing but nice things to say.

"I haven't," she said when asked if she'd listened to Midnights yet during Happy Hour With Adele, a fan event celebrating the release of her new music video for "I Drink Wine." "But the only reason is, is 'cause I've been in rehearsals for, like, 12 hours a f—in' day, I'm sick and tired of anything musical… But I think Taylor's one of the greatest songwriters of our generation, so I will definitely give it a listen.

"I loved the two in COVID very, very much," the singer continued, referring to 2020 sister albums Folklore and Evermore. "And I think she's fun as well, she makes a release fun!"
Just reading the words, I thought Adele was being slightly shady, but once I saw the clip, I don't think she was at all. I think Adele likes Taylor and genuinely thinks she's a great songwriter. Now, is it somewhat notable that Adele chose to praise Taylor's songwriting abilities and not, say, "she's one of the greatest pop stars" or "she's one of the greatest musicians"? Perhaps. It's giving "great gowns, beautiful gowns." (Hilariously, that was Aretha Franklin speaking about Taylor Swift too.)
Also: Adele (finally?) released a music video for "I Drink Wine." This is her third single/music video from 30. The first two were "Easy on Me" and "Oh My God." Like… these singles just aren't hitting the way her previous singles have hit me.
📹 | Adele on Taylor Swift in a recent interview — "I think Taylor's one of the greatest songwriters of our generation. I will definitely give it [#TSmidnighTS] a listen. She's fun, she makes a release fun." pic.twitter.com/KTotvFKLYE

— Taylor Swift News 🕰️ (@TSwiftNZ) October 26, 2022
Photos courtesy of Backgrid, Avalon Red.

Adele (aka Adele Adkins) attends the BRIT Awards 2022 at O2 Arena, London, England, UK on Tuesday 8 February 2022.,Image: 660707368, License: Rights-managed, Restrictions: Please credit agency and photographer as Justin Ng/Retna/Avalon when publishing., Model Release: no, Credit line: Justin Ng / Avalon
London, UNITED KINGDOM – Adele attends the Brit Awards 2022 in London. Pictured: Adele BACKGRID USA 8 FEBRUARY 2022 BYLINE MUST READ: Scott Garfitt/Timms / BACKGRID USA: +1 310 798 9111 / usasales@backgrid.com UK: +44 208 344 2007 / uksales@backgrid.com *UK Clients – Pictures Containing Children Please Pixelate Face Prior To Publication*
London, UNITED KINGDOM – Adele attends the Brit Awards 2022 in London. Pictured: Adele BACKGRID USA 8 FEBRUARY 2022 BYLINE MUST READ: Scott Garfitt/Timms / BACKGRID USA: +1 310 798 9111 / usasales@backgrid.com UK: +44 208 344 2007 / uksales@backgrid.com *UK Clients – Pictures Containing Children Please Pixelate Face Prior To Publication*