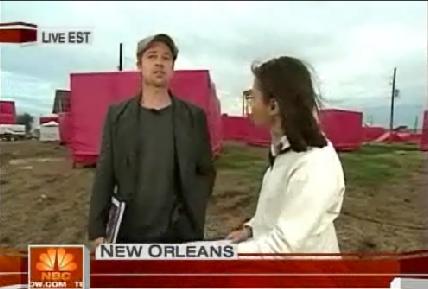 It seems like Brad Pitt is really trying to do good work in New Orleans, and I really applaud his intent. But I'm a little confused by it. Brad was interviewed by "Today" reporter Ann Curry in New Orleans yesterday, where he gave a tour of what his Make It Right project has been doing… and according to Brad, they've been making art installations. Yeah I'm a little confused too.
The actor was in his newly adopted hometown of New Orleans over the weekend to unveil the latest phase of his eco-friendly architectural-housing program aimed at bringing residents back to the Katrina-wrecked Lower Ninth Ward. Touring the hard-hit neighborhood with local reporters and correspondent Ann Curry of NBC's Today show for a segment that aired Monday morning, Pitt showed off hundreds of pink, eight-foot-high, fabric-covered blocks that workers had just constructed.

According to the 43-year-old star, the structures are part of an art installation that aims to serve a dual purpose. According to Pitt, they're meant to remind visitors about the devastating storm and the subsequent flood that uprooted low-income sections of the city and to draw attention to the slow rebuilding process going on there.

"Right now there are scattered blocks, like they were scattered by fate's hand, symbolic of the aftermath of the storm," Pitt told the New Orleans Times-Picayune as crews put the finishing touches on the metal and tarp blocks. "But we will be flipping the homes, essentially righting the wrong."
[From E! News]
I mean that's great, and I'm glad for… what Brad's doing. I guess I'm just a little unclear as to how art installations help build homes. The point of the Make It Right project is to build 150 eco-friendly homes in the lower ninth ward. But instead, they're constructing hundreds of eight-foot-tall pink blocks. I'm really not trying to attack or belittle, I'm just really confused and feeling like I'm missing something here. Wouldn't the time, manpower, resources, and money be better spent directly on the houses?
Additionally, the actor told the Times-Picayune he expects the blocks to make a new cultural contribution to the Crescent City by providing a light show for a nightly driving tour. To that end, workers are installing 1,000 small, solar-powered bulbs, which will represent the more than 1,000 people who lost their lives during Katrina. The light fixtures will be positioned in a way as to mirror the constellations on the night the hurricane made landfall, Aug. 29, 2005.
[From E! News]
Again, it's a lovely thought… it just seems to me that it would make more sense to mirror the constellations with large pink art blocks once the 150 houses have built. It seems like planting the lawn before the foundation has been laid. Here's a clip of Brad's interview… maybe someone can make sense of his plan.

Pitt Unveils New Project