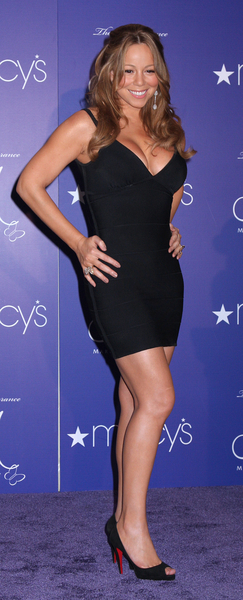 I always enjoy stories about the ridiculous demands of celebrities. It makes me feel a lot more grounded – by comparison – when I insist that no sweet food can touch salty food on my plate. I'm always amazed that celebs have the gall to bother people with their weird issues. I'm an overly-considerate person. I will walk over to the next aisle and double back so as not to ask you to move. Even if I were famous, I doubt I'd have the self-confidence to actually insist that none of my sweets touch my salties. It's just too embarrassing, and I couldn't be THAT kind of person. But apparently celebs don't care what anyone else thinks. They're going to insist upon their crazy demands without the slightest hint of shame.
A few examples, if I may:
Mariah Carey
Cristal champagne. One box of bendy straws. One special attendant to dispose of used chewing gum. Tea service for eight. A Honey Bear pack of honey. Two air purifiers. Puppy. Kittens.

Rolling Stones
HP sauce. Shepherd's pie. Paintbrushes. Snooker table. TV (capable of showing cricket matches). Toilet (on wheels).

Marilyn Manson
Air-conditioning always on full. Haribo gummi bears. Doritos. Microwave popcorn. Bottle of Absinthe. A bald hooker with no teeth.

Prince
A physician. All food to be covered in clear plastic wrap.

Motley Crue
Mayonnaise. Grey Poupon Dijon mustard. Creamy peanut butter. A 12ft-long boa constrictor. A sub-machine gun. Local Alcoholics' Anonymous meeting schedules.

David Hasselhoff
Life-size cut-out of David Hasselhoff.

Janet Jackson
Chaise longue. Ten black roses. Marmite. Male catering staff.

Beyonce
Pepsi products only. Honey Nut Cheerios. Ginger root. A two-man love seat. 78F in dressing room. Toilet scrubbed with disinfectant. No sweets, chocolate or crisps in dressing room.

Barbra Streisand
Rose petals in toilet.

Jennifer Lopez
White flowers. White tablecloths. White curtains. White candles. White couches. Lowwatt lightbulbs. Coffee to be stirred counter-clockwise. Skittles.

P Diddy
204 towels. 20 bars of soap. Two bottles of Hennessy cognac. Two bottles of Santa Margherita Pinot Grigio. Two bottles of Veuve Clicquot. A bottle of Dom Perignon. Grey Goose vodka. Boom box. Bouquet of white flowers. Cheddar cheese and sour-cream chips. Sweet Tarts. A $300,000 bullet-proof Maybach.
[From the Daily Mail]
I believe that these are several of the very same celebs that brag about "keeping it real." Don't forget, despite the all-white decor and counter-clockwise coffee, J-Lo is still Jenny from the block. My biggest question (even bigger than the bald toothless hooker) is about Barbara Streisand's rose petal-filled toilet. Do you think she requires the toilet to be refilled after she uses it? What if she does some business, flushes, then does some different business? Does an attendant need to come in on petal duty? God I want to be rich.