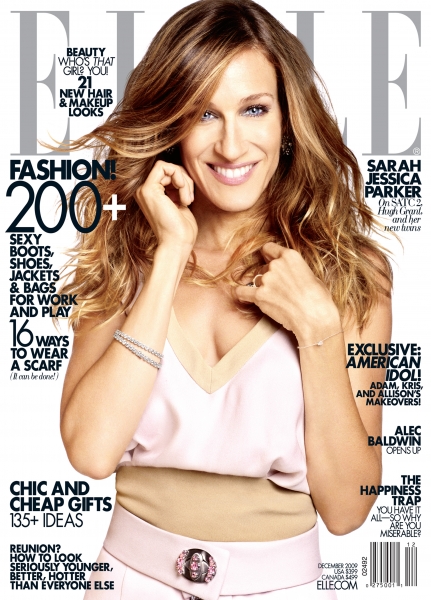 Here is Sarah Jessica Parker, cover girl for the December issue of Elle Magazine. (More photos on Elle.com) I don't hate any part of the styling, honestly. It's a cute dress, I like her hair that color, makeup is nice, and she doesn't look that retouched. Here's the thing, and I'm being totally serious… was Sarah Jessica Parker's nose always this big? It's gotten huge. And I'm saying that as someone who admired SJP's unwillingness to "correct" her bumpy nose. I have a thing for unusual noses, and hers was a classic. But this might need to be "corrected". Maybe it's just a weird shadow. Or maybe it's a deviated septum or something. Yikes.
In the interview, SJP talks about her new twin girls, and how much she loves the smell of diapers. Not fresh, powdery diapers, either. She likes the wet ones, "all warm like a baked good." I seriously heaved a little with that quote. SJP also kind of throws her 7-year-old son under the proverbial bus, claiming that it was James Wilkie's idea to give one of the baby girls an illustrious cat name. James Wilkie's idea was "Marion" – so who came up with Tabitha?
Sarah Jessica Parker may have a number of best-selling fragrances, but the "Sex and The City" star said in the December issue of ELLE that it's a less flowery smell that she loves.

"I love the smell of diapers; I even like when they're wet and you smell them all warm like a baked good," she said.

SJP is on double diaper duty these days thanks to the arrival of twin daughters Loretta and Tabitha, who were delivered by a surrogate earlier this year – but the star said that son James Wilkie got involved with the process, too.

"He told me he really wanted Marion to be in the mix," Sarah said of baby names for Loretta – who is indeed Marion on her birth certificate. "We thought, 'Are we crazy? Do we let our son name one of the girls? Is that the right thing to do? Is it important for him?' And then he goes, and I want it legal."

While the world loves her as Carrie Bradshaw, Sarah said she hopes her daughters feel the same way once they grow up.

"First of all, I have a fear that they're not going to like me," she said.

She can always bribe them with her considerable wardrobe, however.

"The only tragedy would be if their feet are bigger than mine," she said.

In the meantime, she's filming the much-anticipated "Sex" sequel and awaiting the release of December 11-due romantic comedy, "Did You Hear About The Morgans?" – in which she meets her character's neurotic match in co-star Hugh Grant.

"We looked like two people who had been dug up," Grant said of their time on the set, admitting that even he couldn't resist her charms. "Both green in the face. It was so cozy to have someone in an equal level of hell. I'm so proud of myself for liking her because I hate everybody."
[From Access Hollywood]
"The only tragedy would be if their feet are bigger than mine" – really? I hope she was being silly. Probably. But I'm silently rooting for the Cat Twins to have enormous Paris Hilton feet. Just so SJP could experience her greatest tragedy.
SJP is in Elle because she's promoting her horrible-looking comedy Did You Hear About the Morgans? It is about a New York couple who witness a murder, and "are relocated to small-town Wyoming as part of a witness-protection program." I just watched the trailer again… and it doesn't look ghastly. I'm sure it sucks, of course. But Hugh Grant actually looks cute in it!
Here's the trailer for Did You Hear About the Morgans?

Elle Cover via Popcrunch. More photos at Elle.com. SJP is shown filming SATC in NY on 9/18/09. Credit: FPZ/Fame Pictures