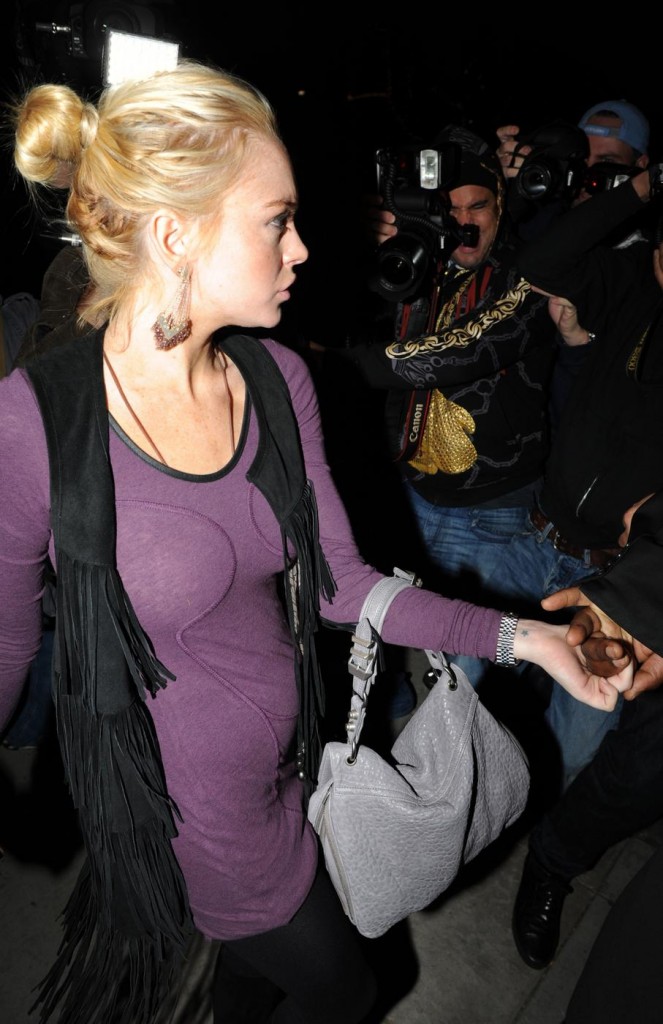 Lindsay on 11/5/09. Credit: Pacific Coast News
Mother of God. I'm crossing myself! CB just sent me these photos, and it's just… my God, is Lindsay pregnant? Here's what CB thinks:
"Lindsay Lohan is a very tiny person with a stomach that nearly always looks flat. It's possible that she's bloated, or that she's having IBS or is eating more or something, but I really think she looks pregnant. She's been seen out with a much fuller looking stomach recently. If this is the case we should really fear for that baby for a lot of reasons. Nicole Richie was able to clean up fast for the sake of her first child, though, and if Lohan really is pregnant she might be able to get sober too. I hope I'm wrong, though."
I hope we're wrong too… but this does not look good. My initial thought was that Lindsay hasn't been "back to bangin' dudes" for that long, you know? Her alleged hookup with Balthazar Getty was less than a month ago. And it was only last week that she was spotted with model and Samantha Ronson-lookalike Petey Wright. So, she's maybe been back to dudes for a month or so? That's not enough time for her to have a "bump". And, let's be reasonable – it could totally be bloating from alcohol.
However, here are the reasons she could totally be pregnant: she could have been cheating on Sam Ronson for a while, so maybe the "Lindsay is back to dudes" timeline is off, and she's further along than I'm estimating. Second reason: I don't see her remembering to use any kind of contraception. So I could definitely see an "accidental" pregnancy. Third reason: Lindsay loves drama, so what could be more dramatic than getting pregnant?
Unfortunately for everybody involved (especially the alleged baby), if Lindsay is pregnant, I don't see her "getting clean" like Nicole Richie did. But Nicole surprised me with her turnaround, so maybe Lindsay could too. Is Lindsay capable of putting a baby's needs ahead of her own? I doubt it. This could be a mess.
Note by Celebitchy: OK, we wrote up this whole story and thought Lohan looked pregnant for sure, but then found these half-top photos of her (below) from 10/28 and her stomach looks normal. I hope she's just bloated.
Lindsay on 10/26/09. Credit: INFPhoto.com. These photos are straight from the agencies.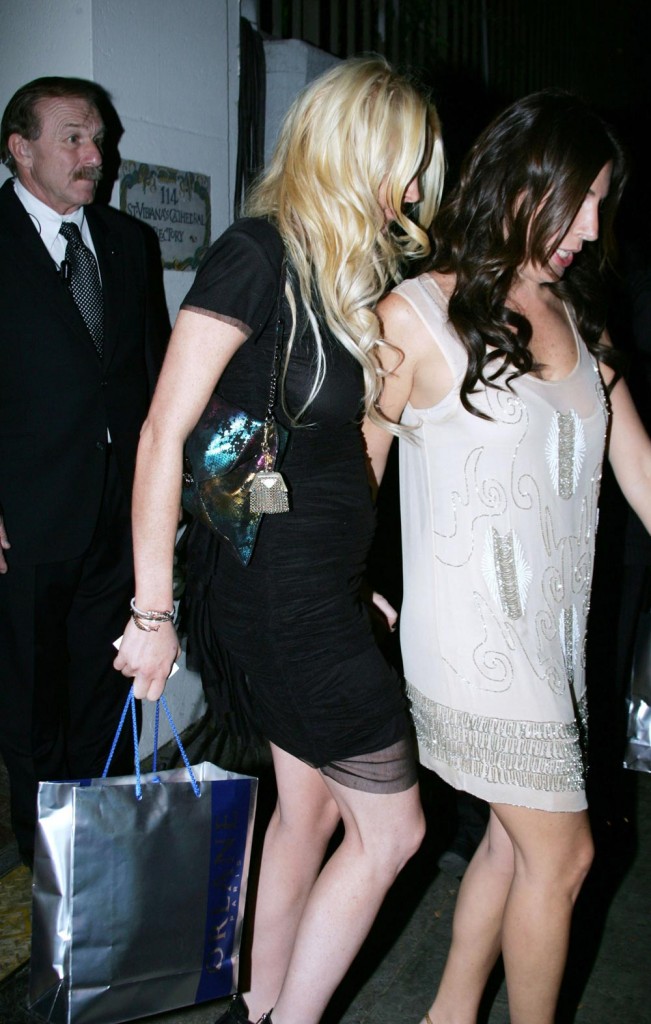 Sheer top photos credit: Bauergriffinonline and are from 11/5/09.