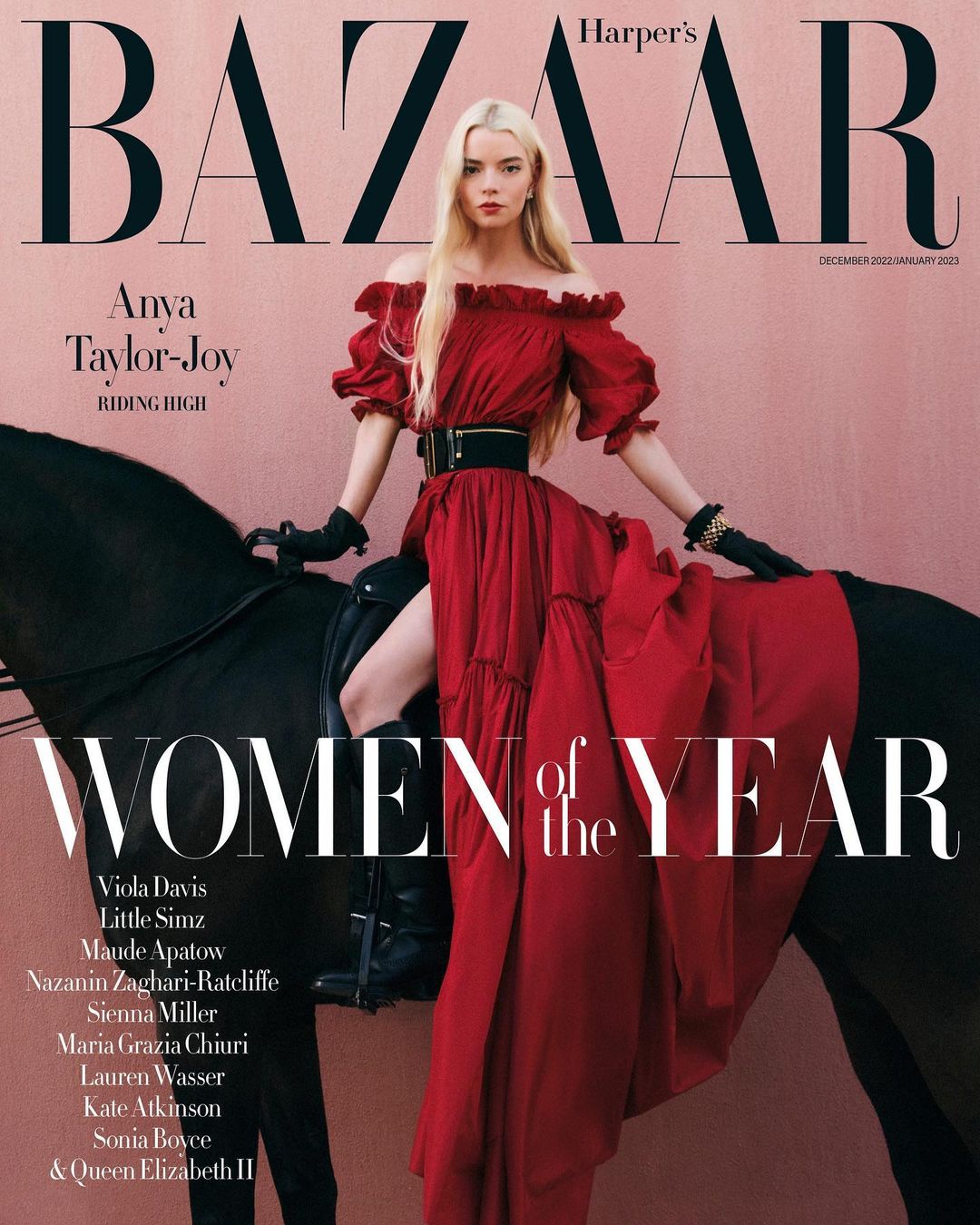 At one point, the hype machine around Anya Taylor Joy reminded me so much of Jennifer Lawrence circa 2012. When I say "hype machine," I'm not putting the onus on the women, nor am I saying that J-Law and Anya are similar actresses. I just think their situations are/were very comparable – their sudden ubiquity, the loads of fashion magazine covers, the endless red carpets, the pace of their supernova-stardom, the back-to-back-to-back projects. We know now that J-Law burned out for a time, and I suspect Anya will too, especially if she keeps up the pace she's had for the past three years. Anya is one of Harper's Bazaar's Women of the Year, and she was named Actress of the Year. She's also promoting The Menu in this cover story. Some highlights:
Moving to London from Argentina. "My first memory is that things were grey – and that wasn't a colour I'd seen much of before… I feel like, as a kid, I got the best possible training for the nomadic nature of this job… Now, when people ask me where home is, I say, home is wherever I've slept for longer than two nights."

She was offered a Disney Channel pilot & Robert Eggers' The Witch on the same day. "I remember it was the same day I got asked to be in a Disney Channel pilot, and it was so exciting to be offered anything at all that I ran around the house like a loon. But I just had this really good feeling about The Witch that made me willing to forego the Disney experience for the thing that felt unknown to me, the thing that felt sacred."

She's not a Method actor: "I haven't chosen to become a method actor, nor do I want to be, but I'm noticing that the more I work, the more that line gets blurred."

She's never home so she never pays attention to what's going on while she's working: "There are these massive billboards with my face on them in New York, and I've never even seen them. I think that's been good for my headspace…. [But] In 2019, I made Emma, then had one day off and did [Edgar Wright's psychological-horror film] Last Night in Soho, then had a day off and did The Queen's Gambit. I remember driving back from the English countryside to start work on Soho the next day thinking, right, you're allowed one hour to cry. You get one hour to heave and sob and be grateful for the incredible experience you had, and then you need to start focusing on what you're going to do tomorrow. But I'm curious to see how it's going to work out in the future because, well, I have a bit more of my own life now."

She's looking forward to living in her London home with her boyfriend: "I was very excited by the notion of putting a toothbrush down, knowing that I didn't have to pick it up again. I have now not seen that toothbrush in about a year, but at the time it felt great." When she and Malcolm do have time together, they like to spend it peacefully, doing nothing special. "It's fun to wake up and go to breakfast and service the car and sort out stuff… I know that sounds silly, but that what we're craving. We're craving just, like, life together."

Setting boundaries: "In the past couple of years, I've definitely learned how to say 'Hey, that's actually not OK with me', or 'You're not listening to me' – and I don't think I'd have got there had I not been pushed in a certain way, because I'm naturally a people pleaser. But eventually you get stepped on enough that you start to stand up and say no. I think everything has an equal measure of light and dark. I've definitely been through the dark experiences of it – but I'm noticing that, in terms of long-game strategy, kindness will out. If you work hard and are good to people, they want to keep working with you, and then another door opens."

It's hard to say no: "Saying no is genuinely difficult for me, because I always want to do everything. But I'm lucky enough to be in a position where I can ask myself, do you feel passionate enough about this to spend seven months living all the way across the world, away from everyone you know and love? Will that sustain you? And if the answer's yes, you should probably do it."
She's been talking about needing to slow down and actually live a normal life-as-Anya for as long as I've been reading her interviews (three years). She's currently into a year-long shoot in Australia for Furiosa, largely cut off from her family and friends. Just in case you were wondering how that was going. Anyway, I like her and I feel for her because she is a workaholic and it must be difficult to say no when she's getting ALL of the scripts out there, which is what I used to think about Jennifer Lawrence too. Hopefully, Anya will learn how to say no to more stuff, or maybe say yes to easier stuff.
Cover courtesy of Harper's Bazaar UK, additional pics courtesy of Cover Images and Instagram.


Harper's Bazaar Women of the Year 2022 awards at Claridges, London Featuring: Anya Taylor-Joy Where: London, England, United Kingdom When: 10 Nov 2022 Credit: Ian West/PA Images/INSTARimages./Cover Images **North America Rights Only**