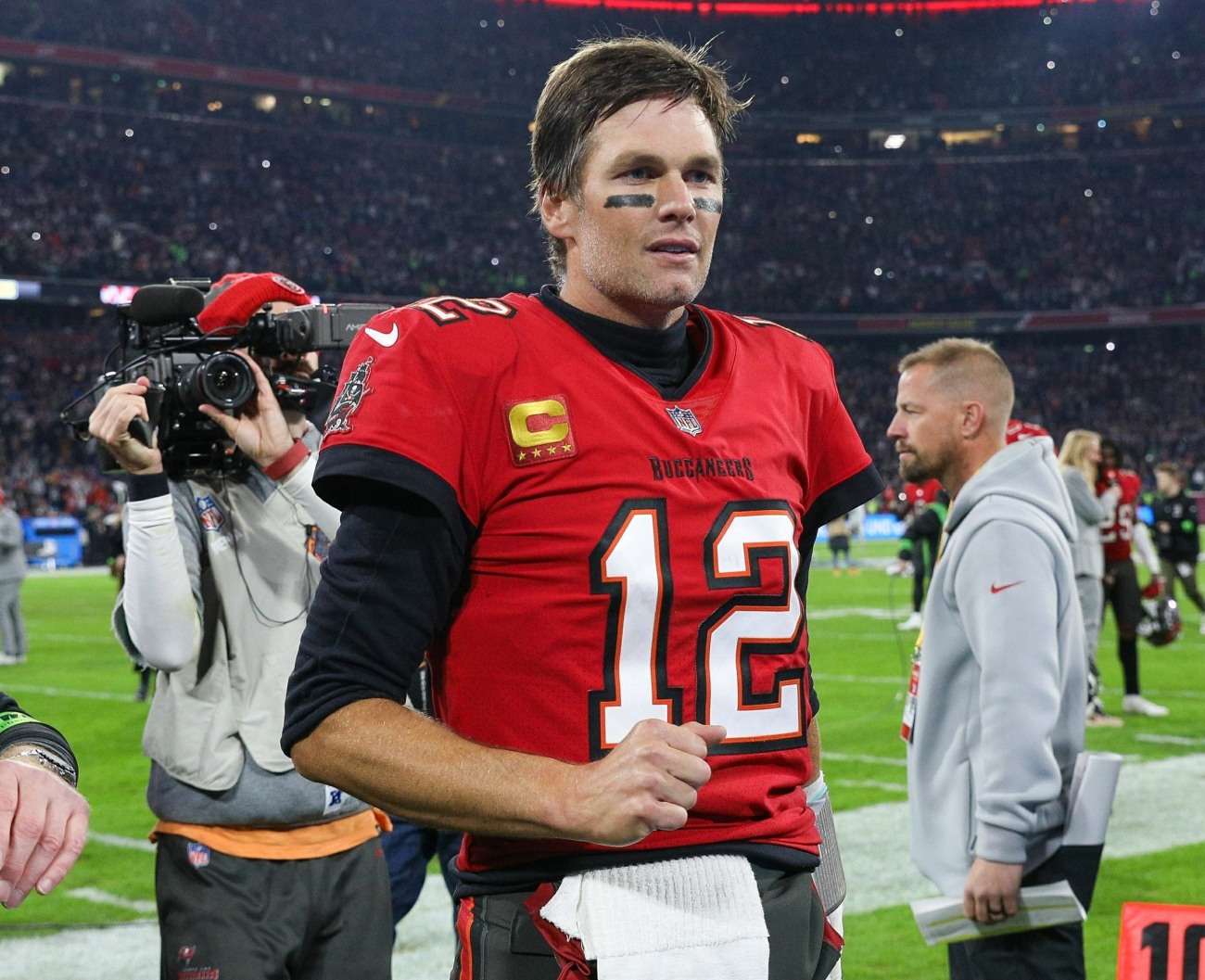 Since I don't follow football whatsoever, I tend to believe whatever the internet tells me about Tom Brady's current season with the Tampa Bay Buccaneers. Back in February, Tom retired from the Bucs and everyone recognized that his historically amazing career had come to its natural close. Forty days later, Tom un-retired and said he was going to play with the Bucs for at least one more season, although it's still open-ended – Tom has never said that this is even his last season. Anyway, from what I gather, the Bucs are having a TERRIBLE season. Like, one of the worst seasons of Tom's career. And Tom has said that he has "zero regrets" about coming back to play.
Tom Brady says he has "zero" regrets about un-retiring to play another season with the Tampa Bay Buccaneers, despite the team's struggles in the first half of the NFL season. The 45-year-old superstar quarterback was asked his feelings about being 4-5 for the first time, sitting below .500, while speaking with reporters on Friday.

"I returned because I felt like I wanted to compete, and I spoke to the team about it, and they were excited to have me back," Brady said. "I don't really regret those types of things — I think when I commit to it, I mean it, and I do my best and try to give everything I can to this particular opportunity."

When asked if he had any regrets, Brady responded, "Zero, no. Definitely not."

Brady said Tampa Bay, which he won his seventh Super Bowl with in 2021, was better than the team had been playing.

"I think the frustrating part is we just haven't played to the way we're capable of playing — that's for a number of different reasons," Brady said. "This is a very important game for us — we have a bye week after this. It gives you a chance to kind of evaluate where you're at, and I'd much rather evaluate being 5-5 than being 4-6. We've got to just win this game, and it'll take care of that."
He said what he said. He doesn't regret it. Will he eventually regret it? Perhaps. Should he regret it right now? Absolutely. When he's looking back on his life and NFL career, will he be known as the Guy Who Didn't Know When To Retire? The guy who threw away his marriage to an underwear model for football-in-his-40s? I think about this kind of stuff as compared to tennis too, because that's the sport I follow – while tennis is brutal on players' bodies, tennis players aren't getting concussions. While I'm fine with athletes in general finding ways to extend their careers into their 40s, when your sport involves head injuries, CTE and concussions, that changes the whole "extending your career" conversation.
(Tampa Bay did beat the Seahawks last night, playing in Germany.)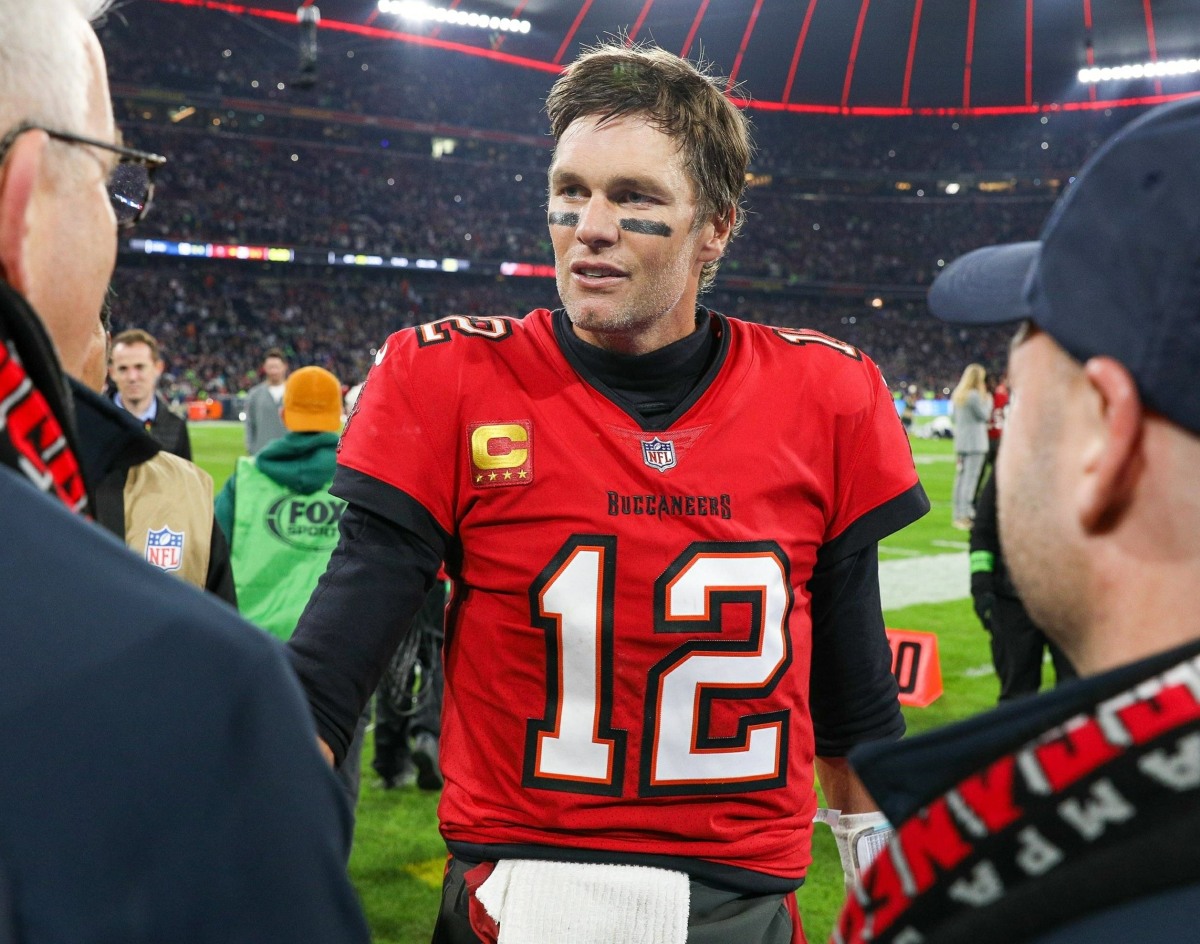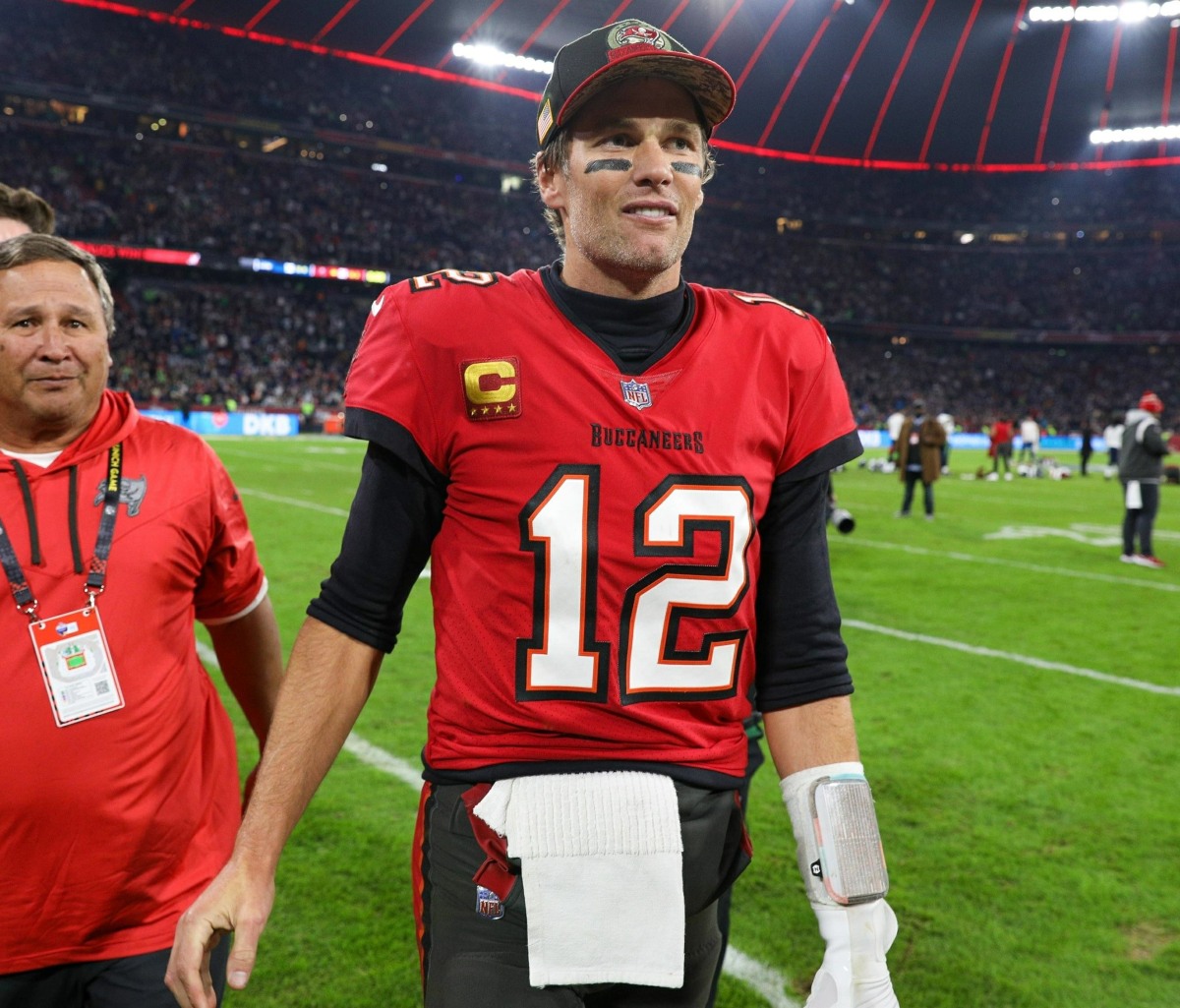 Photos courtesy of Backgrid.

Munich, GERMANY – Quarterback Tom Brady and the rest of the Tampa Bay Buccaneers battle the Seattle Seahawks at Allianz Arena in Munich. Pictured: Tom Brady BACKGRID USA 13 NOVEMBER 2022 USA: +1 310 798 9111 / usasales@backgrid.com UK: +44 208 344 2007 / uksales@backgrid.com *UK Clients – Pictures Containing Children Please Pixelate Face Prior To Publication*
Munich, GERMANY – Quarterback Tom Brady and the rest of the Tampa Bay Buccaneers battle the Seattle Seahawks at Allianz Arena in Munich. Pictured: Tom Brady BACKGRID USA 13 NOVEMBER 2022 USA: +1 310 798 9111 / usasales@backgrid.com UK: +44 208 344 2007 / uksales@backgrid.com *UK Clients – Pictures Containing Children Please Pixelate Face Prior To Publication*
Munich, GERMANY – Quarterback Tom Brady and the rest of the Tampa Bay Buccaneers battle the Seattle Seahawks at Allianz Arena in Munich. Pictured: Tom Brady BACKGRID USA 13 NOVEMBER 2022 USA: +1 310 798 9111 / usasales@backgrid.com UK: +44 208 344 2007 / uksales@backgrid.com *UK Clients – Pictures Containing Children Please Pixelate Face Prior To Publication*