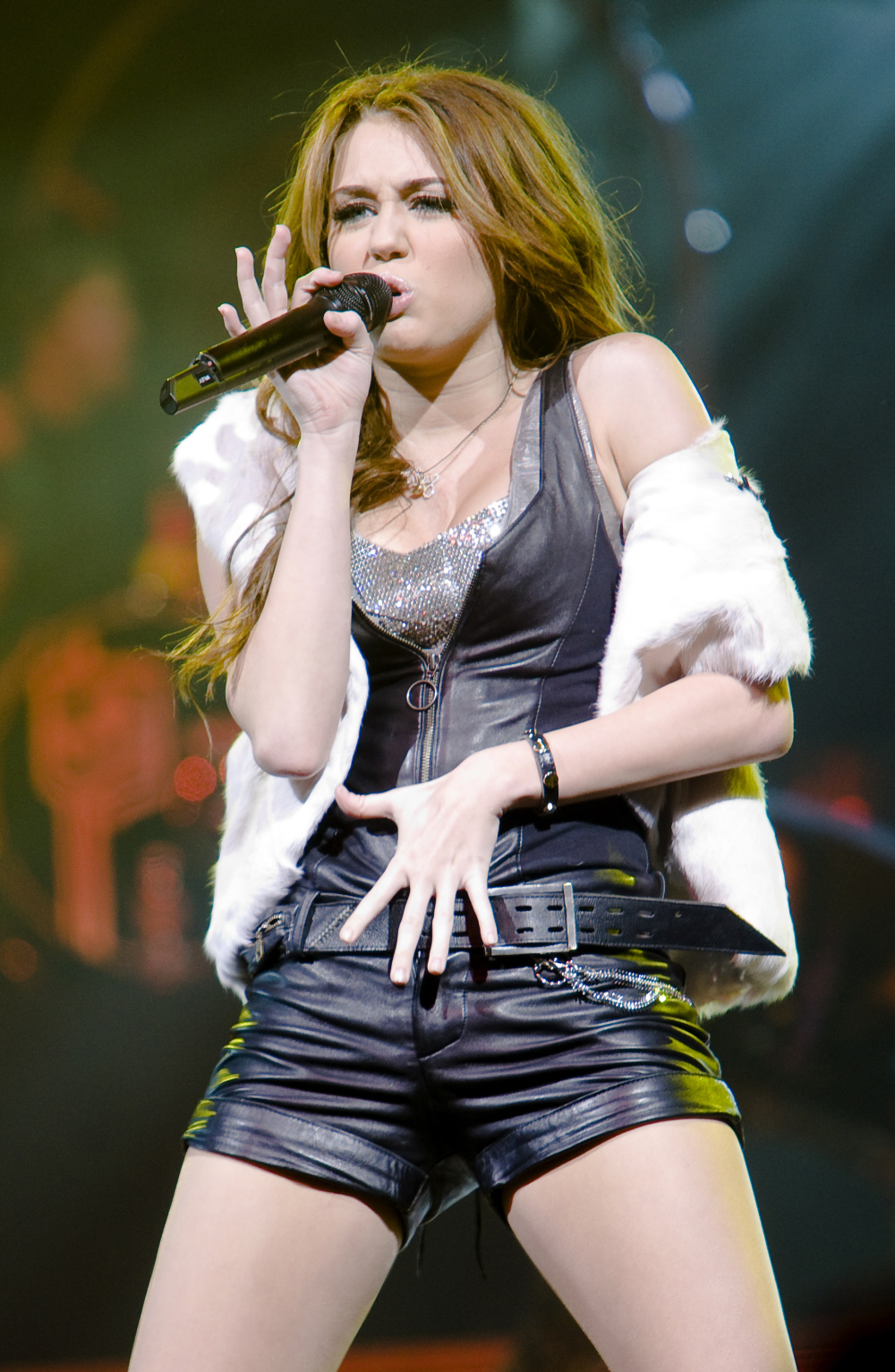 For those of us who listen to the radio on occasion, Miley Cyrus's nasal twang is getting too much play. Her song "Party in the U.S.A." is everywhere on pop stations, and if you're lucky enough to not have that God forsaken song stuck in your head for a whole day ("Swingin' your hips like yeah"…ARHH!), consider yourself one of the chosen few. This particular song got its worldwide debut at the Teen Choice Awards several months ago, by the way. Yes, it's that song. The song that Miley sung while pole dancing. Seriously.
Anyway, there's a break or whatever in parts on the song where Miley's demon twang belts out "And the Jay-Z song was on!" repeatedly (note: she also sings/demon-twangs "And the Britney song was on!" at one point too). I didn't really think anything of these Britney and Jay-Z shout-outs because, really, Britney and Jay-Z songs are always on the radio, and they're now as emblematic of modern American music, so whatever. I didn't really think about it that much. Apparently Miley didn't either – and when this interviewer dude asked her about Jay-Z's music, Miley was all, like, you know, like, whatever, and um…like, "I've never heard a Jay-Z song… I don't listen to pop music." Seriously. Like. Um. Demon Twang. Like.
It appears that a Jay-Z song wasn't on!

Miley Cyrus — whose hit song, "Party in the U.S.A." includes a line about her nodding her head to one of the rapper's tracks — says she doesn't know which of his songs inspired the lyrics.

"I've never heard a Jay-Z song," the singer, 16, said in an interview before her Halloween concert — in which she was dressed as Pocahontas — in Louisville, Kentucky this past Saturday. "I don't listen to pop music."

Then how did it get in her song — which was recently No. 1 on the Top 40 charts?

"I don't know, I didn't write the song, so I have no idea," she said of the tune, which was written by a songwriting team of Dr. Luke, Claude Kelly and Jessica Cornish. "Honestly, I picked that song because I needed something to go with my clothing line. I didn't write it and … I didn't expect it to be popular, originally. It was just something that I wanted to do, and I needed some songs and it turned out for the best."

Although she said "Party in the U.S.A." is "not even my style of music," she is thankful for its success.

"I'm really blessed for it to have done as well as it has. Totally blessed," she said. "God has definitely put me in an amazing position with amazing people."

Later, when asked about an artist she has heard before — her father, Billy Ray Cyrus — the Hannah Montana star says she has no plans to shout out any of his songs, like the 1992 hit, "Achy Breaky Heart."

"No, no thank you," she said. "That's like covering a Jay-Z song. That's not going to happen."
[From Us Weekly]
So Miley doesn't listen to "pop music" and that's why she's never heard a Jay-Z song. And yet, in the interview, she's talking about Britney Spears' music. So, basically, Miley is, like, dumb as a friggin' doornail. I have to admit though, I didn't watch the full video, I only skimmed it because her voice is so grating and I really want to try to smack her for a variety of reasons. Instead of just bashing Miley for everything, I will give her credit for one thing – she's very polite to the guy interviewing her, and his kids. The guy comes across as a bit of a pervert, though. Miley doesn't seem to notice. She probably thought "He reminds me of my daddy!" Here's the video:
In the header, Miley Cyrus is performing in concert at the United Center in Chicago, Illinois on October 27, 2009. Credit: WENN.