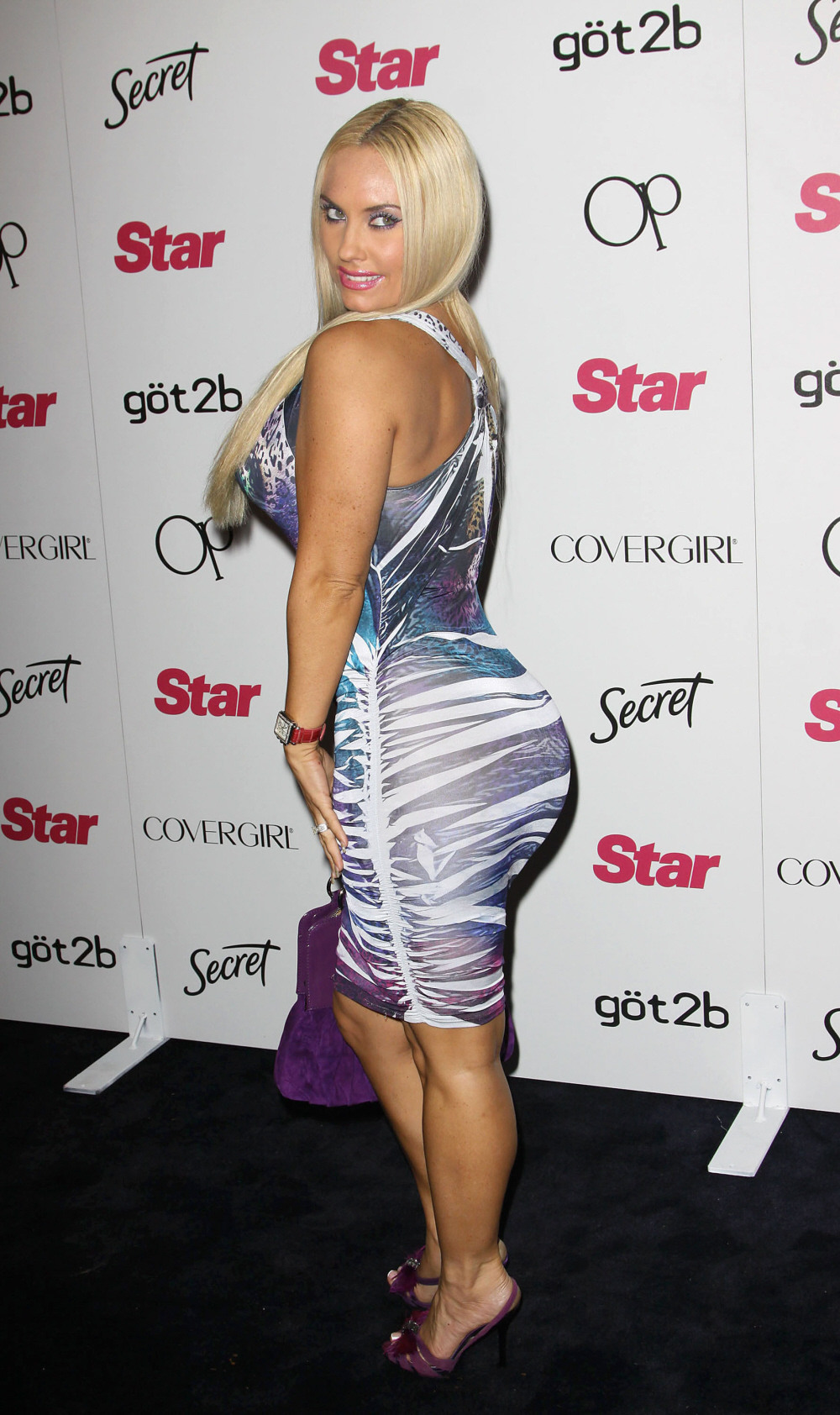 Media Outrage has an interview with Coco (Nicole Austin) , Ice-T's wife. I'm not really sure why Coco is famous beyond her marriage to Ice-T, other than her spectacular displays of her ample… bosom and badonkadonk, I guess we'll say. Coco isn't the classiest chica out there, but she's not really trying to be, so mission accomplished. In the interview, Coco brags about her website (NFSW), and she says that her big plans for the future include a fitness DVD and all of the "acting" she'll be doing. But the most noticeable parts are where she talks about how she absolutely does not have butt implants (seriously!) and where she blasts the "haters" on gossip sites (us). Here are the best parts (full interview here):
Media Outrage: Do you frequent celebrity-gossip sites?
Coco: No. When I was up-and-coming I used to Google myself and realized that they were all sh-t-talking websites. I don't really feel the need to go on those types of sites because they're mainly all haters not really a lot of love on those sites. I feel that they really don't have so much of a life if you're on those blogs and talking crap about people who you don't even know. So I kind of got over that but every once in a while people will email me over at Cocosworld and say "hey they were talking some nice stuff about you and you should go check out this link. So pretty much my fans will tell me if they're talking crap or saying nice things. It's really all up to them. They'll direct me. I definitely won't google and go to each site.

MO: So you don't google yourself anymore?
Coco: No. I used to.

MO: Do you think all celebrities Google themselves?
Coco: Yes, because they all want to know what magazines they're in and a lot of celebrities like the publicity. It makes them more popular even if these sites are talking down about them.

MO: What is the craziest rumor that you've heard about yourself?
Coco: I am the epitome of people wanting to talk bad about me. They say "her eyes are fake, her butt is fake, everything is fake, fake, fake." And I'm like no!

MO: Tell us what is fake on you. Lets dispel the rumors right now.
Coco: Ok, I have breast implants and that is it. So no contacts (for the eyes). No extra hair. No butt implants.

MO: The rumors fly about you and Kim Kardashian, that you both had butt implants.
Coco: Those rumors pertaining to me are false. I don't really want to get into it but I guess I could totally pick it apart. First of all, look at the legs and thighs. Are they matching the butt? I don't have no skinny thighs with a big ass. My butt matches with my thighs. What did I get thigh implants (laughs sarcastically)? Another thing is the gene sequence. You gotta have good genes in your family to have what you have. I've always had an athletic form. Was always a little stockier than the average girl, therefore when I do work out or work out with weights, I bulk up very fast. I go to the gym. I could lift a pencil and gain muscle very fast. Then another thing, I'm really proud of my V on the top of my butt. The muscle on top of my butt. A lot of people have a muscle around their butt but I got it on top and it makes my butt stick up a little bit.

MO: Do you do butt exercise to keep it in shape?
Coco: Yes, I do the regular ones like squats and lunges but I just happen to do a lot more of them. I want to make sure it always stays firm and doesn't droop. I've always stayed around 115 pounds when doing my weight competitions. That was 10 years ago and was skinny for me. I was around 18 years old and now I'm 29 years old and weigh around 135. So I've gained weight and have gained it in all the right places. I'm a little thicker than I was then.

MO: Do you have any fetishes?
Coco: I love latex, fish nets, and anything tight. I like the sound it makes when you're actually putting it on.

MO: What would you like our readers to really know about you?
Coco: Everyone sees me in Magazines and stuff and probably assume "oh she's this blonde bimbo and probably slutty on top of that" but my thing that I want to get across, is I've been next to my man for more than 8 years and they've never seen a picture without him, so how is that slutty? My outfits might be outrageous but I only wear them around him. I'm not flaunting around the city without him. I might look like a bimbo but I'm not. If they just read about me and look at what I've done instead of judging a book by its cover then they'll see that I'm a good person. I've never done any wrong to anyone so why do I have such a bad rep?

Coco: Oh and to clear something up– when I said what I said about the blogs talking crap, I was actually talking about those people who spend their entire day commenting on every single blog. Do you not have a job? Do you not have kids? Do you not have anything better to do than sit down at your computer 24/7 and leave comments on every single blog? Those are usually over-weight people because after you sit down all day you're obviously not going to the gym. I've always wondered about that. All these people who say really mean things about me, I wonder what they look like! Show us a picture of yourself (laughs). When I checked out your site (Mediaoutrage.com) I actually loved what I saw.
[From Media Outrage]
Meh. I kind of think she's lying about the butt implants. Much like I think Amber Rose was lying about the butt implants. But we're not going to solve this in a day. Let's see, what else? Coco says her current measurements are 39DD – 23 – 40. Ugh. I'm a natural DD, and I hate that women get implants that large. Boobs this big are a pain in the ass. Oh, she also says she's "honored" to be considered a sex symbol. Damn… I love me some Ice-T, but that man might need an upgrade. No, I jest. They're probably very happy together.
Coco and Ice-T are seen at Star Magazine's 5th Year Anniversary Celebration held at Bardot in Los Angeles, California on October 13, 2009. Credit: WENN