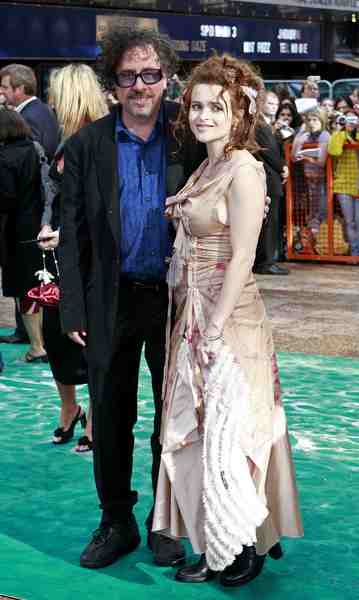 I think most of us go through a phase where we like to consider ourselves unusual, odd, or subversive. Generally this occurs during the teenage years, but it can last a little longer… or in some cases never go away. For this reason alone, Tim Burton and Helena Bonham Carter seem to be the perfect pair. There are a bunch of other quirky reasons, but most of them fall under the heading of "Personality quirks of people who never grew out of THAT phase." Case in point: Bonham Carter says Burton decorates his Christmas tree with dead babies and slime balls. I assume Tim Burton and Marilyn Manson have the same interior designer.
The household of Tim Burton and Helena Bonham Carter is outfitted for Christmas – just not in the traditional manner. "He decorates it with dead babies and slime balls and things," Carter, 41, tells Playboy magazine in its January issue, about trimming the tree with boyfriend (of six years) Burton, 49. "It looks lovely and glittery from afar, and then as you get closer, you realize it's rather gory."

Lest anyone get the wrong idea, Carter, who stars with Johnny Depp in Burton's new movie musical Sweeney Todd, says, "We're not that dark. What I love about Tim is that he retains a certain innocence and a childlike quality.
[From People]
Talk about looking at it through the eyes of love. It is sweet that Helena sees Burton's eccentricities as adorable. And they're certainly one of those couples that match and make a lot of sense together. Though lately the two have also looked perpetually terrified together. But at least it seems to be a shared emotion. The couple lives together, but not really together. They have separate houses that are attached. I have to say, once having lived with a boyfriend for two and a half years, I really can't argue with that logic, in terms of maintaining long-term sanity. I joke, but hey, whatever works for you. They certainly seem happy together. Burton and Bonham Carter are expecting their second child in late December. Helena noted that they're both unconventional parents. Shocking.
He sort of forgot to grow up. I think I've definitely forgotten to grow up, which is great." Carter, who in 2003 gave birth to the couple's son Billy Ray… adds with a laugh, "At some point, [Billy] will probably want parents. He'll have to look elsewhere."
[From People]
Well as long as you don't drive with the baby in your lap or use the soft spot on their head as an ashtray (I stole that from a "Family Guy" parody of Britney Spears… but I'm pretty sure she has done that), I guess you're a pretty good parent by celebrity standards. They'll probably be fun and weird parents, and hopefully will figure out how to be not-so-fun regular parents when need be. Or they can just play with slime balls.
Picture note by Celebitchy: Tim Burton and Helena Bonham Carter are shown at the Harry Potter And The Order Of The Phoenix premiere on 7/3/07, thanks to PRPhotos.