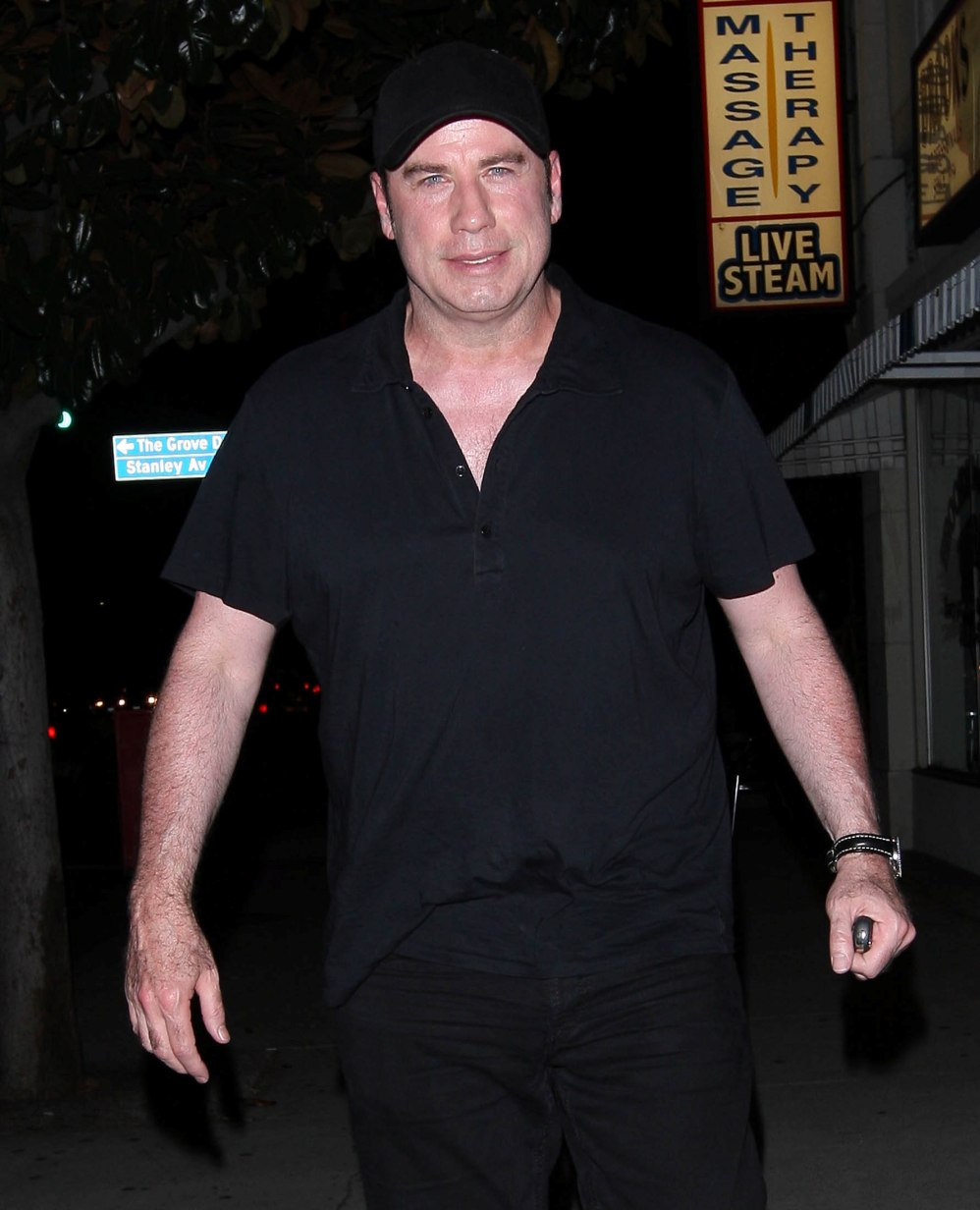 The sh*t has really hit the fan for Scientology lately. Whether it's rumors of Tom Cruise threatening to beat the crap out of underling Scientologists who were insubordinate (for refusing to beat the crap out of their underlings), to revelations that Tom made former Scientologist Marc Headley talk to a doorknob for hours at a time, to the good news that director Paul Haggis left the cult, they've been getting bad press left and right over the last few months. Yet plenty of members are still wholeheartedly on board, and John Travolta and Kelly Preston are among them. They claim they get spiritual counseling from the church over their son Jett's death nearly every day.
In his first interview since son Jett's tragic death last January, Scientologist John Travolta says he and his family are relying on almost daily religious counseling sessions to help them cope.

Since the 16-year-old boy died following a seizure, "We've been working very hard every day as a family to heal," Travolta said during a round-table interview (per USA Today) with the cast of his latest film, Old Dogs (out Nov. 25), which also stars wife Kelly Preston and daughter, Ella, 9. "We have our own way of doing it, and it has been helping."

Travolta, 45, said he has been overwhelmed by all the support. "You need your friends a lot in times like that," he said. Preston, 47, added that the "outpouring of love from, really, worldwide has been extraordinary. It's been our friends, our family, our church. We partake in spiritual counseling pretty much daily."

Still, she said, "It's a tricky thing. Sometimes, something that's right for the moment is not right the next day. Being with people who are important to you, being with people that you love, I think that's what has primarily helped us the most. Sometimes, being alone, too."
[From Us Weekly]
I feel so badly for what John and Kelly have gone through that I really don't want to criticize them. I just find it impossible to imagine how Xenu could bring them comfort right now. But I can imagine how my own faith would, and I can imagine how most other religions could. I just can't imagine it for the volcano alien cult king. On the one hand, I don't want to judge whatever gets them through this. On the other hand, given all the terrible abuse that's been revealed about the cult, it's hard not to worry that the Travoltas are being taken advantage of, and that the cult isn't just collecting information to hold against them, as they're known to do in their auditing sessions.
Celebitchy pointed out that the AP estimates there are only 25,000 Scientology members worldwide, even though the church claims they have 10 million. Something tells me they're putting pressure on the Travoltas to sing their praises. And I'd bet you anything, despite his career, Tom Cruise is going to be embarking on another disastrous Scientology PR campaign soon.
Here's John in Los Angeles on November 4th. Images thanks to INF Photo.