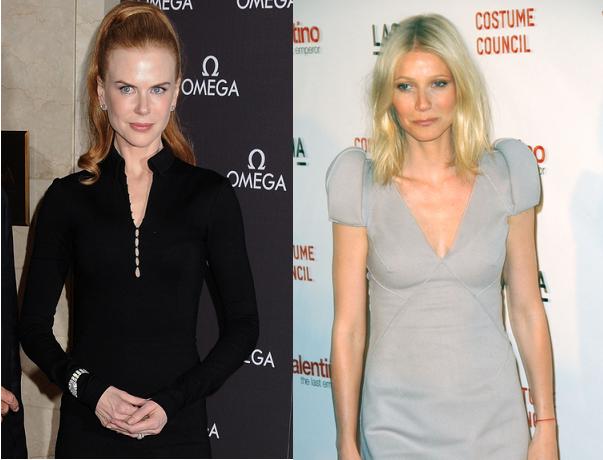 Oh, I can hardly wait for this one! I'm literally shivering in anticipation! This film will chillingly suck the frozen life out of anyone cold-hearted enough to watch it. Enough with the "icy" or "frozen" references, you say? Too bad! This casting monstrosity wasn't my idea, and I'm going to ride this joke into its icy grave. Here is the epic casting decision: The Goop (Gwyneth Paltrow) will be playing Nicole Kidman's wife (named Greta) in the true story of the first post-operative transsexual. Nicole Kidman will be playing the husband, Einar Wegener, who becomes a woman. The film is called The Danish Girl, and Greta/Goop (the wife) was allegedly fully supportive of her husband at first, encouraging him to dress as a woman, but she becomes less supportive when people start talking about "surgeries" and "cutting things off".
Gwyneth Paltrow will join Nicole Kidman in "The Danish Girl," an adaptation of the David Ebershoff novel that tells the story of a relationship between the first post-operative transsexual, Einar Wegener, and his wife Greta.

Thomas Alfredson ("Let the Right One In") is directing a script by Lucinda Coxon. Gail Mutrux, Anne Harrison and Linda Reisman are producing, along with Kidman and Per Saari.

One afternoon in 1920s Copenhagen, Greta, a portrait painter, asked her husband to stand in for an absent female model. Slipping on a dress, stockings and woman's shoes began a metamorphosis into Lili. When the photos became wildly popular, Greta encouraged her husband to do more, but a harmless game evolved into something deeper that threatens their marriage.

Kidman had already been attached to play Einar, and Paltrow will play Greta, who stood by her partner through the sex-change operation, finally letting go when she realized the man she married no longer exists.

Paltrow most recently wrapped "Iron Man 2," which opens May 7, 2010. She's repped by UTA and Brillstein Entertainment Partners.
[From Variety]
As Lainey Gossip pointed out, both Gwyneth and Nicole have been box office poison as of late (with the exception of IronMan, but who really went to see that movie because of Gwyneth?), and pairing the two actresses isn't going to result in any kind of box office gold. That's not why they're making the film, though – it will be a smaller, independent film that will likely aim for critical acclaim and some acting awards. But couldn't you just die? Between Gwyneth's snotty voice and her "get the roaches out of here" attitude and Nicole Kidman's taut, unmoving face, this film is going to be heaven for gossips.
In one other piece of Gwyneth news, Fox News 411 had an interesting piece about the alleged affair between Chris Martin and Kate Bosworth. According to Fox's sources, the affair story is false, but the story gets denied in hilarious fashion. The source says: "Chris did not hook up with Kate in public or private. Chris has enough to deal with his work, his children and Gwyneth. He is not adding an affair with another A-lister to his list of things to do." An affair with another A-lister? Kate Bosworth is an A-lister? Seriously? Cough cough Bosworth's publicist is the source cough cough. But there's more! The source also says: "Chris pretty much laughed off the accusations and even Gwyneth was fairly unaffected. She trusts Chris would not cheat on her in such a blatant, public manner." Um… "blatant, public manner"? But if he was quiet about, that would be okay?
Fox News 411 goes on though – apparently, all of the rumors about the cracks in Chris and Gwyneth's marriage is dead-on. The source says: "Chris wishes that Gwyneth would loosen up and be a little less uptight about everything, but he would never hurt his family this way. He actually loves to mock Gwyneth and all her projects. That's a bigger problem for them than the rumors. People pick up on it and some play along with him because he's just so cool. Guys that work for Gwyneth always want to be buds with Chris and it crosses a line for her when he gets them to start goading her, too. It's one of those couple problems." Chuckle. So, Goopy can brush off rumors that Chris is bangin' her "younger version" but Gwyneth is at her wit's end when Chris mocks The Goop?
Here's Nicole taking daughter Sunday to the doctor on November 4th. Images thanks to Fame Pictures .