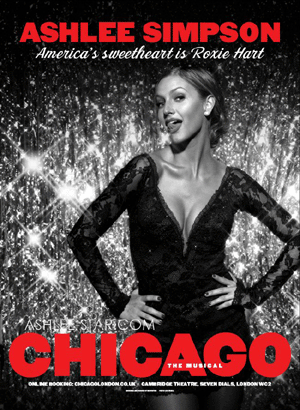 Ashlee in Chicago in 2006.
Ashlee Simpson is marching forward with her career after getting fired from Melrose Place for her bad acting. Actually, you could also say she's taking a big step backwards. Not because her upcoming plans are a step down. But because she's returning to her old role in the musical "Chicago." Simpson played Roxie Hart in the London stage version, and now she's taking it to Broadway.
Where does a crazy Melrose Place character go after she dies? Apparently, the Windy City by way of the Great White Way.

According to reports, Ashlee Simpson-Wentz, 25, isn't taking a break after getting axed from the prime-time soap. Instead, she's set to play Roxie Hart in the Broadway production of Chicago, starting in December for six weeks, Gossip Cop reports.

It's not an unfamiliar role. Simpson-Wentz played the role in the London run of the musical. It would, however, be her Broadway debut.
[From People]
"Chicago" was really good to Ashlee. She'd previously had a bit of acting under her belt ("Malcolm in the Middle," and her own "reality" show) and had that infamous SNL lip-syncing debacle. She got decent reviews for "Chicago," and it was right around that time that she got her nose job and was starting to be referred to as "hot" instead of "Jessica Simpson's ugly duckling sister." Not that she ever was an ugly duckling, but she was never competition until right around that time. She started becoming more of a gossip fixture, and now she gets almost as much coverage as Jessica.
Frankly, it sounds like a smart move. Broadway demands a different type of acting from something like "Melrose Place." Certainly not worse acting, so it's not like Ashlee found the perfect solution. But you can be a bit hammier and it can still work. I tend to think Ashlee couldn't do the Melrose style, but that doesn't mean she's lost as an actress altogether. I think something that's literally more theatric could work. And she'll have a change of scenery and all that, which'll be nice. Hey, maybe Pete Wentz will even have to babysit and stay in some nights while Ashley goes out. Naw. Though People didn't mention it, something tells me Pete won't be joining Ashley in NYC. I'm sure the divorce rumors will start by tomorrow afternoon.
Here's Ashley (with big sis Jessica) at her West End debut in "Chicago" on September 25th, 2006. Images thanks to WENN.com .